Canon EOS C200 EF Cinema Camera
Model: 2215C002
Canon Warranty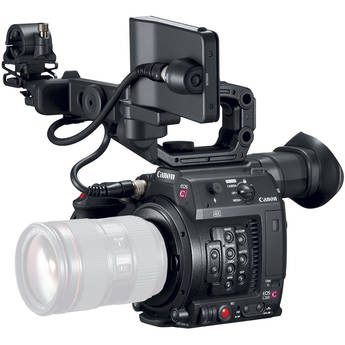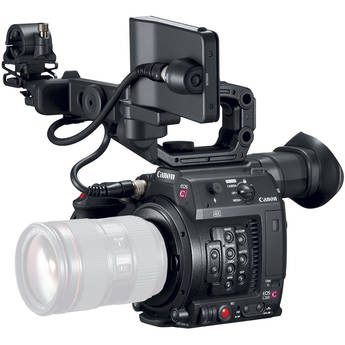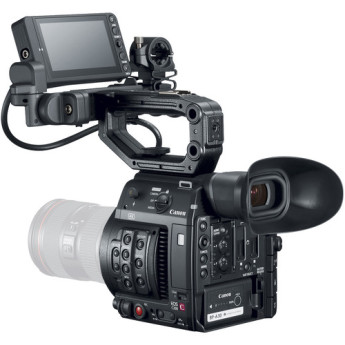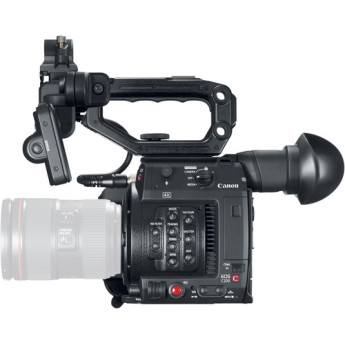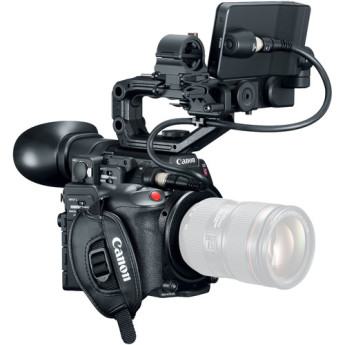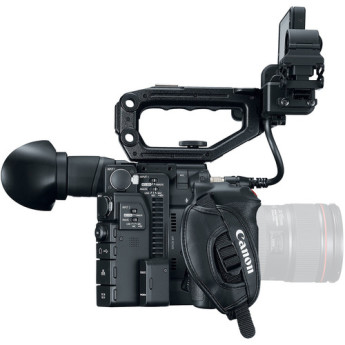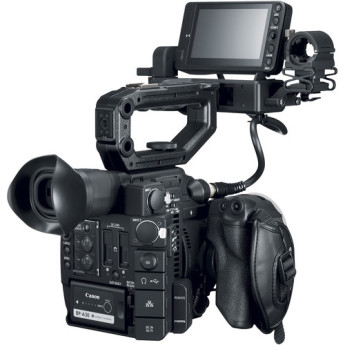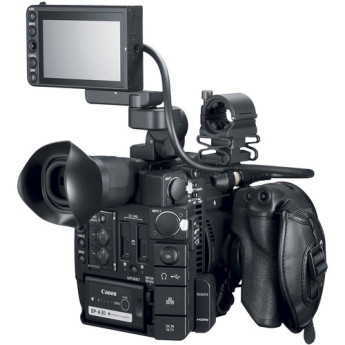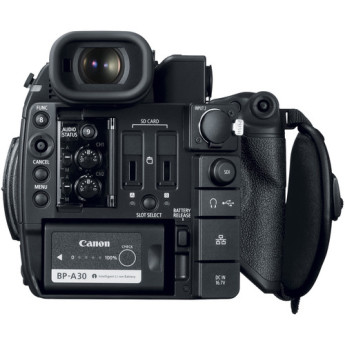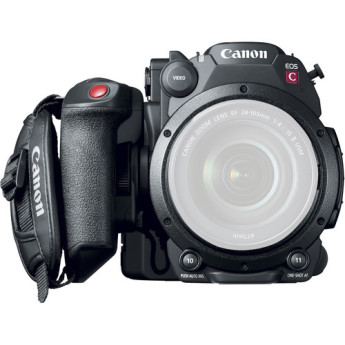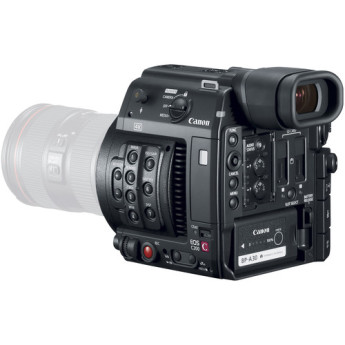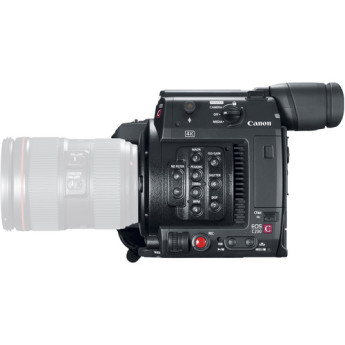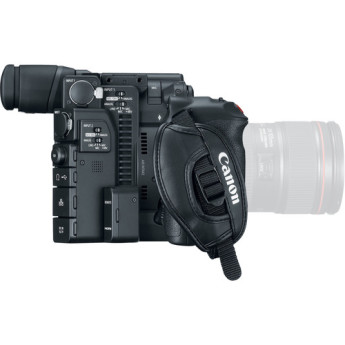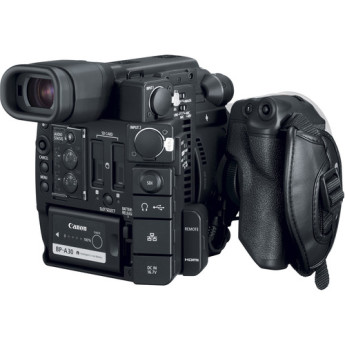 Guaranteed Brand New Products
All Products Sold by Manufacturer Authorized Retailers
30 Day Return Policy
Free Shipping
No Additional Fees
Viewfinder
| | |
| --- | --- |
| Type | Built-In: 0.46" (1.32 cm) diagonal, color 1,770,000 dots |
Video
| | |
| --- | --- |
| Signal System | NTSC/PAL |
| System Frequency Selection | 59.94 Hz50 Hz24 Hz |
| Video Format | Cinema Raw Light Resolution: 4096 x 2160 Bit Depth: 12-bit (29.97P/23.98P/25P/24P), 10 bit (59.94P/50P) Bit Rate: 1 Gbps MP4 Resolution / Color Sampling: 3840 x 2160 YCC420 8-bit, 1920 x 1080 YCC420 8-bit Bit Rate: 150 Mbps (3840 x 2160), 35 Mbps (1920 x 1080) MP4 (Proxy) Resolution / Color Sampling: 2048 x 1080 YCC420 8-bit Bit Rate: 35 Mbps (2048 x 1080) |
| Recording Media | CFast Card: 1 x slot (raw recording) SD Card: 2 x slots (MP4 and JPEG recording) |
| Frame Rate | 59.94 Hz Mode 59.94i/p, 29.97p, 23.98p 50 Hz Mode 50i/p, 25p 24 Hz Mode 24p |
| Time Code | Drop Frame (in 59.94/29.97 mode only) or Non-Drop Frame Rec run, free run, regeneration |
Lens System
| | |
| --- | --- |
| Lens Mount | EF |
| Built-In ND Filters | Standard: 2, 4, 6 stops Expanded: 2, 4, 6, 8, 10 stops |
LCD Display
| | |
| --- | --- |
| Type | Rotating color LCDSize: 4.00" / 10.16 cmResolution: 1,230,000 dotsAspect Ratio16:9 |
Inputs/Outputs
| | |
| --- | --- |
| General | Connectors 1 x Remote 1 x Ethernet 1 x USB 1 x Video |
| Headphone Connector | 3.5mm stereo mini-jack |
| Audio Input Terminals | 2 x Balanced 3-pin XLR (Mic Level, Mic Level with phantom power and Line Level) 1 x 3.5mm microphone jack |
| HDMI Output | 1 x HDMI Type A (Supports UHD 4K Output) |
| SDI | SDI: 1 x BNC (output) |
Image Sensor
| | |
| --- | --- |
| Type | CMOS |
| Color Filter System | RGB Primary filter (Bayer array) |
| Sensor Size | Super 35 24.6 x 13.8mm effective size / 6.4 x 6.4µm pixel pitch |
| Total Pixels | Approx. 9.84 MP (4206 x 2340) |
| Effective Pixels | 4096 x 2160/2048 x 1080: approx 8.85 MP (4096 x 2160) 3840 x 2160 / 1920 x 1080: a pprox. 8.29 MP (3840 x 2160) |
| Scanning System | Progressive |
| Dynamic Range | Canon Log 3: 1600% (ISO 800 or above) Canon Log/Wide DR: 800% (ISO 400 or above) |
| Processor | 2 x DIGIC DV 6 |
General
| | |
| --- | --- |
| Weight | 3.2 lb / 1.5 kg (approximately) |
| Dimensions (W x H x D) | 5.7 x 6 x 7" / 14.48 x 15.24 x 17.78 cm (body only)7 x 6 x 8" / 17.78 x 15.24 x 20.32 cm (with camera grip)13.2 x 10.8 x 10.8" / 33.53 x 27.43 x 27.43 cm (camera grip + LCD Monitor LM-V1 + LCD Attachment Unit LA-V1 + Handle Unit HDU-2 + mic holder) |
| Power Supply | 14.4 VDC (battery pack) 16.7 VDC (DC input) |
Focus Control
| | |
| --- | --- |
| Focus Modes | Manual Auto |
| Autofocus System | Focus Guide Please note: the below modes require lenses that support AF functions Dual Pixel CMOS AF (DAF) supported Manual focus One-shot AF Continuous AF AF-Boosted MF Face Detection AF |
Exposure and Metering
| | |
| --- | --- |
| Shutter Modes | Off, Speed, Angle, Slow Shutter, Clear Scan |
| ISO Range | Standard: 160 to 25,600 Expanded: 100 to 102,400 |
| Gain | Normal: -2 dB to 44 dB Expanded: -6 to 54 dB |
| Exposure Modes | Manual Push Auto Auto |
Audio
| | |
| --- | --- |
| Audio Inputs | 2 x XLR 1 x Mic jack |
| Built-In Microphone | None |
| Audio Recording | Raw: Linear PCM 16-bit 48 kHz 4-ch MP4: MPEG-4 AAC-LC 16-bit 48 kHz 2-channel, Linear PCM 16-bit 48 kHz 4-ch |
| Phantom Power | +48V |
Raw – Linear PCM 16-bit 48 kHz 4-ch, MP4- MPEG-4 AAC-LC 16-bit 48 kHz 2-channel, Linear PCM 16-bit 48 kHz 4-ch
New camera offers a truly impressive list of specs, inside an extremely portable form factor, with packages available for around $6,000.
Officially announced a few days before the kickoff of the Cinegear Expo held in Los Angeles in early June, the C200 is a brand new entry into the Canon EOS line of cameras.
I love this camera. If you spend the time to learn the camera's abilities inside and out you will get great results. This camera really complements and works well in concert with Canon's other EOS C cameras including the C700.recommendations: Expose using 18% grey card.
So much about this camera is right. The color science, the auto focus and Canon build quality. However, what we need is a 4.2..2 10 bit codec and the ability to output both this codec and the 4k 60 raw output to an external recorder. A single cFast slot is not a practical or affordable workflow.
I believe this to be a great jump from a dslr . Everything I need in one . No more external components and crazy Micky mouse rigs.Make sure to get cage and case! Going back to canon was a smart choice. I forgot how much better color grading was , on a canon. Quality sharp images on budget lenses .
I've enjoyed several brands of cameras as DSLR video emerged on the field, but found a real love of the C100 MkII - it was very compatible with our workflow and made event-recording so much easier.The C200 provides a natural evolution for our team -- the Dual Pixel Autofocus is game-changing.
I'm coming from a series of Blackmagic Design cine cameras which can all produce a great image once you learn to work with them, but I needed a more practical camera for some of my corporate work which didn't require focus pulling and as large a rig build-out as the pocket cinema cameras.
Excellent shooting capabilities. The face detection / auto focus have made my life easier. My favorite feature by far. I would however like to see a 10 Bit codec some time in the future. A nice mid range codec. I can't shoot in raw at the moment, it's too expensive! Please Canon, make it happen.
A camera for RAW data, for professional advertising, fashion and indie films like B Camera for ARRI Alexa mini.I bought a camera recently and Im shocked!This is a very comfortable camera if you work alone or with an assistant. I only remove the Canon RAW lite. This is exactly what I was expecting.
I bought this camera believing that the gap raw to 8 bits 4:2:0 was going covered with a 2018 with a 10 bits 4:2:2 firmware ,but nothing so far, a bit disappointed but hopeful I stay with Canon but Canon also must want to stay with me.
I always see a ton of people complaining about the lack of 10-bit... but it HAS 10-bit and even 12-bit if you want to record to C-fast cards (which are cheap compared to RED media). However, we use the 4K 24P and 60P settings in 8-bit all day, every day. Straight to SD cards, which are cheap.
I love this camera. I really do. It fits well between the C100 Mark II and the C300 Mark II. I really wish that they added more codecs to shoot internally like the C300 Mark II. No 10 bit internal is a killer for sure.
Super 35mm CMOS Sensor
Dual Pixel CMOS AF Technology
Dual DIGIC DV 6 Processors
4K DCI and UHD, 1920 x 1080
59.94p, 50p, 29.97p, 25p, 24p, 23.98p
Canon RAW Light, MP4, MP4 Proxy
Integrated EVF, 2 x XLR Audio Inputs
Rotating 4" LCD Monitor, Camera Grip
1 x CFast Card, 2 x SD Card Slots
SDI, HDMI, Ethernet Connectors
0.0/10
Average Expert Score
8.3/10
Average User Score
Canon EOS C200 EF Cinema Camera
LM-V1 4" LCD Monitor for C200 and C200B esbuvaqzduyzxeyraeua
LA-V1 LCD Attachment Unit for EOS C200 esbuvaqzduyzxeyraeua
HDU-2 Handle Unit for EOS C200/C200B
GR-V1 Camera Grip for EOS C200
Shoulder Strap
CA-A10 Compact Power Adapter for EOS C300 Mark II Camcorder
BP-A30 Battery Pack For EOS C300 Mark II
Compact Power Adapter
UN-5 Unit Cable for EOS C300 Mark II (1.6')
Eyecup
Mic Holder Unit
Tape Measure Hook
Thumb Rest
Body Cap
Limited 1-Year Warranty