Canon 5D Mark III Digital Camera (Body Only)
Model: 5260B002
Canon Warranty - USA Version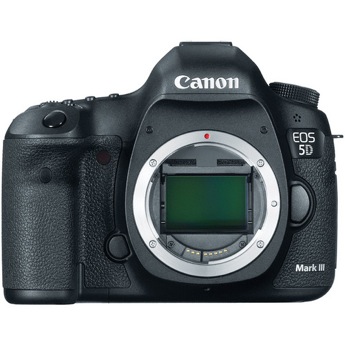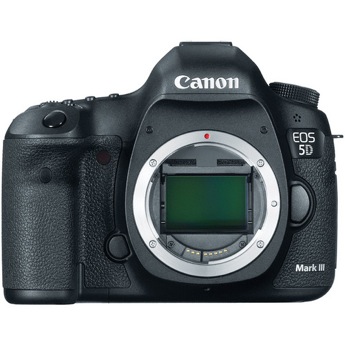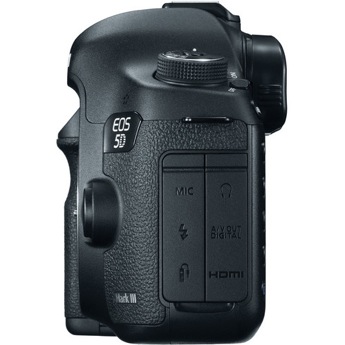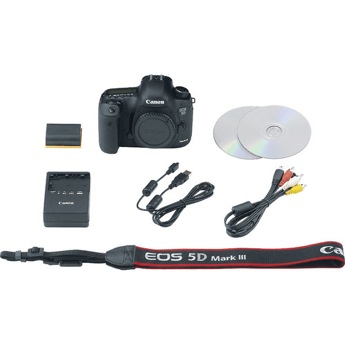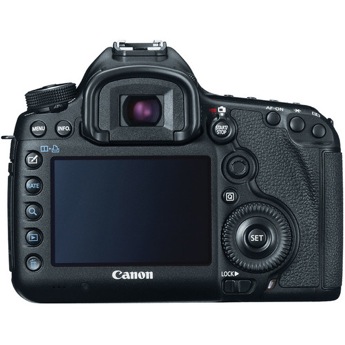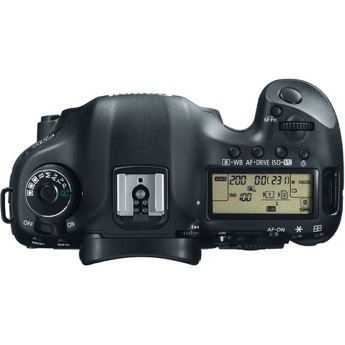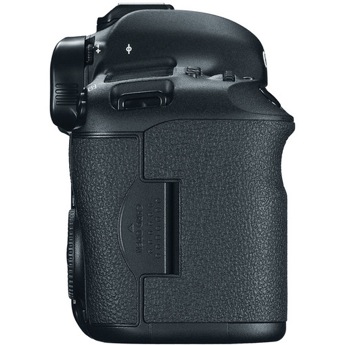 Guaranteed Brand New Products
All Products Sold by Manufacturer Authorized Retailers
30 Day Return Policy
Free Shipping
No Additional Fees
Product Unavailable
We are sorry. At this time, we are not accepting offers on this product.
Viewfinder/display
| | |
| --- | --- |
| Display screen | 3.2" Rear Screen LCD (1040000) |
| Viewfinder magnification | Approx. 0.71x |
| Screen coverage | 100% |
| Diopter adjustment | - 3.0 to +1.0 m |
| Live view | Yes |
| Viewfinder type | Pentaprism |
| Viewfinder coverage | 100% |
Power
Ac power adapter
AC Adapter Kit ACK-E6 (Optional)
Operating/storage temperature
Operating
32 to 104 °F (0 to 40 °C)
Humidity: 0 - 85%
Battery
1x LP-E6 Rechargeable Lithium-Ion Battery Pack, 7.2VDC, 1800mAh
Physical
| | |
| --- | --- |
| Dimensions (wxhxd) | 6 x 4.6 x 3" / 15.24 x 11.68 x 7.62 cm |
| Weight | 30.34 oz / 860 g |
Performance
| | |
| --- | --- |
| Shutter lag | 0.2 Seconds |
| Connectivity | 1/8" Headphone, 1/8" Microphone, AV Output, HDMI C (Mini), USB 2.0 |
| Interval recording | Not Specified By Manufacturer |
| Wi-fi capable (with optional transmitter) | Yes |
| Start-up time | 0.1 Seconds |
| Self timer | 2 sec, 10 sec |
Imaging
Pixels
Actual: 23.4 Megapixel
Effective: 22.3 Megapixel
File formats
Still Images: JPEG, RAW
Movies: MPEG-4 AVC/H.264, MOV
Audio: Linear PCM
Noise reduction
Yes
Camera format
Full-Frame
Bit depth
14-bit
Max resolution
22.1MP: 5760 x 3840 @ 3:2
Memory card type
CompactFlash
SD
SDHC
SDXC
Other resolutions
10.5MP: 3960 x 2640 @ 3:2
10MP: 3840 x 2560 @ 3:2
5.5MP: 2880 x 1920 @ 3:2
2.5MP: 1920 x 1280 @ 3:2
0.3MP: 720 x 480 @ 3:2
Aspect ratio
3:2
Camera type
Digital SLR with Interchangeable lenses
Sensor type / size
CMOS, 36 x 24 mm
Lens mount
Canon EF
Focus control
| | |
| --- | --- |
| Focus mode | Single-servo AF (S), Continuous-servo AF (C), Manual Focus (M) |
| Autofocus points | 61 |
| Focus type | Auto & Manual |
Flash
| | |
| --- | --- |
| External flash connection | Hot Shoe, PC Terminal |
| Max sync speed | 1 / 200 sec |
| Continuous shooting | Up to 6.0 fps |
| Flash compensation | -3 EV to +3 EV (in 0.33 or 0.5 EV steps) |
Exposure control
White balance modes
Auto, Cloudy, Custom, Daylight, Flash, Fluorescent (White), Kelvin, Manual, Shade, Tungsten
Exposure modes
Modes: AE Lock, Aperture Priority, Auto, Manual, Programmed Auto, Shutter Priority
Compensation: -5 EV to +5 EV (in 1/3 EV steps)
Mirror lock-up
Yes
Remote control
RS-80N3, LC-5 & RC-6 (Optional)
Shutter
Type: Mechanical
Speed: 1/8000 - 30 sec
Metering method
Spot metering, Center-weighted average metering, Average metering, Multi-zone metering
Av recording
File size
1920 x 1080 (Full HD)
1280 x 720
640 x 480
Video recording
Yes
Frame rate
@ 1920 x 1080: 30 fps, 25 fps, 24 fps
@ 1280 x 720: 60 fps, 50 fps
@ 640 x 480: 30 fps, 25 fps
Audio recording
With Video, Stereo, Via Optional External Mic
Exposure control
Manual: Shutter Speed, Aperture, ISO
Iso sensitivity
100 - 12800, Expandable to 25600
Exposure compensation
-3 EV to +3 EV (in 0.33 EV steps)
Focus
Auto
Manual
The Canon EOS 5D Mark III is the long-awaited successor to the 5D Mark II. It offers all the benefits of the Mark II along with some notable AF and speed improvements.
+

Excellent photo/video quality, Excellent build quality, Advanced 61 point AF system

-

Best image quality from Raw (vs. JPEG), Overly aggressive noise reduction, Monaural on-board microphone
The Canon 5D Mark III is a true "superstar" camera, with impressive capabilities for both still and video shooting. It suits the needs of well-heeled amateurs and working pros equally well, and while its resolution is only very slightly higher than that of the 5D Mark II, the Canon 5D Mark III...
+

Superb still and video image quality; Powerful, fast, and accurate AF system with loads of cross-type points, loads of configurability and great frame coverage; Rugged, weather-sealed body with great control layout and user-interface configurability.

-

Dynamic range is limited by noise in deep shadows; Somewhat heavy-handed noise suppression and sharpening at default settings. (Shooting RAW avoids both.); No AF illuminator., Dynamic range not as good as competitors (deep shadow noise is rather high in raw files), Auto and Incandescent white...
While it's not a no-brainer upgrade over the Mark II, the Canon EOS 5D Mark III is worth the price premium if better performance and configurability matter to you.
+

The Canon EOS 5D Mark III offers a more streamlined shooting design, significantly updated feature set with more configurability, plus better performance over its predecessor. It maintains its excellent photo and video quality as well.

-

JPEG photos at low ISO sensitivities don't match the generally excellent level of quality that you can otherwise get out of this camera.
The Canon EOS 5D Mark III is not only a very capable photographic tool in almost all areas, it's also fun and exciting to shoot with. Slight JPEG softness is disappointing in a camera at this level but it's only visible at pixel-level and we would expect most of the camera's target group to shoot...
+

Good resolution and detail in raw files, Good color and tonality across the ISO range, Reliable metering even in difficult contrast situations, Very responsive and snappy operation, thanks to new Digic 5+ processor, 6 frames per second continuous shooting with good buffering, Excellent build-quality...

-

Destructive noise reduction results in mushy JPEGs, even at base ISO, Visible sharpening artifacts at default settings, Heavy-handed noise reduction leads to lack of low-contrast detail at higher ISOs, Distortion correction not available 'on the fly', Built-in microphone only monaural, Soft video...
The Canon EOS 5D Mark III SLR is finally a complete and very powerful. Difficult to find a weak point. After a short period of adaptation becomes an extension of the arm of the photographer.
+

Image quality, Completeness and customizability of commands, Silent shutter mode.

-

Lack of a flasher incorporated, Tendency to underexposure.
The 5D Mark III has no built-in flash. I prefer my compact old 220EX for family photos; it is superior to the new 270EX II sold today. The 5D Mark III is the world's best DSLR. It's a huge improvement over the 5D Mark II due to the improvements from automatic color fringe correction, and the greatly...
The Canon EOS 5D Mark III announcement was perhaps the most anticipated camera announcement in history. The original Canon EOS 5D DSLR was the first affordable full frame DSLR. It was a highly regarded and very successful model.
Canon's Mark II users have been waiting three years for the third 5D in the series, and it's been well worth the wait - the camera has been vastly improved in nearly every aspect. Read on to discover how and why it's our Editor's Choice winner.
+

Excellent image quality, Improved handling, More responsive 61-point AF system, Fast six-frames per second shooting speed

-

Video not much improved out of camera, No non-compressed video thru HDMI, Video rolling shutter effect still visible
It's more about evolution and innovation (as opposed to revolution) in the digital SLR realm right now. Like the American Idol effect on singers to the untrained ear, the clarity and performance that photographers expect from the soon-to-be-legendary Canon EOS 5D Mark III has to live up to the hype.
+

Speed; features; accuracy; video
The Canon EOS 5D MkIII , ( ♥♥♥♥♥♥♥♥♥♥♥♥♥♥♥ ) is an excellent camera and a significant improvement over the EOS 5D MkII in terms of usability. It's faster, has better AF, better AE, better video, many more features, an extended ISO range and somewhat lower noise.
I use this camera for a variety of types of professional photography - weddings, newborns, children, and even births. The ISO handling is good for low light situations. Not amazing, but it works. The focusing system is amazing.
+

Focus System, HD Video, Live View Mode

-

Little detail in shadows at high ISO
The Canon EOS 5D Mark III is the first full frame camera that utilized gapless microlens technology to insure that all light reaching the sensor is directed into a pixel well. This of course means better image quality compared to it's predecessor specially at higher ISO.
There is 5D Mark 4 and 6D Mark 2, but 5D Mark 3 is the best one. 5D Mark 4 is just minor update from 5Dmk3. 6Dmk2 has many features, but it can't bit 5Dmk3's outcome. I love 5Dmk3 :)
Canon has hi qaulity camera's and lenes allways and very happy with product
+

easy to use and has all needed features.

-

none
Only con is that u need an external flash. Takes amazing pictures. It is so fast that there are multiple images that are taken with each shot to increase likelihood that you are getting a good one.
+

Fast / Accurate Auto-Focus, Fast Shutter Speed, Good Image Quality, Good Image Stabilization, Large Clear LCD
Very nice camera body in every respect. Terrific image quality especially when coupled with an L series lens.
+

Easy To Use, Fast / Accurate Auto-Focus, Fast Shutter Speed, Good Image Quality, Good Image Stabilization, High ISO Performance, Large Clear LCD, Quiet
I have purchased this camera just one week back, and trust me it can create wonders.I went to hill statation with my friends and Canon EOS was with me.I mean Vow what pictures this camera take ,today when I look at this picture I feel I am at the Hill station,its high resolution quality gives me the...
+

It has got 3.2"clear view,Dual CF and SD memory slots,61-point high density AF

-

no cons as such
this had full audio control while shooting with 64 auto focus points and also full frame..what more can we ask for this one...with so many focus points and manual controls...
Bought several of these for resale. Customers really liked the combined lens. Easy to use and has advanced options. I received faster than advertised delivery from Optics Planet. I enjoy working with them and they are very responsive to any questions.
The Canon EOS 5D Mark III is an HDSLR designed to build on the unprecedented success of its predecessor, the Canon EOS 5D Mark II. The 5DMII broke new ground in the world of HD video, offering true high-resolution, cinema-quality video capture for the first time in a DSLR, and started a resolution in cinematography that continues to this day. The 22-megapixel Canon EOS 5D Mark III offers new autofocusing, metering and sensor technology and incorporates feedback from professional users to take this legacy to an entirely new level.
The Canon EOS 5D Mark III is built around a new 22.3 megapixel full-frame, self-cleaning CMOS sensor and promises high perforance and claims improved noise reduction at higher ISOs with its DIGIC 5+ sensor and up to 6 frames per second burst rate in RAW and JPEG. Additional technological advancements include an Intelligent Viewfinder, Canon's advanced iFCL metering system, High Dynamic Range (HDR), and Multiple Exposure mode.

A newly-designed 61-Point High-Density Reticular AF system is said to be Canon's most sophisticated AF to date, featuring multi-zonewide-area AF for better tracking. A new dedicated AF menu tab saves users from digging through menu functions. A new Multi-layer iFCL (intelligent Focus Color Luminance) metering system takes color and luminosity surrounding chosen AF points into account, whichCanon says will provide new levels of accuracy in fast-changing, tricky light.

Another new feature is High Dynamic Range (HDR); the Canon EOS 5D Mark III can merge 3 images at different exposures to create a final image with a broad range of shadow and highlight detail. In-camera HDR can cover a range up to +/- 3 stops in five different settings. The camera's control layout has been changed, with Canon adding more customizable controls and a new ergonomic design. A new "intelligent viewfinder" includes 100% coverage and a dual-axis electronic level indicator.

Improvements in video capture
The video and cinema industries have been eagerly anticipating the Canon EOS 5D Mark III for improvements over its groundbreaking predecessor. Canon claims the 5D Mark III can capture HD video with a level of sophistication on par with professional movie camerasoffering phenomenal performance on a DSLR. It offers both All-I and IPB compression, supports H.264/MPEG-4 AVC High Profile, and automatically splits files greater than 4GB (FAT specifications) for extended recording without interruption.

The Canon 5D Mark III offers the option of timecoding during recording only (Rec Run) or at all times (Free Run), useful for multi-camera shoots. It also features improved sound recording adjustment capabilities, offering 64-step volume control accessible through the Quick Control screen during video shooting, plus a dedicated headphone jack for convenience in shooting. The CMOS sensor's new drive system is said to significantly increas image processor performance, reducing color artifacts and moiré (a commonproblem that occurs in scenes with horizontal lines), and ensures that the EOS 5D Mark III can record at a number of frame rates up to ISO 25600 in H mode.

The Canon 5D Mark III is commonly used for Family photos, Landscape/scenery, Low light, Sports/action, Travel, Video, Weddings, Wildlife and more.The Canon 5D Mark III is most used by customers who consider themselves to be a Photo enthusiast, Pro photographer, Semi-pro photographer among others.The Canon 5D Mark III is popular because customers like the following qualities of the Canon 5D Mark III: Easy to use, Fast / accurate auto-focus, Fast shutter speed, Good image quality, High ISO performance, Image stabilization, Large clear LCD, Quiet to mention just a few.
Canon EOS 5D Mark III Pro HDSLR the Long-awaited successor to groundbreaking Canon 5D Mark II
22.3MP Full-Frame CMOS Sensor
3.2" Clear View High Resolution LCD
DIGIC 5+ Image Processor
61-Point High Density AF
Full HD 1080/30p and 720/60p Formats
Built-In HDR and Multiple Exposure Modes
Extended ISO Range (50-102400)
Up to 6.0 FPS Continuous Mode
Dual CF and SD Memory Card Slots
Durable Magnesium-Alloy Construction
8.9/10
Average Expert Score
9.7/10
Average User Score
Canon EOS 5D Mark III DSLR Camera (Body Only)
LP-E6 Rechargeable Lithium-Ion Battery Pack (7.2V, 1800mAh)
LC-E6 Charger for LP-E6 Battery Pack
AVC-DC400ST Stereo AV Cable
Eyecup Eg
RF-3 Body Cap for Canon EOS Cameras
IFC-200U USB Interface Cable - 6.9' (1.9 m)
Wide Neck Strap EW-EOS5DMKIII
EOS Digital Solution Disk
Camera Instruction Book
Software Instruction Book
Pocket Guide
Digital Learning Center Leaflet
Limited 1-Year Warranty