Zoom H2n Handy Recorder Portable Digital Audio Recorder
Model: ZH2N
Zoom Warranty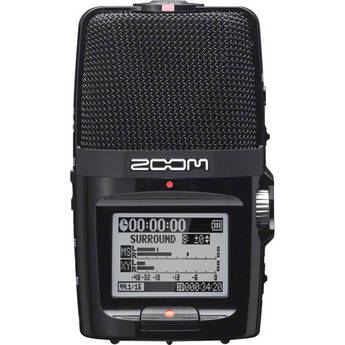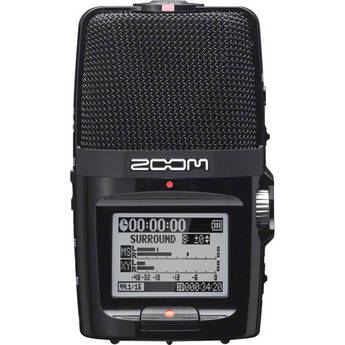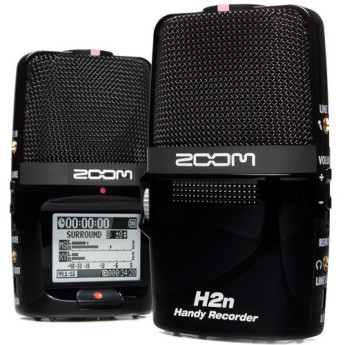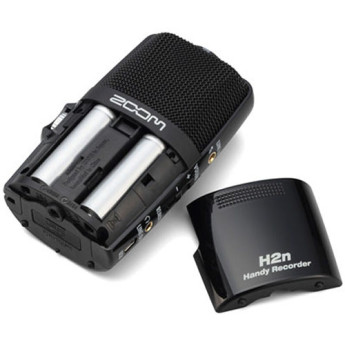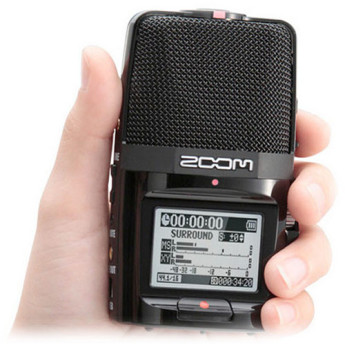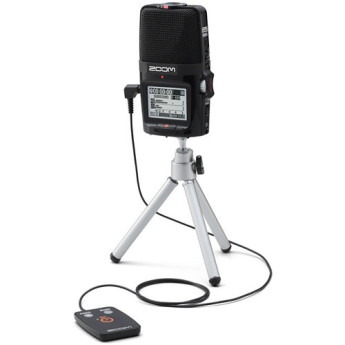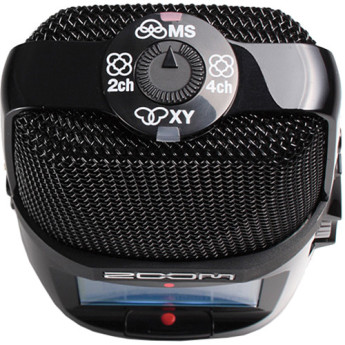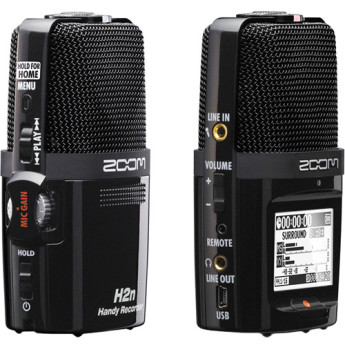 Guaranteed Brand New Products
All Products Sold by Manufacturer Authorized Retailers
30 Day Return Policy
Free Shipping
No Additional Fees
General Information
Type
Hand-held stereo digital audio recorder
Recording/Reading Methods
SD/SDHC card (up to 32GB supported, 2GB card included)
USB connection to PC/Mac
Recording Bit Rate
WAV: 16 and 24-bit
MP3: 48 to 320kbps
Sampling Frequency
WAV: 44.1/48/96kHz
MP3: 44.1kHz
Number of Channels
2 or 4, Depending on mode
Recording Time

All times are for a 1GB memory card
Stereo Mode:
MP3: 17 hours 21 mins (128kbps), 6 hours 56 mins (320kbps)
WAV: 1 hour 34 mins (16-bit/44.1kHz), 1 hour 26 mins (16-bit/48kHz), 28 mins (24-bit/96kHz)
4-Channel Mode:
WAV: 47 mins (16-bit/44.1kHz), 28 mins (24-bit/48kHz)
AD/DA Conversion
24-bit, 128x oversampling
Signal Processing
32-bit
Microphone Type
Mid side stereo and 90° XY stereo
SPL
120dB max
Input Gain
0 to +39dB
Connectors
1 x 3.5mm mic/line stereo input
1 x 3.5mm headphone/line stereo output
1 x Remote jack
1 x High-speed USB 2.0 port, mini-B type
Input Impedance
2k ohms
Output Impedance
10k ohms or more
Output Level
-10dBm rated
20mW + 20mW phones output level @ 32 ohms
Speaker
400mW @ 8 ohms
Display
1.8" (128 x 64) Backlit LCD
Power
2 x AA or LR6 Batteries (Up to 20 hours operation)
USB or AC power (AC adapter sold separately)
Dimensions (WxDxH)
2.7 x 4.5 x 1.7" (68 x 114 x 43mm)
Weight
4.6 oz (130g) (without batteries)
"I've admired and owned ZOOM products for a few years now, both H4 and H2 passing through my studio and out into the field. Those reviews have already been published, and this Japanese company has now taken over its own worldwide distribution of its newest products…"
I gave up trying to cheaply record myself playing drums after too many decades of recordings that sounded like a tin roof in a sandstorm at the sea shore. Now there are many little recorders that can handle the job but this little Zoom stands out for price and ease of use.
Bought this because I want to travel with a recorder and podcast on the road,, don't need mic inputs,, recorded a live band using the recording gain controls it worked great with no distortion,, interviewed a few band members sitting across the stage while some other band members warmed up,, this...
I would recommend the Zoom H2N for most recording jobs. This little unit recorded me, perfectly. nice range of sounds, great pick up in the room, and was easy to use, even for me.
I used the H2N for 4 months and was happy with the recording quality, it suited my needs very well. Then the display started behaving erratically. I sent the unit in for warranty repair and am still waiting 4 months later with no response from the manufacturer!
It does just what says and that is what I was looking for. Very pleased, the price was right.
I had an original Zoom H2 recorder, which worked well, but unfortunately was stolen. I use my recorder for recording sermons and lectures, so I have not been overtly concerned with the high fidelity of the recordings. This H2n was a replacement for that recorder.
Just the best compact sound device to always have on your pocket.
This is a good alternative to the newer models from Zoom if you are willing to live without separate outputs to LINE and Headphones.
Great sound recorder - use it specifically for recording ambiences, and for the price it can't be beat. Better suited for that task than all the other Zoom recorders. If I had more to drop I'd buy a tetramic, but this works great for most applications.
Ultra-Portable Design
5 Integrated Microphones
4 Selectable Recording Patterns
Records to SD/SDHC Cards
3.5mm I/O
Reference Speaker
1.8" Backlit LCD Display
High-Speed USB 2.0
Battery, USB, or AC Power
Steinberg WaveLab LE 7 Included
Zoom H2n Handy Recorder Portable Digital Audio Recorder
2GB SD Card
2 x AA Batteries
Steinberg WaveLab LE 7 Activation Card
1-Year Limited Warranty