Zeiss Wide Angle 28mm f/2.8 Biogon T* ZM Manual Focus Lens for Zeiss Ikon and Leica M Mount Rangefinder Cameras - Black
Model #1365-657
Zeiss Warranty - USA Version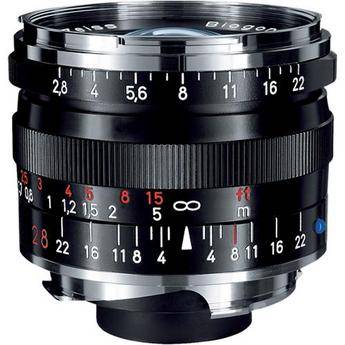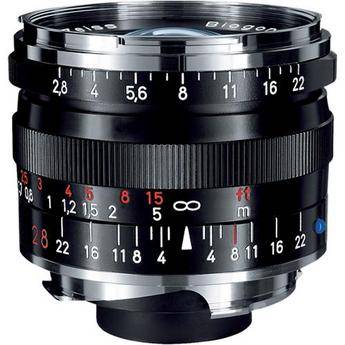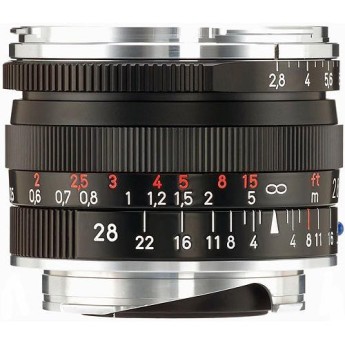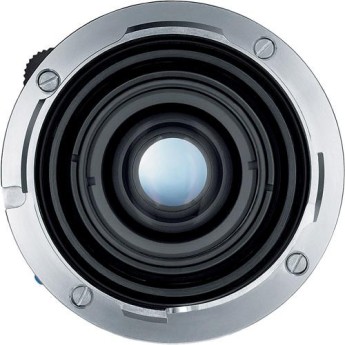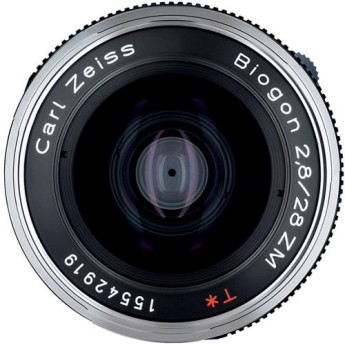 All Products are New and from Manufacturer Authorized Retailers
30 day return policy
Free Shipping
No Additional Fees
General Information
| | |
| --- | --- |
| Filter Size | 46mm |
| f/Stop Range | 2.8-22 |
| Minimum Focus Distance | 1.8' (0.5 m) |
| Magnification | 1:16 |
| Angle of View | 75 degrees |
| Groups/Elements | 6/8 |
| Length | Not specified |
| Maximum Diameter | Not specified |
| Weight | 7.8 oz (220 g) |
The Carl Zeiss Biogon T* 2,8/28 ZM is half the price of its Leica counterpart, but its edge performance leaves something to be desired.
+

Weak edge performance., Hood not included., Manual focus only.

-

Compact., Good center-weighted sharpness., 0.5-meter close focus., Minimal distortion., Solid build quality.
I just purchaseda used Leica M8 and now I am officially a Leica owner. Wahooo. So to go with this gorgeouscamera I chose the Zeiss Biogon 28mm f/2.8. Its about 1k cheaper than buying a Leica lens. I have only owned the Zeiss for a couple days but its really nice. Its super sharp from f/2.8-22.
I wanted to take the time to write a review for this lens because of how much joy this lens has brought me over the past five months of shooting with it.I use the lens on a Leica M4 and M6 and use a Voigtlander external finder which makes a big difference.
I use this on a Leica M-P. So far, I really like it. I have the Zeiss 35mm 2.0 as well. Both lenses are very sharp and I'm getting beautiful files.
Superb lens. Every bit as good as the much more expensive Leica 28 2.8. It's outstanding at all apertures and a pleasure to use.
After several outings with this lens, I can say that it exceeds my expecations. It's very sharp from 2.8 up through f/16 - at its best from 5.6-8. It's a bit larger than expected, though doesn't intrude on the M9 OVF too much. Focusing is smooth and easy.
Simply superb---the warmth of colour rendering and unbelievable sharpness are unbelievable.The rendered detail on each shot is exceptional. I am so glad I bought this product. The only negative comment I could make is that there is a little cut-off in the viewfinder lines in one corner of both the...
Great lens, super sharp and very easy to focus. Filters are easy to add and remove. Size is a little larger than I expected on my Minolta CLE, but overall an extremely well built precision lens.
I use this lens on my Leica M9 for Landscape and achitecture photography. It is very sharp at all arpertures. The Zeiss 28mm f/2.8 has great ergonomics but does obstruct the viewfinder somewhat. It has a silky-smooth, zero-play focus ring that you can easily turn with your fingertip.
I use this on my Sony NEX-5 and it's amazing quality just keeps on coming. Only complaint is that you can't focus closer than about 1-1/2 ft/ 1/2 meter, but I am usually using it for things at a distance.
I like this lens a lot. It's flare control is outstanding with nice 10 a pointed sunstar affect. It's actually sharper than what Zeiss's MTF graph led me to believe. By no means should this lens be judged on its published MTF graph when comparing it to the Leica Elmarit.
Zeiss Wide Angle 28mm f/2.8 Biogon T* ZM Manual Focus Lens for Zeiss Ikon and Leica M Mount Rangefinder Cameras - Black
Front & Rear Lens Caps
2-Year Warranty