SAL-14TC 1.4x APO (D) Teleconverter - for Sony & Minolta Maxxum AF SSM & APO Lenses
Model #SAL14TC
USA Version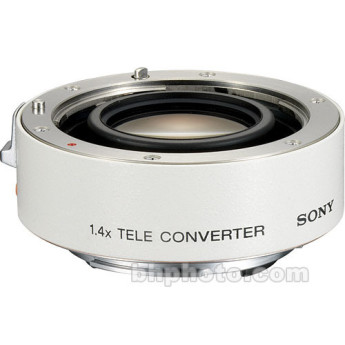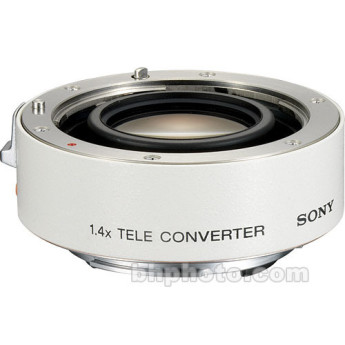 All Products are New and from Manufacturer Authorized Retailers
30 day return policy
Free Shipping
No Additional Fees
General Information
| | |
| --- | --- |
| Diameter | 2.5" (63mm) |
| Length | 0.8" (21mm) |
| Weight | 6.2 oz(175 g) |
This was purchased for a Sony G2 70-400mm lens (amazing lens!), LA-EA3 adapter and a7RII camera. This combination works perfectly. The specifications listed on-line were clear that the 1.4x would not allow autofocus for the 70-400. I could live with manual focus.
I bought this 1.4 teleconverter because I cannot afford the 12,000 dollar 500mm telephoto lens. I thought I'd try this on my 70/400 mm telephoto lens. Problem is I cant manually focus the long shots, which is why I bought this. So I have this expensive piece of gear for moon shots. For now.
I am an amateur photographer that shoots high school sports for our local high school. I wanted a fix aperture lens but found that it limited my distance to do so. I purchased this in hopes of getting some of that distance back. There is no quality degradation when using this with your lens.
I've only had the Sony 1.4x a-Mount Teleconverter for a couple of weeks, but the quality of pics I'm getting is excellent. I am using it with the Sony a77ii + Sony 500mm G-Series. AF might be just a smidge slower than without it, but it's still very good.
I am thrilled to have the extra reach to get high quality pictures that I otherwise would have to pass up.
Excellent addition for Sony 70-200 F2.8 G Lense. Be WARNED this designed to ONLY Work on THESE Specific LENSES made by Sony: 300mm f/2.8 (D) SSM 70-200mm f/2.8 (D) SSM 200 f/2.8 APO G 300 f/2.8 APO G 300 f/4 APO G 400 f/4.5 APO G 600 f/4 APO G This Teleconverter CANNOT BE used in conjunction with...
Works well with 70-200 lens mounted to a A-Mount Body. Lens will not focus on an E-Mount body in combination with A to E mount convertor.
Great item
+

Durable, Lightweight, Rugged
I HAVE ONLY HAD ONE OPPORTUNITY TO USE THIS SO FAR, TRYING TO GET A PICTURE OF EAGLE USED WITH A 300MM 2.8 PRIME AND IT WORKED GREAT NEED THE ADDITIONAL FOCAL LENGTH AS USED THE 300MM WITH OUT AND DIDNT HAVE ENOUGH FOCAL LENGTH TO PULL IT IN, SO FAR i AM PLEASED
I have owned the Sony 300mm f/2.8 G lens for a long time. I also had the Sony 2X TC but had mixed feelings about the results I was getting. The 2X caused loss of contrast and in low light my A900 would have difficulty finding auto-focus.
Sony 1.4x Teleconverter
Front & Rear Lens Caps
Case
Limited 1-Year Warranty