Sony PXW-FS7M2 XDCAM Super 35 Camera System
Model: PXW-FS7M2
Sony Warranty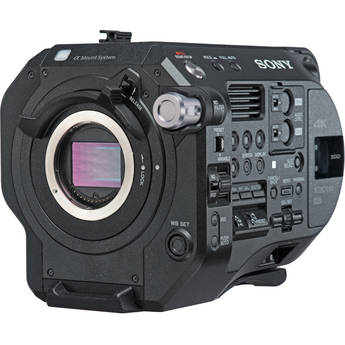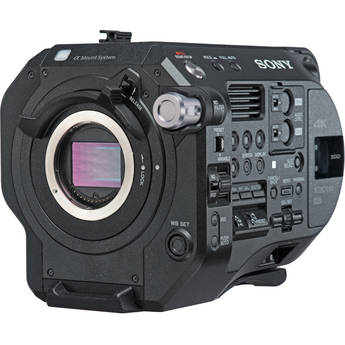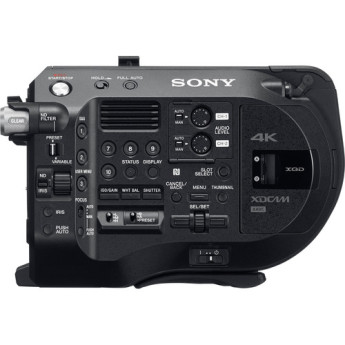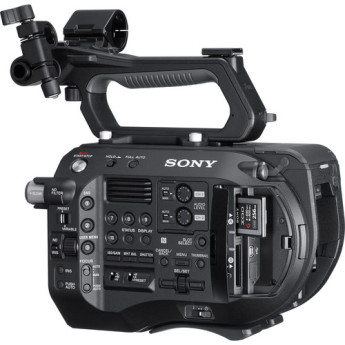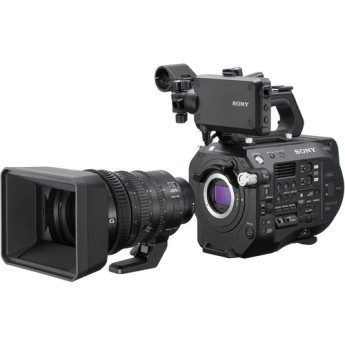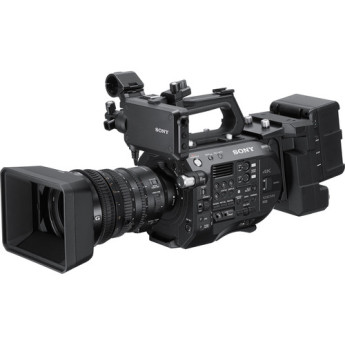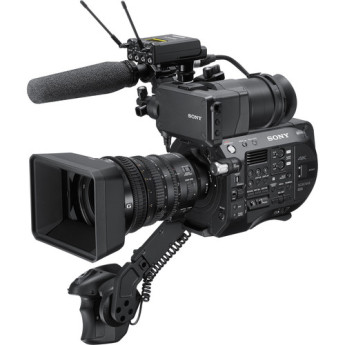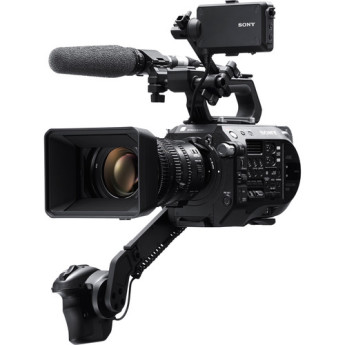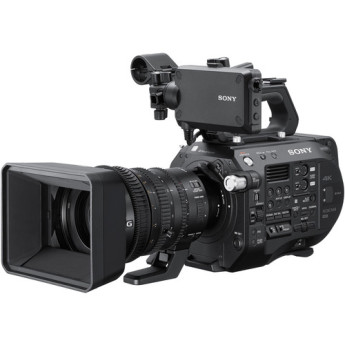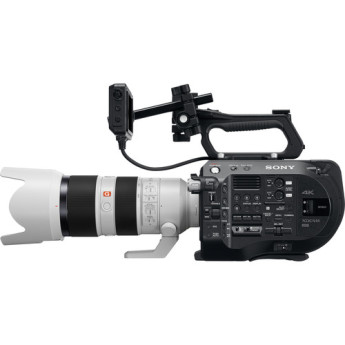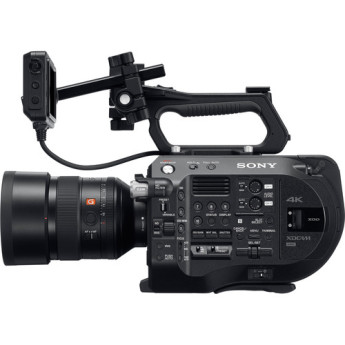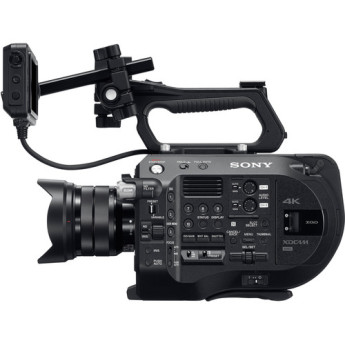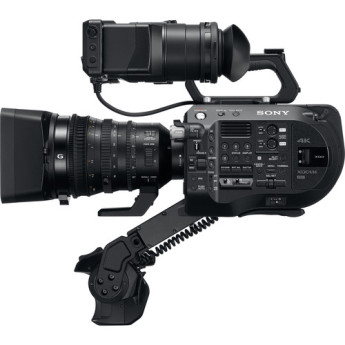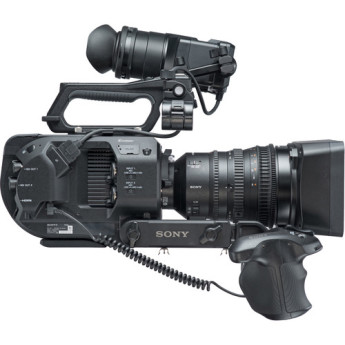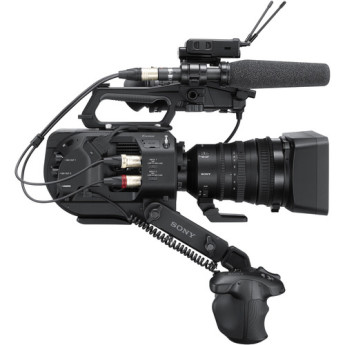 Guaranteed Brand New Products
All Products Sold by Manufacturer Authorized Retailers
30 Day Return Policy
Free Shipping
No Additional Fees
Packaging Info
| | |
| --- | --- |
| Package Weight | 12.65 lb |
| Box Dimensions (LxWxH) | 15.7 x 13.5 x 12.5" |
General Information
| | |
| --- | --- |
| Signal-to-Noise Ratio | 57 dB (Y) |
| Sensitivity | 2000 lx, 89.9% reflectance T14 (3840 x 2160/23.98p mode 3200K) ISO Sensitivity ISO 2000 (S-Log3 Gamma D55 Light source) |
| Minimum Illumination | 0.7 lux: +18 dB,23.98p,Shutter OFF,ND Clear, f/1.4 |
| Signal System | NTSC / PAL |
| Built-in Filters | Clear, 1/4, 1/16, 1/64 |
| LCD Monitor | 3.5" / 8.8 cm Approx: 1.56M dots |
| Speaker | Monaural |
| Shutter Speed | 1/3 to 1/9000 of a sec |
| White Balance | PresetMemory AMemory B (1500K-50000K)/ATW |
| Gain Selection | -3, 0, 3, 6, 9, 12, 18 dB, AGC |
| Gamma Curve | STD HG User S-log3 |
| Shooting Formats | 4K 4096 x 2160 12-bit raw UHD 3840 x 2160 10-bit 4:2:2 XAVC-I 8-bit 4:2:0 XAVC-L 2K 2048 x 1080 12-bit raw HD 1920 x 1080 10-bit 4:2:2 XAVC-I 10-bit 4:2:2 XAVC-L MPEG2 4:2:2 HD 1280 x 720 MPEG2 4:2:2 |
| Audio Recording Format | LPCM 24 bits, 48 kHz, 4 channels (Recording/Playback 2 channels) |
| Image Device | Super 35mm Single-Chip Exmor CMOS |
| Recording Frame Rate | XAVC-I QFHD 3840 x 2160/ 59.94p, 50p, 29.97p, 23.98p, 25p XAVC-I HD 1920 x 1080/59.94p, 50p, 59.94i, 50i, 29.97p, 23.98p, 25p XAVC-L QFHD 3840 x 2160/59.94p, 50p, 29.97p, 23.98p, 25p XAVC-L HD 50 1920 x 1080/59.94p, 50p, 59.94i, 50i, 29.97p, 23.98p, 25p XAVC-L 35 1920 x 1080/59.94p, 50p, 59.94i, 50i, 29.97p, 23.98p, 25p XAVC-L 25 1920 x 1080/59.94i, 50i MPEG-2 Long GOP MPEG HD422 1920 x 1080/59.94i, 50i, 29.97p, 23.98p, 25p 1280 x 720/59.94p, 50p, 29.97p, 23.98p, 25p |
| Slow & Quick Motion Function | XAVC-I mode 3840 x 2160: 1 to 60 frames (59.94p, 50p, 29.97p, 23.98p, 25p) XAVC-I mode 1920 x 1080: 1 to 180 frames (59.94p, 29.97p, 23.98p) XAVC-I mode 1920 x 1080: 1 to 150 frames (50p, 25p) XAVC-L mode 3840 x 2160: 1 to 60 frames (59.94p, 50p, 29.97p, 23.98p, 25p) XAVC-L mode 1920 x 1080: 1 to 120 frames (59.94p, 50p, 29.97p, 23.98p, 25p) |
| Maximum Recording Time | XAVC-I mode QFHD 59.94p When using QD-G128A (128 GB): Approx. 22 minutes When using QD-G64A (64 GB) Approx. 11 minutes XAVC-I mode QFHD 50p When using QD-G128A (128 GB): Approx. 26 minutes When using QD-G64A (64 GB) Approx. 13 minutes XAVC-I mode QFHD 29.97p When using QD-G128A (128 GB): Approx. 44 minutes When using QD-G64A (64 GB) Approx. 22 minutes XAVC-I mode QFHD 23.98p When using QD-G128A (128 GB): Approx. 55 minutes When using QD-G64A (64 GB) Approx. 27 minutes XAVC-I mode QFHD 25p When using QD-G128A (128 GB): Approx. 52 minutes When using QD-G64A (64 GB) Approx. 26 minutes XAVC-I mode HD 59.94p When using QD-G128A (128 GB): Approx. 59 minutes When using QD-G64A (64 GB) Approx. 30 minutes XAVC-I mode HD 50p When using QD-G128A (128 GB): Approx. 71 minutes When using QD-G64A (64 GB) Approx. 35 minutes XAVC-I mode HD 59.94i When using QD-G128A (128 GB): Approx. 118 minutes When using QD-G64A (64 GB) Approx. 59 minutes XAVC-I mode HD 50i When using QD-G128A (128 GB): Approx. 141 minutes When using QD-G64A (64 GB) Approx. 70 minutes XAVC-I mode HD 29.97p When using QD-G128A (128 GB): Approx. 118 minutes When using QD-G64A (64 GB) Approx. 59 minutesXAVC-I mode HD 23.98pM/b> When using QD-G128A (128 GB): Approx. 147 minutes When using QD-G64A (64 GB) Approx. 74 minutes XAVC-I mode HD 25p When using QD-G128A (128 GB): Approx. 141 minutes When using QD-G64A (64 GB) Approx. 70 minutes XAVC-L mode QFHD 59.94p/50p When using QD-G128A (128 GB): Approx. 87 minutes When using QD-G64A (64 GB) Approx. 44 minutes XAVC-L mode QFHD 29.97p/23.98p/25p When using QD-G128A (128 GB): Approx. 131 minutes When using QD-G64A (64 GB) Approx. 66 minutes XAVC-L 50 mode When using QD-G128A (128 GB): Approx. 262 minutes When using QD-G64A (64 GB) Approx. 131 minutes XAVC-L 35 mode When using QD-G128A (128 GB): Approx. 374 minutes When using QD-G64A (64 GB) Approx. 187 minutes XAVC-L 25 mode When using QD-G128A (128 GB): Approx. 524 minutes When using QD-G64A (64 GB) Approx. 262 minutes MPEG HD422 mode When using QD-G128A (128 GB): Approx. 262 minutes When using QD-G64A (64 GB) Approx. 131 minutes |
| Media Card Slots | 2 x XQD 1 x SD (for configuration data only) |
| Input and Output Connectors | Audio Input 2 x 3-pin XLR Line/mic/mic +48 Mic Reference: -40. -50. -60 dBu SDI Output 2 x BNC HD/3G-SDI SMTPE292M/424M/425M HDMI 2.0 1 x Type A USB USB device, miniB Headphone 1 x Stereo mini jack -16 dBu 16 Ohms Remote Stereo mini jack (Φ2.5 mm) |
| Accessory Shoe | Multi-Interface (MI) shoe |
| Power Requirement | 12 VDC |
| Power Consumption | Approx. 19 W (while recording XAVC-I QFHD 59.94p, SELP28135G Lens, Viewfinder ON, not using external device) |
| Battery Operating Time | BP-U30: Approx. 1 hr while recording XAVC-I QFHD 59.94p, SELP28135G Lens, Viewfinder ON, not using external device BP-U60: Approx. 2 hr while recording XAVC-I QFHD 59.94p, SELP28135G Lens, Viewfinder ON, not using external device BP-U90: Approx. 3 hr while recording XAVC-I QFHD 59.94p, SELP28135G Lens, Viewfinder ON, not using external device |
| Temperature | Operating: 32 to 104°F / 0 to 40°C Storage: -4 to 140°F / -4 to 140°C |
| Dimensions (WxHxD) | 6.14 x 9.41 x 9.72" / 156 x 239 x 247 mm |
| Weight | 4.4 lb / 2.0 kg: Body Only 9.9 lb / 4.4 kg: Body, Viewfinder, Eyepiece, Grip Remote Control, BP-U30 Battery, SELP28135G Lens, an XQD Memory card |
| Recording Formats | XAVC-I QFHD MPEG-4 H.264/AVC 59.94P CBG, bit rate 600 Mb/s 50P CBG, bit rate 500 Mb/s 29.97P CBG, bit rate 300 Mb/s 23.98P CBG, bit rate 240 Mb/s 25P CBG, bit rate 250 Mb/s XAVC-I HD MPEG-4 H.264/AVC 59.94P VBR, maximum bit rate 222 Mb/s 50P VBR, maximum bit rate 185 Mb/s 59.94i VBR, maximum bit rate 111 Mb/s 50i VBR, maximum bit rate 112 Mb/s 29.97p VBR, maximum bit rate 111 Mb/s 23.98p VBR, maximum bit rate 89 Mb/s 25p VBR, maximum bit rate 112 Mb/s XAVC-L QFHD MPEG-4 H.264/AVC 59.94p/50p mode: VBR, maximum bit rate 150 Mb/s 29.97p/23.98p/25p mode: VBR, maximum bit rate 100 Mb/s XAVC-L HD 50 MPEG-4 H.264/AVC VBR, maximum bit rate 50 Mb/s XAVC-L HD 35 MPEG-4 H.264/AVC VBR, maximum bit rate 35 Mb/s XAVC-L HD 25 MPEG-4 H.264/AVC VBR, maximum bit rate 25 Mb/s MPEG-2 Long GOP CBR, maximum bit rate 50 Mbps, MPEG-2 422P@HL XAVC-I QFHD 3840 x 2160/ 59.94p, 50p, 29.97p, 23.98p, 25p XAVC-I HD 1920 x 1080/59.94p, 50p, 59.94i, 50i, 29.97p, 23.98p, 25p XAVC-L QFHD 50 3840 x 2160/59.94p, 50p, 29.97p, 23.98p, 25p XAVC-L 35 1920 x 1080/59.94p, 50p, 59.94i, 50i, 29.97p, 23.98p, 25p MPEG-2 Long GOP 1920 x 1080/59.94i, 50i, 29.97p, 23.98p, 25p 1280 x 720/59.94p, 50p, 29.97p, 23.98p, 25p |
| Effective Picture Elements | 17:9 4096 (H) x 2160 (V) 16:9 3840 (H) x 2160 (V) |
Its worth every penny and never has disappointed us. We own four of these and travel extensively on reality TV assignments. Built rugged enough and reliable for what we do. Sony was good about a problem we had with the HD SDI output outside the 90 period due to our production cycle.
I've only had the camera for two weeks and out on four shoots: White House multi-cam, interviews, March for Our Lives. Overall I am very pleased with the camera and its image quality.
We shoot documentary, narrative, commercial and corporate so we needed a versatile 4K system. Love the image quality. The variable ND is a great feature. The 18-110 is a solid lens. I wish it were a little faster, but for the price - it's excellent.
Intuitive to set up. Easy to use once you understand all of the settings (watch Youtube tutorials!). Image is amazing and shoulder rig is a huge improvement over Mk 1.
Lots of youtube videos needed to work every feature but well worth it.
First off, a little background. I have never used the original Fs7, and before using the Fs7 ii I was using Canon systems primarily. Like a lot of people turned off by Sony, I had internalized the usual myths: poor ergonomics, poor menu design, poor autofocus, bad button layout, lens mount system...
Wow, what a great camera. We use these for everything from reality tv to corporate video and live multi-camera events. They always get positive reviews. I like the menus and wide variety of settings.
Does everything we need in a 4k solution
The competition didn't stand a chance of getting my money on this purchase.On virtually every spec, this camera shines. Ready to run and gun straight out of the box - ergonomics are workable without any further purchases, although you can of course greatly improve things that way if you want to.
Before making this purchase, I owned the previous model, the FS7. There were a couple upgrades that worked marvelously: namely the Electronic Variable ND. Though the Auto function of it doesn't really expose properly, especially when shooting S-LOG 3, manual mode has been really valuable in outdoor...
Super 35-Sized CMOS Sensor
Locking Sony E-Mount
Integrated Electronic Variable ND Filter
DCI 4K (4096 x 2160) up to 59.94p
UHD up to 59.94 fps, HD up to 180 fps
XAVC-I/L, MPEG-2, XAVC up to 600 Mb/s
Supports Rec. 709 and BT-2020
Dual XQD Memory Card Slots
Dual HD/3G-SDI & HDMI Output
Ergonomic Handgrip with Camera Controls
Sony PXW-FS7M2 XDCAM Super 35 Camera System
Body Cap
Viewfinder
Eyepiece
Grip Remote Control
Wireless Adaptor Bracket
BC-U1 Battery Charger
BP-U30 Lithium-Ion Battery
2 x Power Cord
USB Cable
LCD Viewfinder Lens Hood
Limited 1-Year Warranty Parts, 90-Days Labor