Sony Alpha a6000 Mirrorless Digital Camera with 16-50mm Lens (Graphite)
Model #ILCE6000L/H
Sony Warranty - USA Version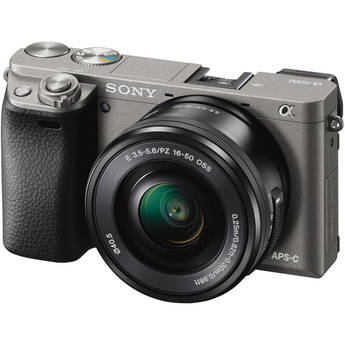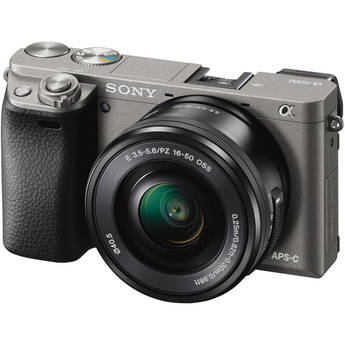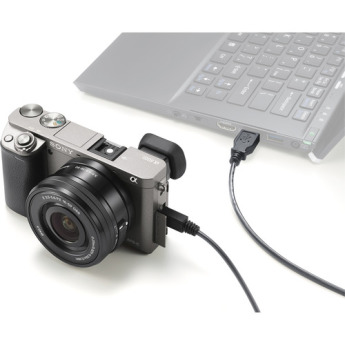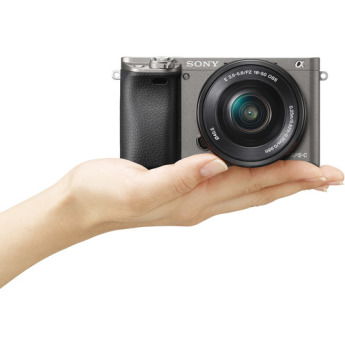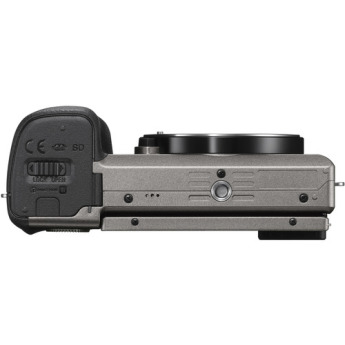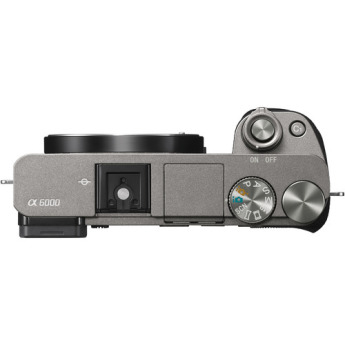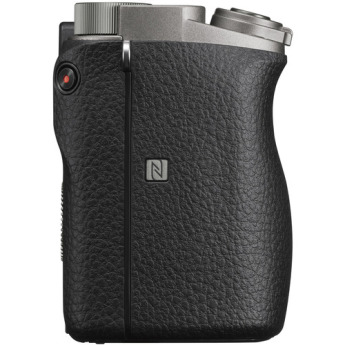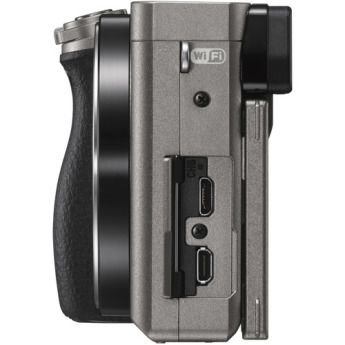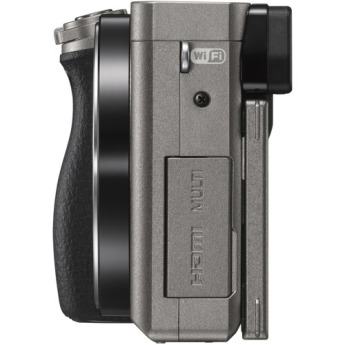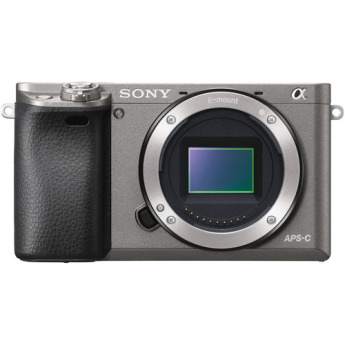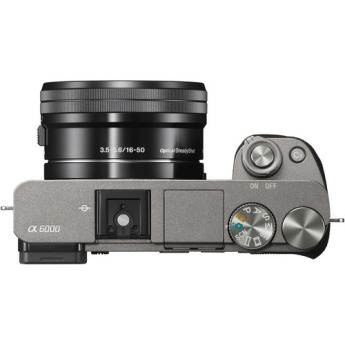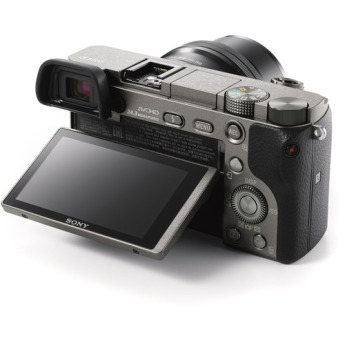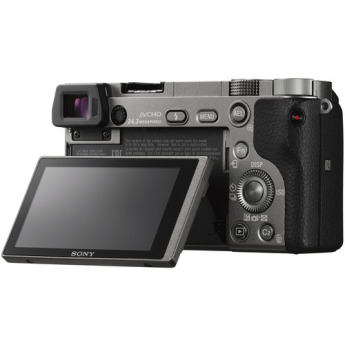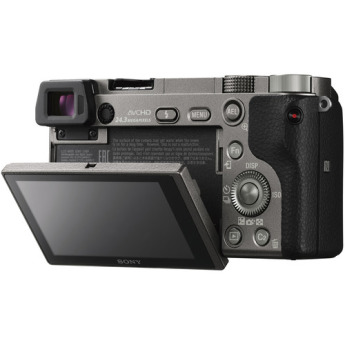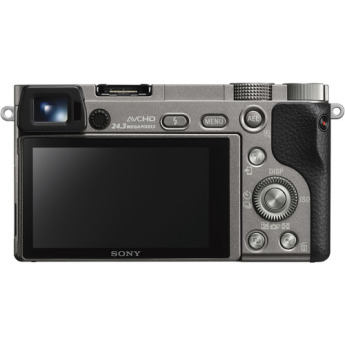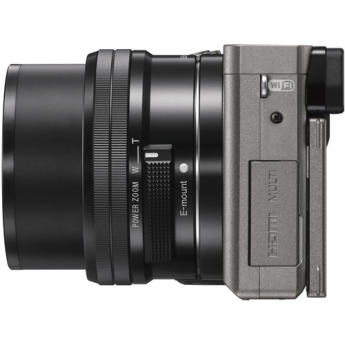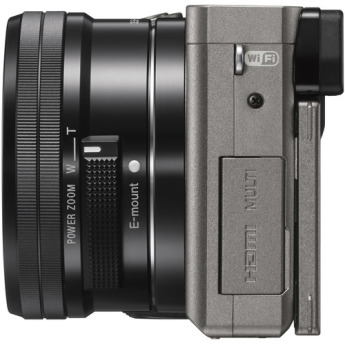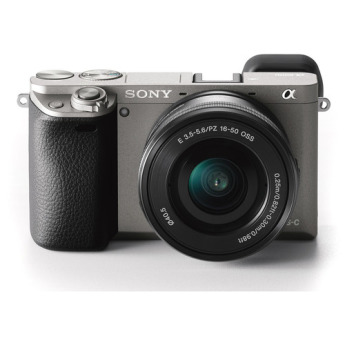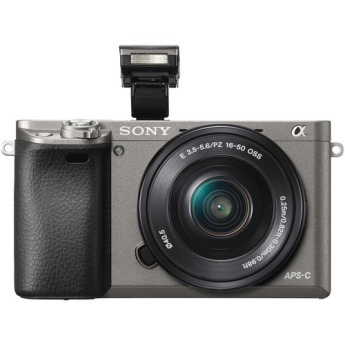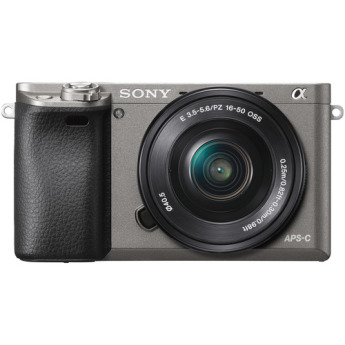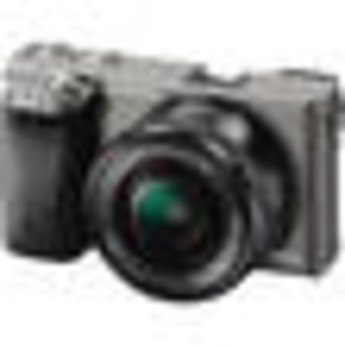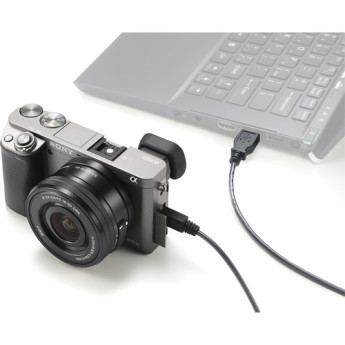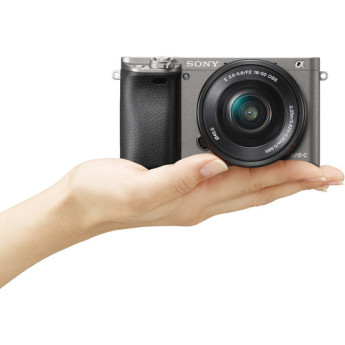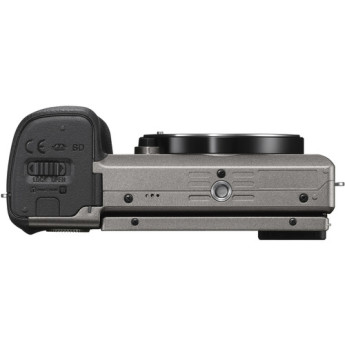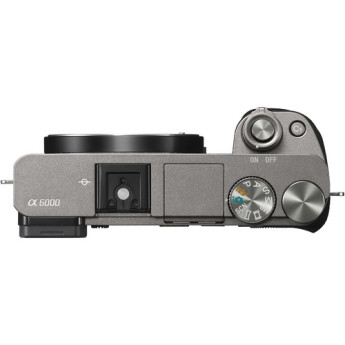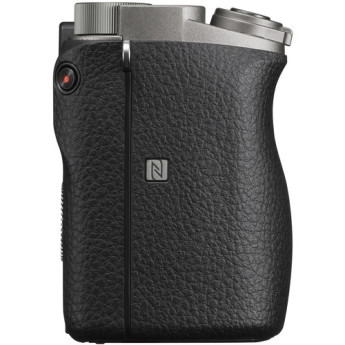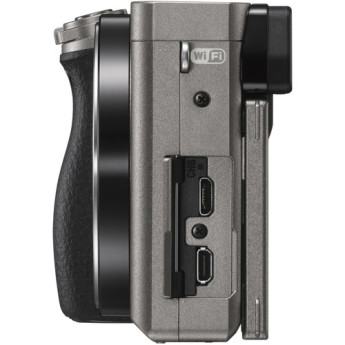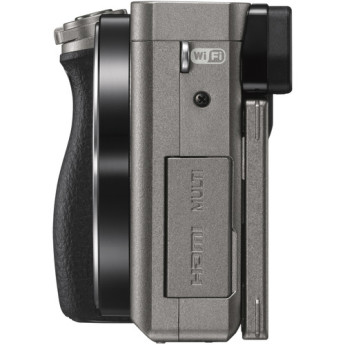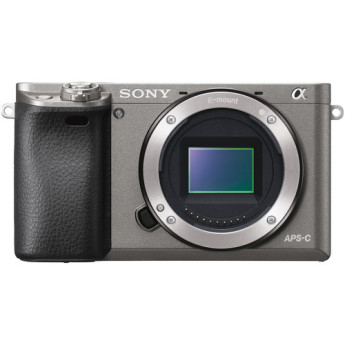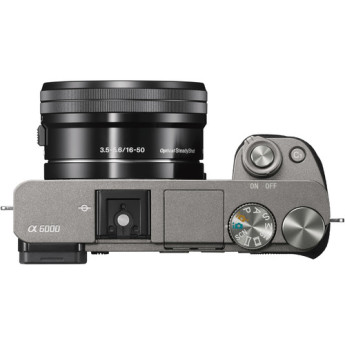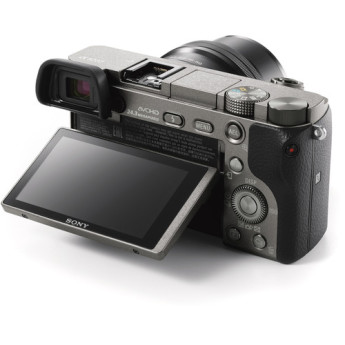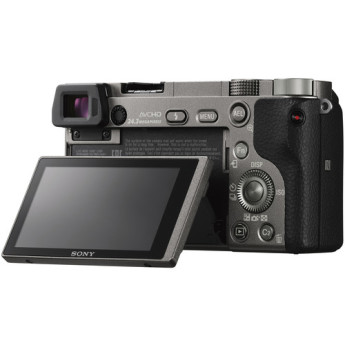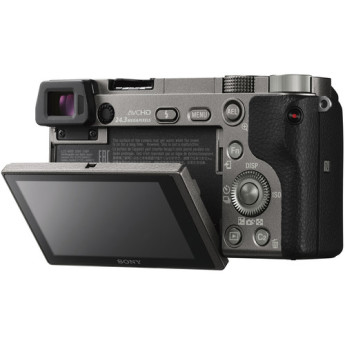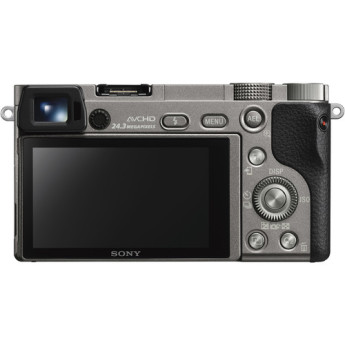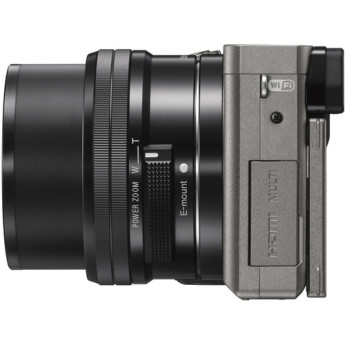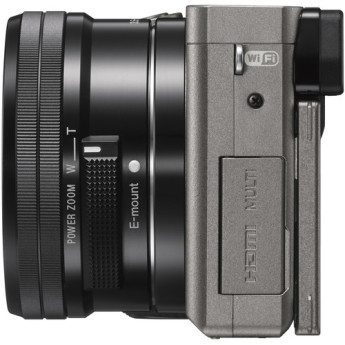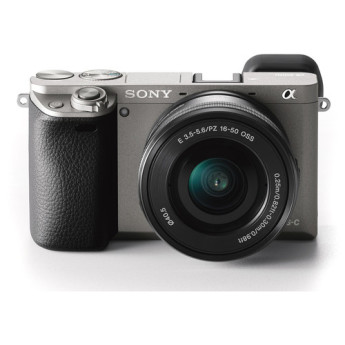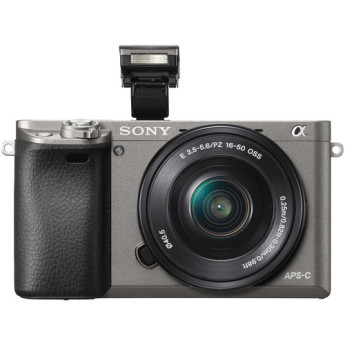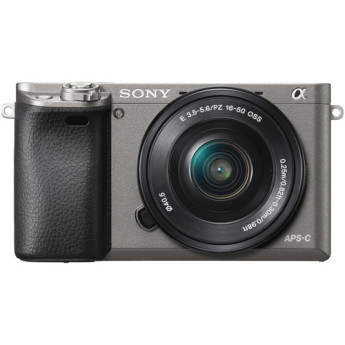 All Products are New and from Manufacturer Authorized Retailers
30 day return policy
Free Shipping
No Additional Fees
Viewfinder/Display
| | |
| --- | --- |
| Viewfinder Size | 0.39" |
| Viewfinder Pixel Count | 1,440,000 |
| Display Screen | 3" Widescreen Tilting LCD (921,600) |
| Diopter Adjustment | - 4 to +3 m |
| Screen Coverage | 100% |
| Viewfinder Magnification | Approx. 1.07x |
| Viewfinder Coverage | 100% |
| Viewfinder Eye Point | 23.00 mm |
| Viewfinder Type | Electronic |
| Screen Coverage | 100% |
| Display Screen | 3" Widescreen Tilting LCD (921,600) |
| Diopter Adjustment | - 4 to +3 m |
| Viewfinder Magnification | Approx. 1.07x |
| Viewfinder Coverage | 100% |
| Viewfinder Eye Point | 23.00 mm |
| Viewfinder Pixel Count | 1,440,000 |
| Viewfinder Size | 0.39" |
| Viewfinder Type | Electronic |
Power
| | |
| --- | --- |
| Battery | 1x NP-FW50 Rechargeable Lithium-ion Battery Pack, 7.2 VDC, 1080 mAh |
| Battery | 1x NP-FW50 Rechargeable Lithium-ion Battery Pack, 7.2 VDC, 1080 mAh |
Physical
| | |
| --- | --- |
| Weight | 12.13 oz / 344 g with battery and memory card |
| Dimensions (WxHxD) | 4.7 x 2.6 x 1.8" / 120.0 x 67.0 x 45.0 mm |
| Weight | 12.13 oz / 344 g with battery and memory card |
| Dimensions (WxHxD) | 4.7 x 2.6 x 1.8" / 120.0 x 67.0 x 45.0 mm |
Performance
| | |
| --- | --- |
| Self Timer | 10 seconds, 2 seconds |
| Connectivity | HDMI D (Micro), USB 2.0, Wired Remote Port |
| Shutter Lag | 0.02 seconds |
| Self Timer | 10 seconds, 2 seconds |
| Connectivity | HDMI D (Micro), USB 2.0, Wired Remote Port |
| Wi-Fi Capable | Yes |
| Shutter Lag | 0.02 seconds |
| Wi-Fi Capable | Yes |
| Software System Requirements | Windows: Vista (SP2), 7 (SP1), 8Mac: OS X 10.6, 10.7, 10.8 |
| Software System Requirements | Windows: Vista (SP2), 7 (SP1), 8Mac: OS X 10.6, 10.7, 10.8 |
Packaging Info
| | |
| --- | --- |
| Box Dimensions (LxWxH) | 6.3 x 5.7 x 5.2" |
| Package Weight | 1.85 lb |
| Package Weight | 1.85 lb |
| Box Dimensions (LxWxH) | 6.3 x 5.7 x 5.2" |
Kit Lens
| | |
| --- | --- |
| Angle of View | 83° - 32° |
| Minimum Focus Distance | 9.84" (25 cm) |
| Magnification | 0.215x |
| Elements/Groups | 9/8 |
| Diaphragm Blades | 7 |
| Autofocus | Yes |
| Image Stabilization | Yes |
| Filter Thread | Front: 40.5 mm |
| Dimensions (DxL) | Approx. 2.63 x 1.19" (66.7 x 30.2 mm) |
| Weight | 4.09 oz (116 g) |
| Focal Length | 16 - 50mm Comparable 35mm Focal Length: 24 - 75 mm |
| Aperture | Maximum: f/3.5 - 5.6Minimum: f/22 - 36 |
| Angle of View | 83° - 32° |
| Minimum Focus Distance | 9.84" (25 cm) |
| Magnification | 0.215x |
| Elements/Groups | 9/8 |
| Diaphragm Blades | 7 |
| Autofocus | Yes |
| Image Stabilization | Yes |
| Filter Thread | Front: 40.5 mm |
| Dimensions (DxL) | Approx. 2.63 x 1.19" (66.7 x 30.2 mm) |
| Weight | 4.09 oz (116 g) |
| Focal Length | 16 - 50mm Comparable 35mm Focal Length: 24 - 75 mm |
| Aperture | Maximum: f/3.5 - 5.6Minimum: f/22 - 36 |
Imaging
| | |
| --- | --- |
| Lens Mount | Sony E-Mount |
| Camera Format | APS-C (1.5x Crop Factor) |
| Pixels | Actual: 24.7 MegapixelEffective: 24.3 Megapixel |
| Max Resolution | 24 MP: 6000 x 4000 |
| Aspect Ratio | 3:2 |
| Sensor Type / Size | CMOS, 23.5 x 15.6 mm |
| File Formats | Still Images: JPEG, RAWMovies: MP4, MPEG-4 AVC/H.264 |
| Dust Reduction System | Yes |
| Memory Card Type | SDSDHCSDXCMemory Stick Pro DuoMemory Stick PRO HG-Duo |
| Lens Mount | Sony E-Mount |
| Camera Format | APS-C (1.5x Crop Factor) |
| Pixels | Actual: 24.7 MegapixelEffective: 24.3 Megapixel |
| Max Resolution | 24 MP: 6000 x 4000 |
| Aspect Ratio | 3:2 |
| Sensor Type / Size | CMOS, 23.5 x 15.6 mm |
| File Formats | Still Images: JPEG, RAWMovies: MP4, MPEG-4 AVC/H.264 |
| Dust Reduction System | Yes |
| Memory Card Type | SDSDHCSDXCMemory Stick Pro DuoMemory Stick PRO HG-Duo |
Focus Control
| | |
| --- | --- |
| Focus Mode | Automatic (A), Continuous-servo AF (C), Direct Manual Focus (DMF), Manual Focus (M), Single-servo AF (S) |
| Focus Type | Auto & Manual |
| Focus Type | Auto & Manual |
| Focus Mode | Automatic (A), Continuous-servo AF (C), Direct Manual Focus (DMF), Manual Focus (M), Single-servo AF (S) |
| Autofocus Points | Phase Detection: 179Contrast Detection: 25 |
| Autofocus Points | Phase Detection: 179Contrast Detection: 25 |
Flash
| | |
| --- | --- |
| Guide No. | 19.69' (6 m) ISO100 |
| Built-in Flash | Yes |
| Flash Modes | AutoFill-inOffRear SyncRed-eye ReductionSlow SyncWireless |
| Flash Modes | AutoFill-inOffRear SyncRed-eye ReductionSlow SyncWireless |
| Built-in Flash | Yes |
| Guide No. | 19.69' (6 m) ISO100 |
| Max Sync Speed | 1 / 160 seconds |
| Dedicated Flash System | TTL |
| Flash Compensation | -3 EV to +3 EV (in 1/3 or 1/2 EV steps) |
| External Flash Connection | Hot Shoe, Wireless |
| External Flash Connection | Hot Shoe, Wireless |
| Dedicated Flash System | TTL |
| Flash Compensation | -3 EV to +3 EV (in 1/3 or 1/2 EV steps) |
| Max Sync Speed | 1 / 160 seconds |
Exposure Control
| | |
| --- | --- |
| Remote Control | RM-DSLR2 (Optional) |
| ISO Sensitivity | Auto, 100-25600 |
| Shutter | Type: Electronic & MechanicalSpeed: 30 - 1/4000 second, Bulb ModeType: MechanicalSpeed: 1/4 - 1/4000 second in Movie Mode |
| Remote Control | RM-DSLR2 (Optional) |
| Metering Method | Center-weighted average metering, Multi-zone metering, Spot metering |
| Exposure Modes | Modes: Aperture Priority, Intelligent Auto, Manual, Memory Recall, Movie, Programmed Auto, Scene Selection, Shutter Priority, Superior Auto, Sweep PanoramaMetering Range: EV 0.0 - EV 20.0Compensation: -5 EV to +5 EV (in 1/3 or 1/2 EV steps) |
| White Balance Modes | Auto, Cloudy, Color Temperature, Color Temperature Filter, Custom, Daylight, Flash, Fluorescent (Cool White), Fluorescent (Day White), Fluorescent (Daylight), Fluorescent (Warm White), Incandescent, Shade, Underwater |
| Continuous Shooting | Up to 11 fps for up to framesUp to 6 fps for up to framesUp to 2.5 fps for up to frames |
| Continuous Shooting | Up to 11 fps for up to framesUp to 6 fps for up to framesUp to 2.5 fps for up to frames |
| White Balance Modes | Auto, Cloudy, Color Temperature, Color Temperature Filter, Custom, Daylight, Flash, Fluorescent (Cool White), Fluorescent (Day White), Fluorescent (Daylight), Fluorescent (Warm White), Incandescent, Shade, Underwater |
| Exposure Modes | Modes: Aperture Priority, Intelligent Auto, Manual, Memory Recall, Movie, Programmed Auto, Scene Selection, Shutter Priority, Superior Auto, Sweep PanoramaMetering Range: EV 0.0 - EV 20.0Compensation: -5 EV to +5 EV (in 1/3 or 1/2 EV steps) |
| Metering Method | Center-weighted average metering, Multi-zone metering, Spot metering |
| Shutter | Type: Electronic & MechanicalSpeed: 30 - 1/4000 second, Bulb ModeType: MechanicalSpeed: 1/4 - 1/4000 second in Movie Mode |
| ISO Sensitivity | Auto, 100-25600 |
AV Recording
| | |
| --- | --- |
| Resolution | 1920 x 1080: 60 fps, 24 fps, 30 fps1440 x 1080: 30 fps640 x 480: 30 fps |
| Video Recording | Yes, NTSC |
| Video Format | High DefinitionXAVC S1920 x 1080p / 60 fps (50 Mbps)1920 x 1080p / 30 fps (50 Mbps)1920 x 1080p / 24 fps (50 Mbps)High DefinitionAVCHD1920 x 1080p / 60 fps (28 Mbps)1920 x 1080i / 60 fps (24 Mbps)1920 x 1080i / 60 fps (17 Mbps)High DefinitionAVCHD1920 x 1080p / 24 fps (24 Mbps)1920 x 1080p / 24 fps (17 Mbps)High DefinitionMP41440 x 1080 / 30 fps (12 Mbps)Standard DefinitionMP4640 x 480 / 30 fps (3 Mbps) |
| Aspect Ratio | 3:2, 4:3, 16:9 |
| Video Recording | Yes, NTSC |
| Audio Recording | Built-in Mic: With Video, Stereo |
| Audio Recording | Built-in Mic: With Video, Stereo |
| Aspect Ratio | 3:2, 4:3, 16:9 |
| Video Format | High DefinitionXAVC S1920 x 1080p / 60 fps (50 Mbps)1920 x 1080p / 30 fps (50 Mbps)1920 x 1080p / 24 fps (50 Mbps)High DefinitionAVCHD1920 x 1080p / 60 fps (28 Mbps)1920 x 1080i / 60 fps (24 Mbps)1920 x 1080i / 60 fps (17 Mbps)High DefinitionAVCHD1920 x 1080p / 24 fps (24 Mbps)1920 x 1080p / 24 fps (17 Mbps)High DefinitionMP41440 x 1080 / 30 fps (12 Mbps)Standard DefinitionMP4640 x 480 / 30 fps (3 Mbps) |
| Resolution | 1920 x 1080: 60 fps, 24 fps, 30 fps1440 x 1080: 30 fps640 x 480: 30 fps |
This degree of performance not only puts the A6000 ahead of most mirrorless cameras at any price point, but also beyond what you can expect from a DSLR in the same category. Nikon and Canon may also offer effective continuous AF, but you'll need to compose with their viewfinders alone, concentrate...
+

Very high resolution 24 Megapixel sensor., Most effective continuous AF in its class., Fast continuous shooting at 11fps., Fast single AF., Good viewfinder and tilting screen., 1080p video with full manual control., Built-in Wifi with NFC and downloadable apps., Broad degree of customisation.

-

Laborious process to set single AF area position., No touchscreen. Screen only tilts, not fully articulated., No GPS tagging built-into Wifi app., Apps sometimes feel like reinstating features., No 3.5mm microphone jack., No leveling gauge., No miniature effect for movies., No silent shutter option.
Despite small annoyances, the Sony Alpha 6000 is a great overall camera for more advanced photographers who want something smaller than a dSLR, especially if they need the continuous- shooting speed.
+

The Sony Alpha 6000 has seriously fast continuous shooting for the money, and its design improves upon its predecessor's already excellent one. Plus it's got an extensive feature set.

-

The movie record button remains annoying, and while it delivers excellent photo quality, it's not best-in-class in low light. It's also slow on startup.
The Sony Alpha 6000 focuses instantly and shoots at 11.1fps. Its image quality matches its speed, making it our Editors' Choice.
+

Incredibly fast autofocus. 11.1fps burst shooting with tracking focus. Amazing high ISO image quality. Sharp OLED EVF. Tilting rear display. In-body flash and multi-function hot shoe. Wi-Fi with NFC. Downloadable camera apps. 1080p60 video capture.

-

Overly sensitive eye sensor. Slow start up. EVF lags in very dim light. Lacks analog mic input. Some apps must be purchased.
This shouldn't come as a surprise: We gave the NEX-6 an Editor's Choice, and with higher resolution, faster burst mode, and improved AF and menu system the A6000 gets one too. A touchscreen LCD really would've made the package even better, as would relocating the video record button, but we can't...
The a6000 brings Sony's latest interface improvements and enhanced JPEG processing to a well-featured, competitively-priced mid-range camera. Its stand-out features are its comprehensive video controls and continuous autofocus performance unprecedented at this price.
+

24 megapixel APS-C sensor is one of the best in its class, Small body with generally well placed controls, Very fast continuous shooting, Class-leading continuous autofocus, Excellent level of control over video (including manual exposure), High quality, responsive viewfinder, Electronic...

-

Flash exposures often misjudged, No In-camera Raw conversion option, Noise reduction can be a bit heavy-handed, No touchscreen, No electronic level gauge, Battery life feels low (though provided charge percentage info helps judge remaining life), Specifying an autofocus point can be cumbersome, Lens...
After using the Sony A6000 for a few months on two separate occasions, I can honestly say that it is one of the most capable and versatile mirrorless cameras on the market. With its compact and lightweight camera body, comfortable grip, fast and accurate hybrid autofocus system, bright and...
With unusual cameras like the A7 and A7R, Sony's A6000 ran the risk of being overshadowed. Elevated from the NEX range to sit alongside Sony's full DSLRs with the Alpha prefix, the A6000 builds on the NEX-6 with a new 24.3-megapixel sensor and a flashy autofocus system the company claims is a...
There are more powerful mirrorless cameras on the market, but if you're looking to spend less than $1,000 including a lens, Sony's Alpha 6000 is a solid pick.
+

Incredibly fast autofocus, Excellent image quality, Beginner-friendly interface, Integrated WiFiand EVF, Solid battery life

-

No microphone input jack
As the mirrorless, interchangeable-lens camera market continues to grow, it's more difficult to make a decision about which camera to purchase. Other new mirrorless models, such as the Olympus OM-D E-M10 ($799 with lens) and the Samsung NX30 ($1,000 with lens), also offer solid feature sets and...
+

Fast continuous shooting and autofocus; Compact body; Multiple custom control options; Above-average image quality; Excellent low-light performance

-

Vast array of camera settings may be overwhelming; Noise reduction can be excessive; Clunky adjustment of focus point selection
Recent years have seen some very cool Sony cameras: the first full-frame compact camera, the RX1, as well as the first full-frame interchangeable-lens compacts, the a7 and a7R. In the midst of all that full-frame hoopla, the APS-C-format NEX-6 debuted to relatively minor fanfare, although its fans...
Great product, easy to use and offers very good image quality. Most DSLR users will want one of these eventually. Why because its easy to get on with your work, mimics many much more expensive cameras on the market today.
+

Quality of images

-

wish it were little less money for lenses
You get more than what you pay for. The Sony Alpha a6000 is simply an awesome camera. When you compare it to other cameras both DSLR and Mirrorless in its class, this camera outshines them all. Stills are sharp and the colors are good.
The camera is not user friendly for a beginner, but it gave me something to learn. You will find quickly that a 50mm lens that it comes with is not very functional in a lot of areas, but it was well worth the price.
+

The quaity of the resolution is unmatched.

-

No digital zoom.
This is a good camera for the investment. The mirrorless technology is a benefit for travel compared to my large backpack with multiple cameras and lens combinations.<br />Great starter set and general purpose camera for a range of usees.
+

Easy to Use, Small / Compact

-

Lag / Shutter Delay
After a little practice you will be a pro at the settings on this camera. Takes great pictures and videos and for those who like to use manual mode, it has that too!
+

Lightweight. Comes with all you need to get up and running as soon as you get your package!

-

Hmm. None.
I did lot of research before buying this camera. I have used couple of other DSLRs before buying this. I was really happy that I have chosen this the picture quality I am getting out of this really awesome especially the color tones are very natural.
+

Light weight and compact with good image quality and fast focus which helps to carry with you wherever you go.

-

Not weather shielded which we cannot ask for this price.
Fantastic price for amazing camera. The bag had a bunch of goodies in it that were a pleasant surpruse. I've been using it for a month now and couldn't be happier
Love it so far. I have never used a mirrorless camera before so am in the learning process now. Don't get much info with the camera so you have to rely on someone who is camera savvy or the internet. I did purchase a "how to" book that is very good.
This my 2ed a6000 my first one when for a swim, this camera work as well as my Big SLRI use it when I take pic for my use not a client . I love the vied finder you see what the a6000 takes
24.3MP APS-C Exmor APS HD CMOS Sensor
BIONZ X Image Processor
Tru-Finder 0.39" 1,440k-Dot OLED EVF
3.0" 921k-Dot Xtra Fine Tilting LCD
Full HD 1080p XAVC S Video at 24/60 fps
Built-In Wi-Fi Connectivity with NFC
Fast Hybrid AF & 179 Phase-Detect Points
Up to 11 fps Shooting and ISO 25600
Multi-Interface Shoe and Built-In Flash
Sony 16-50mm f/3.5-5.6 OSS Zoom Lens
24.3MP APS-C Exmor APS HD CMOS Sensor
BIONZ X Image Processor
Tru-Finder 0.39" 1,440k-Dot OLED EVF
3.0" 921k-Dot Xtra Fine Tilting LCD
Full HD 1080p XAVC S Video at 24/60 fps
Built-In Wi-Fi Connectivity with NFC
Fast Hybrid AF & 179 Phase-Detect Points
Up to 11 fps Shooting and ISO 25600
Multi-Interface Shoe and Built-In Flash
Sony 16-50mm f/3.5-5.6 OSS Zoom Lens
8.8/10
Average Expert Score
9.1/10
Average User Score
Sony Alpha a6000 Mirrorless Digital Camera with 16-50mm Lens (Graphite)
Sony 16-50mm f/3.5-5.6 OSS Lens (Black)
Lens Cap
NP-FW50 Lithium-Ion Rechargeable Battery (1020mAh)
Eye Piece
AC Adapter AC-UB10
Micro-USB Cable
Neck Strap
Limited 1-Year Warranty
Sony 16-50mm f/3.5-5.6 OSS Lens (Black)
Lens Cap
NP-FW50 Lithium-Ion Rechargeable Battery (1020mAh)
Eye Piece
AC Adapter AC-UB10
Micro-USB Cable
Neck Strap
Limited 1-Year Warranty