Leica Normal 50mm f/1.4 Summilux M Aspherical Manual Focus Lens (Updated for Digital, 6-Bit) - Silver
Model: 11892
Leica Warranty - USA Version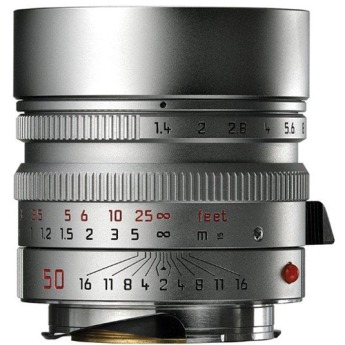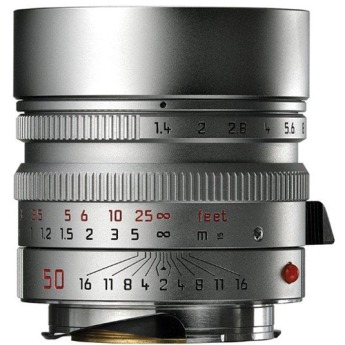 Guaranteed Brand New Products
All Products Sold by Manufacturer Authorized Retailers
30 Day Return Policy
Free Shipping
No Additional Fees
Packaging Info
| | |
| --- | --- |
| Package Weight | 1.55 lb |
| Box Dimensions (LxWxH) | 4.9 x 4.7 x 4.7" |
General Information
| | |
| --- | --- |
| Minimum Focus Distance | 2.3' (0.7 m) |
| Magnification | 1:11.3 |
| Angle of View | 47° |
| Filter Size | 46mm |
| Length | 2.1" (52.5mm) |
| Maximum Diameter | 2.1" (53.5mm) |
| Weight | 11.8 oz (335 g) |
| Groups/Elements | 5/8 |
| f/Stop Range | 1.4-16 |
The pricey Leica Summilux-M 50mm f/1.4 ASPH. is the go-to standard-angle lens for many a rangefinder shooter, and with good reason.
+

Wide aperture design., 0.7-meter close focus., Built-in lens hood., Crisp optics., Negligible distortion.

-

Expensive., Manual focus isn't for everyone.
Perfect lens, the best 50mm lens, most versatile with f1.4, light and elegant, stunning sharpness at wide open with best bokeh. It makes me think it is the only lens needed for almost everything. Once you have this piece of art, it doesn't matter what else you have.
At first I was petrified in spending so much on a lens (note, I even bought mine used for less than retail), but upon seeing the results, I'm quite stunned. It renders the out of focus areas (bokeh) unlike any other lens I've ever tried (and I even own the Canon 85 f1.2 for my DSLR), and the color...
Coming from a fine Canon 5DIII with L lenses I was surprised by the compactness and superior quality of the images this lens produces. I can now focus as fast or faster than auto focus and for once actually focus on the exact spot I want..
I've had my eye on this for years, and I finally sprung for it to use with my E-M5. Here is the quickie. 1. Manual focus has new life - it took me a short time to get back into manual focusing, but the little black ring at the bottom is AMAZING.
I went back and forth among this lens, the 50 2.0, and the 50 2.0 APO. The APO, which costs a fortune, didn't seem to me any better than this. The 1.4 seemed to have a more special look than the 2.0. I've now tried the 1.4 for a few weeks and am glad I chose this lens. Outstanding sharpness.
I've borrowed this lens a few times but only recently bought it for myself. It's a nearly perfect lens. It's truly sharp from f/1.4 on with targets both near and far, and there is almost no color fringing. It's compact, and the build quality is fantastic. Distortion is negligible.
So far I have four 50mm prime lenses, two of this Summilux M one black one silver, a Cron 50mm and a silver CV 50 1.5. This one's the best. First, the build quality is superb, though it's much heavier then the black version, it feels solid and go well with my silver M-P.
I knew this lens would be good, but wasn't prepared for just how good. I've been using a Canon 5D, mark 3 with Canon lenses, which have been excellent. I'm not sure what the right word is, but there is a softness to the images taken with this lens, especially wide at f/1.4 which I've never seen.
I believe this lens is really spectacular. The DOF is great, the bokeh is awesome. It outperforms my 35mm Summicrom by far. Outstanding luminosity and impressive quality. It was a ritual for me to open the box and discover the lens in its case inside.
A light lens that you can in your every day. The quality is amazing and you will not regret the extra money you paid for it. A must have lens for like fans as me.
Leica Normal 50mm f/1.4 Summilux M Aspherical Manual Focus Lens (Updated for Digital, 6-Bit) - Silver
Front & Rear Lens Caps
Soft Leather Lens Case
Built-In Telescopic Lens Hood
3-Year Limited Warranty
3-Year Passport Warranty