JBL SRX835P 15" Three-Way Bass Reflex Self Powered System
Model #SRX835P
JBL Warranty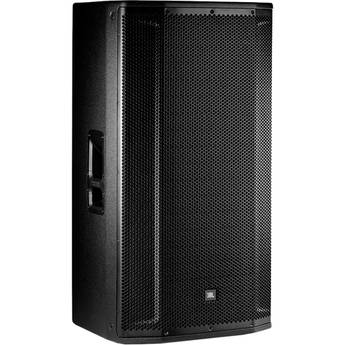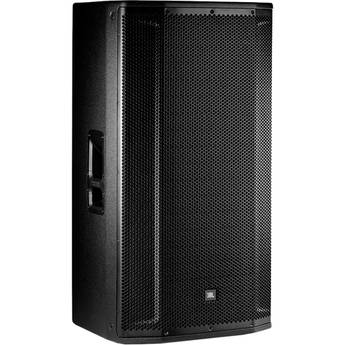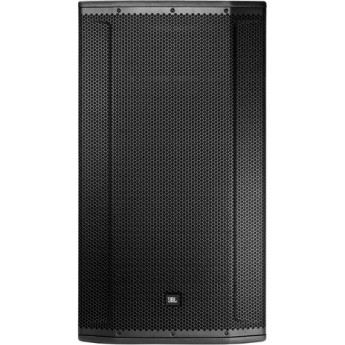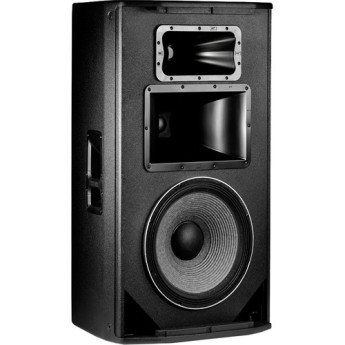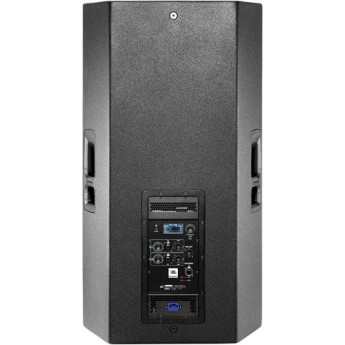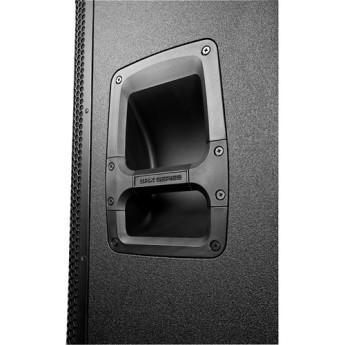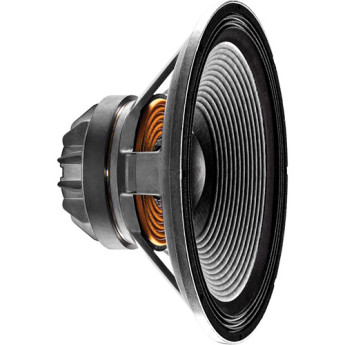 Guaranteed Brand New Products
All Products Sold by Manufacturer Authorized Retailers
30 Day Return Policy
Free Shipping
No Additional Fees
General Information
| | |
| --- | --- |
| Connectors | 2x Neutrik ¼ - XLR combo input 2x Neutrik XLR-3M Output 1 x XLR-3M mix output |
| SPL | 137 dB |
| Max SPL Level | 137 dB |
| Frequency Response | 41 to 20,000 Hz (-3 dB) |
| Coverage | 60° x 40° |
| Amplifier | Class D |
| Power Rating | 2000 W peak, 1500 W continuous |
| Input Impedance | 40 kilOhm balanced 20 kilOhm unbalanced |
| Maximum Line Input Gain | 21 dB |
| Gain | Line input:21 dB Consumer input: 3 dB Mic input: 45 dB Line input: 20 dBu Consumer input: 8 dBu Mic input: -4 dBu |
| LED Indicators | Power LED: green Network Link: green Network Data: yellow |
| Cooling | On demand variable speed fan |
| AC Power | 100 to 240 V at 50/60 Hz |
| Power Consumption | 120 V: 2.2 A (1/8th power), 5.6 A (1/3rd power) |
| Handles | 2 |
| Crossover | 330 and 2,400 Hz |
| Material | 0.7" (18 mm) plywood |
| Finish | Obsidian Duraflex finish |
| Grille | Powder coated, Onsidian, 14-gauge perforated steel with acoustically transparent black cloth backing |
| Mounting | Single 36 mm pole socket12x M10 suspension points |
| Dimensions (L x W x H) | 38.74 x 21.4 x 18.74" (98.40 x 54.40 x 47.60 cm) |
| Weight | 85.0 lb (38.6 kg) |
These powered units are spectacularly clear and powerful. I have deejayed casually for more than 30 years, using large, highly efficient speakers and bulletproof amps; these units combine both in a (relatively) easily portable system, making transport and setup simpler than with separate components,...
I don't look at the 2000 Wattage, I look at its cal SPL, indeed it is very loud. I just bought this month after reading and comparing to many other SRX812, SRX815, EV ETX/EKX, RCF, QSC K, Yamaha DSR/DXR, and comparing to a very detail of all components (such as the HF 2432-H with 3" Voice Coil and...
I recommend this speakers just quality of speakers, have the best sound and even more the bass sound smooth/hard sound good. If you are interested in buying speakers, look into the JBL SRX835P 3way, I guarantee you are going to love them, even more the size are smaller but the sound is awesome...
I purchased 835p a year ago I am very satisfied with my purchase I wasn't looking for a DJ system I was actually looking for a PA system JBL have definitely done it ! I have used stand alone and with 828p. I have received numerous compliments.
It give the best speaker sound in its category series nice clean sound and perfect bass for being why I think its the best all around load sound speaker category for a full sound speaker
The 3 star review by John is obviously biased and I would not doubt he works for qsc. These speakers are crystal clear right out of the box. Paired with the srx828 the sound phenomenal. Are they expensive, yes. Are they worth the money, hell yeah. If you got it spend it you won't be disappointed.
Hi, yes I had to do a review for someone thinking about updating there system like I did. Since purchasing the jobless srx835p I feel like there is not any other tops to buy I'm done ! They have live sound quality. Everything is built in that you need .
First off I loved my KW153s, but these new SRX835Ps are bad ass. The sound is incredible and the ability to splay them (2 per side) is perfect for live sound. Perfect match for the SRX828SP subs. Don't think about it, buy these and don't look back. You'll be glad you did.
The speakers have high quality and crystal clear sound. I would definitely recommend them to any club or mobile dj's. JBL speakers have always been the best sound system speakers in the sound music industry.
The sound is incredibly astonishing, the bass gets you right where you want it. I like to use it mainly for outdoors and the sound is as if you're in a mini rave. It is also highly recommended to go for the jbl subwoofers828sp to get that pure bass in your face. ;)
1x JBL Premium 15" Woofer
137 dB Max SPL
41 to 20,000 Hz (-3 dB)
2000W Peak Crown Drivecore Amp
LCD Screen with JBL Application Presets
Integrated DSP with Network Control
HiQnet Network Control
M10 Suspension Points
Works with Vertec and VRX Systems
18mm Ply Construction
JBL SRX835P 15" Three-Way Bass Reflex Self Powered System
Limited 3-Year Warranty