Godox TT350O Mini Thinklite TTL Flash for Olympus/Panasonic Cameras
Model #TT350O
Godox Warranty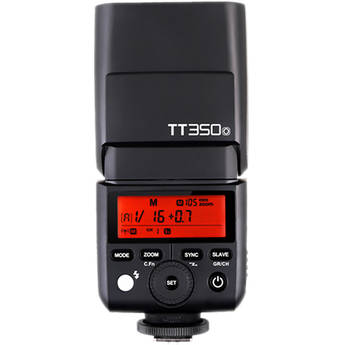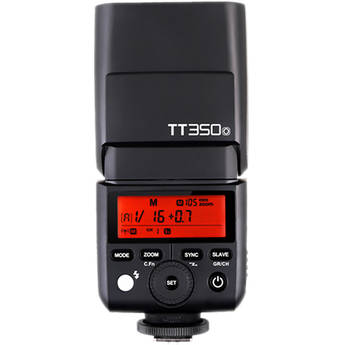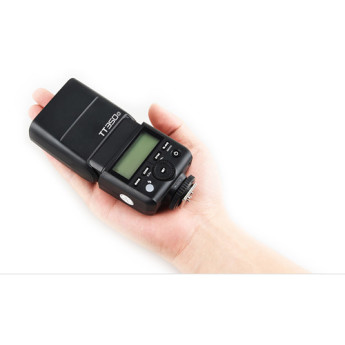 All Products are New and from Manufacturer Authorized Retailers
30 day return policy
Free Shipping
No Additional Fees
Packaging Info
| | |
| --- | --- |
| Package Weight | 0.65 lb |
| Box Dimensions (LxWxH) | 6.6 x 3.5 x 2.4" |
General Information
| | |
| --- | --- |
| Exposure Control | Manual, TTL |
| Vari-Power | 1/1 - 1/128 |
| Bounce Head | -7° to 90° |
| Swivel Head | 360° |
| Coverage | 14 mm - 105 mm (Full frame) |
| Zoom Head | Full frame: 24 mm - 105 mm |
| Off-Camera Terminal | None |
| Recycle Time | Approximately 0.1 - 2.2 seconds |
| Flash Duration | 1/350 - 1/20000 sec |
| Mount | Shoe |
| Compensation | -3 EV to +3 EV (in 1/3 EV steps) |
| Slave Timing Modes | Instant SyncSkip Preflash |
| Wireless Operation | Method: RFDistance: Up to 98.43' / 30 mMethod: Optical pulseDistance: Up to 49.21' / 15 mMode: Master, Slave |
| Wireless Communication Channels | 16 Channels |
| Wireless Groups | 3 Groups |
| Power Source | 2x AA Alkaline, Rechargeable NiMH Batteries |
| Dimensions (WxHxD) | 5.5 x 2.4 x 1.5" / 140.0 x 62.0 x 38.0 mm |
| Weight | 7.05 oz / 200 g without batteries |
| Flash-Ready Indicator | Yes |
| Guide No. | 118.11' (36 m) ISO100 at 105 mm position |
If you are looking for a flash for your MFT camera, this has what you need, at a price you can't beat. Small size so the camera with flash is not top heavy. TTL operation works (I have a G9). Zoom (this is manual). Only two batteries needed (and you can use rechargeables).
Nice small, yet powerful unit. Even with 2 batteries powering the unit, refresh times are great. Works great on the camera as a TTL fill, off camera as a slave, or even on the camera as a master. Size is really a nice bonus when you just dont need the bigger units like the TT685.
I love the features of this flash for such an amazing price! The built in diffuser panel, diffuser cap, built-in bounce card, tilt and swivel, TTL, high-speed synch, strobe effect AND built in radio transceiver to control (or be controlled by) other TT350s or their separate transmitter.
I was looking for an off camera flash that kept in the same size range as the main camera body. This flash fit that description. It literally fits in the palm of your hand. Comes with case, diffuser and small stand.
As a flash for the MFT system it fits the bill: not too big ("size appropriate"), powerful enough to fill a normal room even though only powered by 2 batteries.It even comes with a case and a diffuser - a nice bonus.
I purchased the Godox to partner with my Panasonic and the flash feels in proportion to the camera. It offers a lot of features and yet it's great size doesn't make the camera top heavy. I am very pleased.
Very good fit and finish and works well with multiple Olympus bodies. Very easy to use with convenient controls. Swivel flash head has good range and flexibility. This is a pleasure to use - much better than my Olympus brand flash unit a a price anyone can live with. Good value.
All things considered, this is an excellent flash.it is jam packed with features that some of the bigger flashes don't have.It can be a master, a slave and can become a part of a much wider wireless lighting array.
This made my GH5 a much more useful camera. Inside shots are great now...
I have two older Panasonic Lumix cameras (LX-5 and FZ200). Those are still viable cameras and have served me well for years. Where they fall short, is for indoor photography. I purchased this flash to help extend the value of these two cameras for when I take pictures indoors.
Built-In 2.4GHz X Wireless Radio System
Compatible with Olympus/Panasonic TTL
Guide Number: 118' at ISO 100 and 105mm
Zoom Range: 24-105mm (14mm with Panel)
Tilts from -7 to 90°
Rotates 270°
Wireless Master/Slave TTL Functionality
Recycle Time: 0.1-2.2 Seconds
High-Speed, 1st & 2nd Curtain Sync
Runs on Two AA Batteries
Godox TT350O Mini Thinklite TTL Flash for Olympus/Panasonic Cameras
Sync Cord
Mini Stand
Protective Case
Limited 1-Year Warranty