Fujifilm X-T20 Mirrorless Digital Camera (Body Only, Silver)
Model #16542359
Fujifilm Warranty - USA Version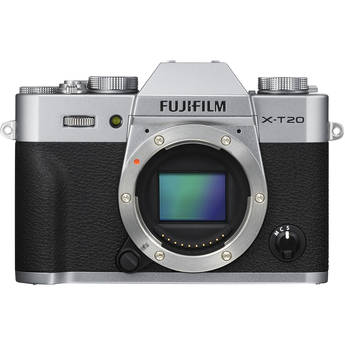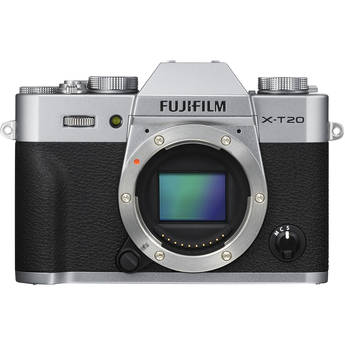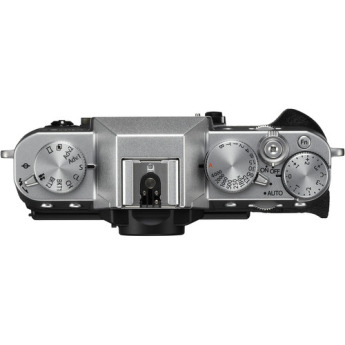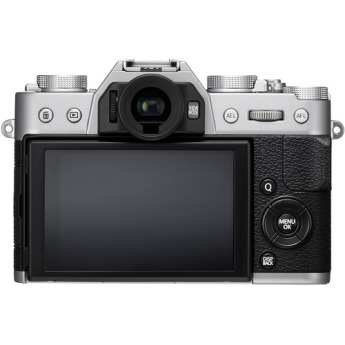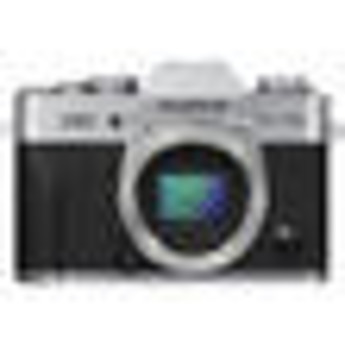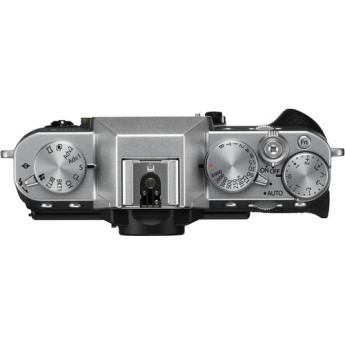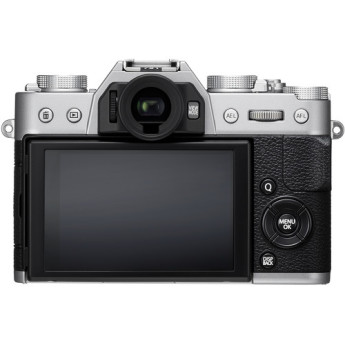 All Products are New and from Manufacturer Authorized Retailers
30 day return policy
Free Shipping
No Additional Fees
Viewfinder/Display
| | |
| --- | --- |
| Viewfinder Type | Electronic |
| Viewfinder Type | Electronic |
| Viewfinder Size | 0.39" |
| Viewfinder Pixel Count | 2,360,000 |
| Viewfinder Eye Point | 17.5 mm |
| Viewfinder Coverage | 100% |
| Viewfinder Magnification | Approx. 0.62x |
| Diopter Adjustment | -4 to +2 m |
| Display Screen | 3" Rear Touchscreen Tilting LCD (1,040,000) |
| Screen Coverage | 100% |
| Screen Coverage | 100% |
| Display Screen | 3" Rear Touchscreen Tilting LCD (1,040,000) |
| Diopter Adjustment | -4 to +2 m |
| Viewfinder Magnification | Approx. 0.62x |
| Viewfinder Coverage | 100% |
| Viewfinder Eye Point | 17.5 mm |
| Viewfinder Pixel Count | 2,360,000 |
| Viewfinder Size | 0.39" |
Power
| | |
| --- | --- |
| Operating/Storage Temperature | Operating32 to 104°F (0 to 40°C)Humidity: 10 - 80% |
| Battery | 1x NP-W126S Rechargeable Lithium-ion Battery Pack, 8.4 VDC, 1260 mAh |
| Operating/Storage Temperature | Operating32 to 104°F (0 to 40°C)Humidity: 10 - 80% |
| Battery | 1x NP-W126S Rechargeable Lithium-ion Battery Pack, 8.4 VDC, 1260 mAh |
Physical
| | |
| --- | --- |
| Dimensions (WxHxD) | 4.7 x 3.3 x 1.6" / 118.4 x 82.8 x 41.4 mm |
| Dimensions (WxHxD) | 4.7 x 3.3 x 1.6" / 118.4 x 82.8 x 41.4 mm |
| Weight | 13.51 oz / 383 g with battery and memory card |
| Weight | 13.51 oz / 383 g with battery and memory card |
Performance
| | |
| --- | --- |
| Wi-Fi Capable | Yes |
| Connectivity | 2.5mm Sub-mini (2-Ring), HDMI D (Micro), Micro-USB, USB 2.0 |
| Interval Recording | Yes |
| Shutter Lag | 0.05 seconds |
| Self Timer | 10 seconds, 2 seconds |
| Start-up Time | 0.4 seconds |
| Start-up Time | 0.4 seconds |
| Shutter Lag | 0.05 seconds |
| Self Timer | 10 seconds, 2 seconds |
| Interval Recording | Yes |
| Connectivity | 2.5mm Sub-mini (2-Ring), HDMI D (Micro), Micro-USB, USB 2.0 |
| Wi-Fi Capable | Yes |
Imaging
| | |
| --- | --- |
| Lens Mount | Fujifilm X Mount |
| Camera Format | APS-C (1.5x Crop Factor) |
| Pixels | 24.3 Megapixel |
| Max Resolution | 6000 x 4000 |
| Aspect Ratio | 3:2 |
| Sensor Type / Size | CMOS, 23.6 x 15.6 mm |
| File Formats | Still Images: JPEG, RAWMovies: MOV, MPEG-4 AVC/H.264Audio: Linear PCM (Stereo) |
| Bit Depth | 14-bit |
| Dust Reduction System | Yes |
| Memory Card Type | SDSDHCSDXC |
| Lens Mount | Fujifilm X Mount |
| Camera Format | APS-C (1.5x Crop Factor) |
| Pixels | 24.3 Megapixel |
| Max Resolution | 6000 x 4000 |
| Aspect Ratio | 3:2 |
| Sensor Type / Size | CMOS, 23.6 x 15.6 mm |
| File Formats | Still Images: JPEG, RAWMovies: MOV, MPEG-4 AVC/H.264Audio: Linear PCM (Stereo) |
| Bit Depth | 14-bit |
| Dust Reduction System | Yes |
| Memory Card Type | SDSDHCSDXC |
Focus Control
| | |
| --- | --- |
| Focus Type | Auto & Manual |
| Autofocus Points | Hybrid: 91 |
| Focus Mode | Continuous-servo AF (C), Manual Focus (M), Single-servo AF (S) |
| Autofocus Points | Hybrid: 91 |
| Focus Mode | Continuous-servo AF (C), Manual Focus (M), Single-servo AF (S) |
| Focus Type | Auto & Manual |
Flash
| | |
| --- | --- |
| External Flash Connection | Hot Shoe |
| Max Sync Speed | 1 / 180 seconds |
| Guide No. | 16.4' (5 m) ISO100 |
| Built-in Flash | Yes |
| Flash Modes | 1st Curtain SyncCommanderManualOffSecond-curtain SyncSlow SyncTTL Auto |
| Flash Modes | 1st Curtain SyncCommanderManualOffSecond-curtain SyncSlow SyncTTL Auto |
| Built-in Flash | Yes |
| Guide No. | 16.4' (5 m) ISO100 |
| Max Sync Speed | 1 / 180 seconds |
| External Flash Connection | Hot Shoe |
Exposure Control
| | |
| --- | --- |
| Metering Method | Average metering, Center-weighted average metering, Multiple, Spot metering |
| Remote Control | RR-90 (Optional) |
| ISO Sensitivity | Auto, 200-12800 (Extended Mode: 100-51200) |
| Shutter | Type: MechanicalSpeed: 30 - 1/4000 second, Time ModeType: MechanicalSpeed: 4 - 1/4000 second in Program ModeType: MechanicalSpeed: 60 - 0 minute in Bulb ModeType: ElectronicSpeed: 1 - 1/32000 second, Time ModeType: ElectronicSpeed: 4 - 1/4000 second in Program ModeType: ElectronicSpeed: 1 - 1 second in Bulb ModeType: Electronic & MechanicalSpeed: 30 - 1/32000 second, Time ModeType: Electronic & MechanicalSpeed: 4 - 1/32000 second in Program ModeType: Electronic & MechanicalSpeed: 60 - 0 minute in Bulb Mode |
| Remote Control | RR-90 (Optional) |
| ISO Sensitivity | Auto, 200-12800 (Extended Mode: 100-51200) |
| Shutter | Type: MechanicalSpeed: 30 - 1/4000 second, Time ModeType: MechanicalSpeed: 4 - 1/4000 second in Program ModeType: MechanicalSpeed: 60 - 0 minute in Bulb ModeType: ElectronicSpeed: 1 - 1/32000 second, Time ModeType: ElectronicSpeed: 4 - 1/4000 second in Program ModeType: ElectronicSpeed: 1 - 1 second in Bulb ModeType: Electronic & MechanicalSpeed: 30 - 1/32000 second, Time ModeType: Electronic & MechanicalSpeed: 4 - 1/32000 second in Program ModeType: Electronic & MechanicalSpeed: 60 - 0 minute in Bulb Mode |
| Metering Method | Average metering, Center-weighted average metering, Multiple, Spot metering |
| Exposure Modes | Modes: Aperture Priority, Manual, Program, Shutter PriorityCompensation: -5 EV to +5 EV (in 1/3 EV steps) |
| White Balance Modes | Automatic Scene Recognition, Color Temperature, Custom, Daylight, Fluorescent (Cool White), Fluorescent (Daylight), Fluorescent (Warm White), Incandescent, Shade, Underwater |
| Continuous Shooting | Up to 14 fps at 24.3 MP for up to 42 frames in JPEG formatUp to 14 fps at 24.3 MP for up to 23 frames in raw formatUp to 11 fps at 24.3 MP for up to 56 frames in JPEG formatUp to 11 fps at 24.3 MP for up to 24 frames in raw formatUp to 8 fps at 24.3 MP for up to 62 frames in JPEG formatUp to 8 fps at 24.3 MP for up to 25 frames in raw formatUp to 5 fps at 24.3 MP for up to 68 frames in JPEG formatUp to 5 fps at 24.3 MP for up to 28 frames in raw formatUp to 4 fps at 24.3 MP for up to 73 frames in JPEG formatUp to 4 fps at 24.3 MP for up to 29 frames in raw formatUp to 3 fps at 24.3 MP for up to 81 frames in JPEG formatUp to 3 fps at 24.3 MP for up to 32 frames in raw format |
| Continuous Shooting | Up to 14 fps at 24.3 MP for up to 42 frames in JPEG formatUp to 14 fps at 24.3 MP for up to 23 frames in raw formatUp to 11 fps at 24.3 MP for up to 56 frames in JPEG formatUp to 11 fps at 24.3 MP for up to 24 frames in raw formatUp to 8 fps at 24.3 MP for up to 62 frames in JPEG formatUp to 8 fps at 24.3 MP for up to 25 frames in raw formatUp to 5 fps at 24.3 MP for up to 68 frames in JPEG formatUp to 5 fps at 24.3 MP for up to 28 frames in raw formatUp to 4 fps at 24.3 MP for up to 73 frames in JPEG formatUp to 4 fps at 24.3 MP for up to 29 frames in raw formatUp to 3 fps at 24.3 MP for up to 81 frames in JPEG formatUp to 3 fps at 24.3 MP for up to 32 frames in raw format |
| White Balance Modes | Automatic Scene Recognition, Color Temperature, Custom, Daylight, Fluorescent (Cool White), Fluorescent (Daylight), Fluorescent (Warm White), Incandescent, Shade, Underwater |
| Exposure Modes | Modes: Aperture Priority, Manual, Program, Shutter PriorityCompensation: -5 EV to +5 EV (in 1/3 EV steps) |
AV Recording
| | |
| --- | --- |
| Video Format | 3840 x 2160p at 23.98, 24, 25, 29.97 fps (100 Mbps MOV via H.264)1920 x 1080p at 23.98, 24, 25, 29.97, 50, 59.94 fps (36 Mbps MOV via H.264)1280 x 720p at 23.98, 24, 25, 29.97, 50, 59.94 fps (18 Mbps MOV via H.264) |
| Video Recording | Yes, NTSC/PAL |
| Video Format | 3840 x 2160p at 23.98, 24, 25, 29.97 fps (100 Mbps MOV via H.264)1920 x 1080p at 23.98, 24, 25, 29.97, 50, 59.94 fps (36 Mbps MOV via H.264)1280 x 720p at 23.98, 24, 25, 29.97, 50, 59.94 fps (18 Mbps MOV via H.264) |
| Aspect Ratio | 16:9 |
| Video Clip Length | Up to 4 GB or 30 Min |
| Audio Recording | Built-in Mic: With Video, Stereo |
| Audio Recording | Built-in Mic: With Video, Stereo |
| Video Clip Length | Up to 4 GB or 30 Min |
| Aspect Ratio | 16:9 |
| Video Recording | Yes, NTSC/PAL |
The Fujifilm X-T20's biggest issue is nothing to do with its own performance: it's the presence of the Panasonic Lumix G80, which can be bought with a lens for the same body-only price as this Fuji. That makes for a tough decision.
+

Exceptional image quality leads in its class, improved autofocus and operation compared to predecessor, great retro style, touchscreen controls, decent built-in finder and tilt-angle screen

-

Would still like a Pinpoint-style autofocus mode, are some cheaper competitors (Lumix G80 the prime example), no weather-proofing, one card slot (which is poorly placed)
The Fujifilm X-T20 once again successfully repackages the key features of the flagship X-series camera, the X-T2, into a smaller, lighter and cheaper body, resulting in a compelling mid-range mirrorless camera that offers a lot of advanced functionality, although it is noticeably more expensive than...
The X-T20 is a nice little camera that shares many features with the X-T2 but is roughly half its price. The sensor and image processor are the same as in the X-T2 but you miss out on the weatherproofing, there's only one SD slot and it's in the battery compartment and you're stuck with the slower...
I had XT2 last year and sold it. I had issues with Autofocus. Now I decided to try XT20. I am happier with AF now. Main difference (at least Today before any future firmwares of XT2). Fuji XT2 (and all previous Fuji cameras) could not have Face Detection and Phase Detect Autofocus at the same time.
I made an in-depth review of this camera, which I uploaded to YouTube, then decided to upload here since you're not allowed to post links, for anyone who is interested in using it for filmmaking, or is just interested in what it's capable of :)
Amazing little camera, the image quality is spectacular, if you have big hands it will take some adjustment getting used to the smallness of the camera and the controls. The EVF is not as high quality as the X-T2, and I had to adjust mine to remove a green tint, otherwise for the price of this...
24.3MP APS-C X-Trans CMOS III Sensor
X-Processor Pro Image Processor
2.36m-Dot Electronic Viewfinder
3.0" 1.04m-Dot Tilting Touchscreen LCD
UHD 4K Video Recording at 30p
Built-In Wi-Fi
Extended ISO 51200, Shooting to 14 fps
91-Point AF with Custom AF-C Settings
Film Simulation for Photos and Videos
24.3MP APS-C X-Trans CMOS III Sensor
X-Processor Pro Image Processor
2.36m-Dot Electronic Viewfinder
3.0" 1.04m-Dot Tilting Touchscreen LCD
UHD 4K Video Recording at 30p
Built-In Wi-Fi
Extended ISO 51200, Shooting to 14 fps
91-Point AF with Custom AF-C Settings
Film Simulation for Photos and Videos
8.7/10
Average Expert Score
9.2/10
Average User Score
Fujifilm X-T20 Mirrorless Digital Camera (Body Only, Silver)
NP-W126S Li-Ion Battery Pack
BC-W126 Battery Charger
Body Cap for Fujifilm X-Mount Cameras
Shoulder Strap
Metal Strap Clip
Clip Attaching Tool
Protective Cover
Limited 1-Year Warranty
NP-W126S Li-Ion Battery Pack
BC-W126 Battery Charger
Body Cap for Fujifilm X-Mount Cameras
Shoulder Strap
Metal Strap Clip
Clip Attaching Tool
Protective Cover
Limited 1-Year Warranty