Dji Phantom 4 Pro+ Quadcopter
Model #CP.PT.000549
DJI Warranty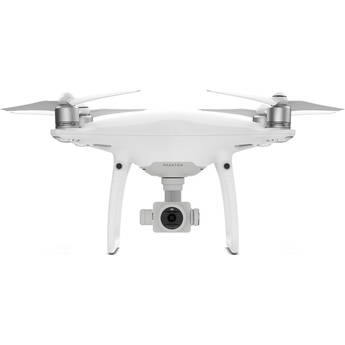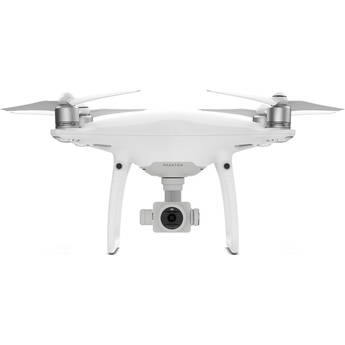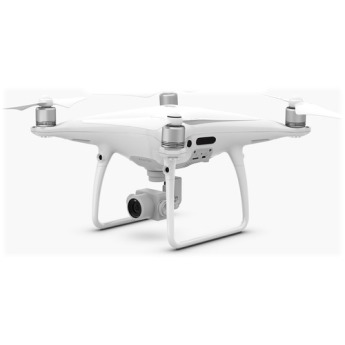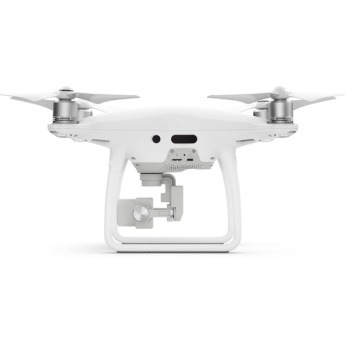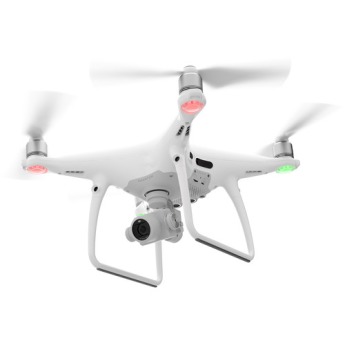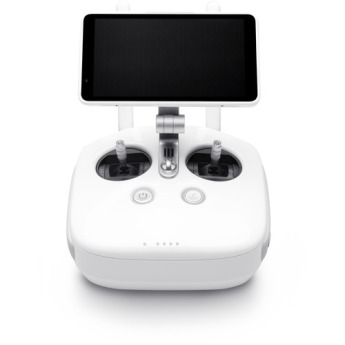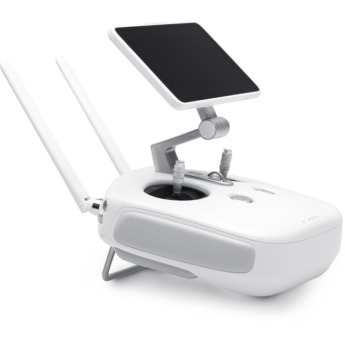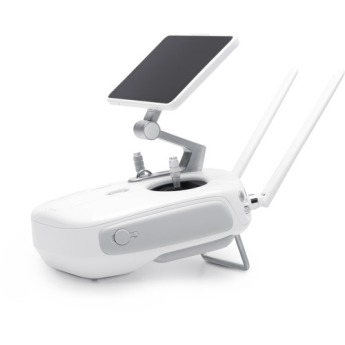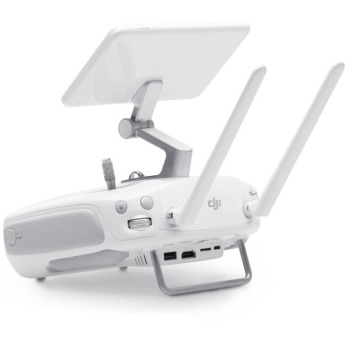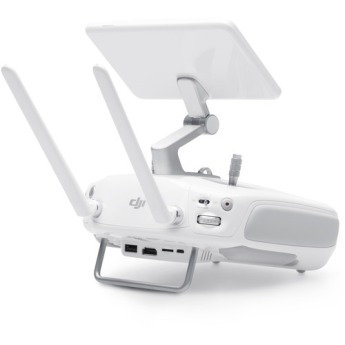 All Products are New and from Manufacturer Authorized Retailers
30 day return policy
Free Shipping
No Additional Fees
Vision Positioning
| | |
| --- | --- |
| Velocity Range | Up to 31 mph (50 km/h) at 6.6' (2 m) above ground level |
| Operating Environment | Surfaces with clear patterns and adequate lighting (> 15 lux) |
| Detection Frequency | 10 Hz |
| Field of view (FOV) | Horizontal: ±60° Vertical: ±54° |
| Obstacle Sensory Range | 2 to 98' / 0.7 to 30 m |
| Operating Range | 0 to 33' / 0 to 10 m above ground level |
| Altitude Range | 0 to 33' / 0 to 10 m above ground level |
Transmitter (Remote Controller)
| | |
| --- | --- |
| Display | Size: 5.5" Resolution: 1920 x 1080 |
| Frequency | 2.400 to 2.483 GHz 5.725 to 5.850 GHz |
| Communication Distance | 4.3 miles / 7 km |
| Operating Current | 2.4 GHz: 23 dBm 5.8 GHz: 30 dBm |
| Power Consumption | 1.2 A at 7.4 V |
| Battery | Type: Built-in Chemistry: Lithium-ion polymer (LiPo) Capacity: 6000 mAh Configuration: 2S |
| Operating Temperature | 32 to 104°F / 0 to 40°C |
TOF Sensing System
| | |
| --- | --- |
| Obstacle Sensory Range | 0.6 to 23' / 0.2 to 7 m |
| Field of View | Horizontal: ±35° Vertical: ±10° |
| Detection Frequency | 10 Hz |
| Operating Environment | Surface with diffuse reflection material, and reflectivity > 8% (such as wall, trees, humans, etc.) |
Performance
| | |
| --- | --- |
| Maximum Horizontal Speed | S-Mode: 45 mph (72 km/h) A-Mode: 36 mph (58 km/h) P-Mode: 31 mph (50 km/h) |
| Flight Time | Up to 30 minutes |
| Maximum Tilt Angle | S-Mode: 42° A-Mode: 35° P-Mode: 25° |
| Hovering Accuracy | Vertical: Vision Positioning: ±0.3' / 0.1 m GPS Positioning: ±1.6' / 0.5 m Horizontal: Vision Positioning: ±1' / 0.3 m GPS Positioning: ±4.9' / 1.5 m |
| Maximum Descent Speed | S-Mode: 13.1 ft/s (4 m/s) P-Mode: 9.8 ft/s (3 m/s) |
| Maximum Ascent Speed | S-Mode: 19.7 ft/s (6 m/s) P-Mode: 16.4 ft/s (5 m/s) |
Gimbal
| | |
| --- | --- |
| Control Range | Pitch: -90° to +30° |
| Control Accuracy | ±0.03° |
| Angular Speed | Pitch: 90°/second |
| Number of Axes | 3 (pitch, roll, yaw) |
General
| | |
| --- | --- |
| Weight | 3.1 lb / 1.4 kg (with propellers and battery) |
| Operating Temperature | 32 to 104°F / 0 to 40°C |
| Diagonal Size | 13.8" / 350 mm (without propellers) |
Flight Battery
| | |
| --- | --- |
| Voltage | 15.2 V |
| Weight | 1 lb / 468 g |
| Charger | Voltage:17.4 V Rated Power:100 W |
| Charging Temperature Range | 14 to 104°F / -10 to 40°C |
| Maximum Charging Power | 100 W |
| Chemistry | Lithium-ion (LiPo) |
| Configuration | 4 S |
| Capacity | 5870 mAh / 89.2 Wh |
Camera
| | |
| --- | --- |
| Sensor | 1" CMOS |
| Video Resolution | 16:9 Aspect Ratio: 5248 × 2952 3840 × 2160 at 24/25/30p 2720 × 1530 at 24/25/30p 1920 × 1080 at 24/25/30p 1280 × 720 at 24/25/30p 3840 × 2160 at 48/50p 2720 × 1530 at 48/50p 1920 × 1080 at 48/50/60p 1280 × 720 at 48/50/60p 17:9 Aspect Ratio: 4896 × 2592 4096 × 2160 at 24/25/30/48/50p |
| Shutter Speed | Mechanical:8 to 1/2000 second Electronic Shutter:8 to 1/8000 second |
| ISO Range | Video: 100 to 3200 (Auto); 100 to 6400 (Manual) Photo: 100 to 3200 (Auto); 100 to 12800 (Manual) |
| Photo Modes | Burst Shooting: 3/5/7/10/14 frames Auto Exposure Bracketing (AEB): 3/5 bracketed frames at 0.7 EV Bias Interval: 2/3/5/7/10/15/30/60 second |
| Video Formats | H.265: DCI 4K (4096 x 2160): 24/25/30p at 100 Mbps UHD 4K (3840 x 2160): 24/25/30p at 100 Mbps 2.7K (2720 x 1530): 24/25/30p at 65 Mbps 2.7K (2720 x 1530): 48/50/60p at 80 Mbps Full HD (1920 x 1080): 24/25/30p at 50 Mbps Full HD (1920 x 1080): 48/50/60p at 65 Mbps 720p (1280 x 720): 48/50/60p at 35 Mbps H.264: DCI 4K (4096 x 2160): 24/25/30/48/50/60p at 100 Mbps UHD 4K (3840 x 2160): 24/25/30/48/50/60p at 100 Mbps 2.7K (2720 x 1530): 24/25/30p at 80 Mbps 2.7K (2720 x 1530): 48/50/60p at 100 Mbps Full HD (1920 x 1080): 24/25/30p at 60 Mbps Full HD (1920 x 1080): 48/50/60/120p at 80 Mbps 720p (1280 x 720): 24/25/30p at 30 Mbps 720p (1280 x 720): 48/50/60/120p at 45 Mbps |
| Photo Formats | JPEG DNG (raw) JPEG and raw |
| Recording Media | Type: microSDHC/SDXC card up to 128 GB Format: FAT32 / exFAT Supported File Systems: FAT32 (up to 32 GB); exFAT (over 32 GB) Note: Write speed of 15 MB/s and Class 10 / UHS-1 or faster card required |
| Operating Temperature | 32 to 104°F / 0 to 40°C |
| Photo Resolution | Still Photo Mode: 3:2 Aspect Ratio: 5472 x 3648 4:3 Aspect Ratio: 4864 x 3648 16:9 Aspect Ratio: 5472 x 3078 |
| Lens | FOV (Field of View): 84° Focal Length: 8.8 mm / 24 mm (35 mm format equivalent) Aperture: f/2.8 - f/11 Focus Distance (Auto Focus): 3.3' (1 m) to ∞ |
| Effective Pixels | 20 million |
The DJI Phantom 4 Pro+ drone includes a remote control with an integrated tablet, so you don't need a smartphone to control the camera, but the approach has its drawbacks.
+

Long-distance control. Return-to-home. Forward and rear obstacle detection. Automated flight modes. High-performance Sport mode. 24mm lens. Subject recognition and tracking. 60fps 4K video. 20MP Raw and JPG images. 1-inch sensor camera. Remote with integrated tablet.

-

Expensive. Side sensors limited in functionality. Integrated tablet suffers from occasional crashes and slowness. Maps only visible if preloaded over Wi-Fi.
Easy to fly. The intelligent modes allow you to capture professional level shots as it flies and shoots very smoothly. The 3 axis gimbal works great. The camera shoots great video and still shots are fantastic too. I am very glad I purchased the pro4+ with remote controller.
This is the 3rd Phantom I've owned and the most impressive. Build quality excellent and the photo and video quality is excellent. My only slight criticism is that you have to hunt around on the internet to get a proper explanation of the photo/video options.
Hands down the best gadget I have ever bought. I deliberated for ages on which one to buy and I'm 100% confident that I have made the right one. Very easy to fly, superb image quality, excellent range, Simple camera controls, comfortable remote, easy to set up, the list goes on and on.
Very easy to fly but a nightmare to set up with no instructions and telephone back up only during limited times. You need to update the product before use and it can then still think it is in mainland China. Once you get over these problems the flying experience is a treat.
for an intermediate quad this in my opinion is one of the best on the market today
An amazing bit of technology
Bought this over the std P4P, don't regret it at all, the built in screen is excellent
+

Easy to use, video quality is amazing and a lot more good points....

-

No bad points,
This is a very sophisticated piece of kit, with a great deal of features and functions. I am only giving it three stars for my initial review simply because the user manual and instructions are missing swathes of details.
1" 20MP CMOS Sensor
Gimbal-Stabilized 4K60 / 20MP Imaging
FlightAutonomy with Redundant Sensors
Four Directions of Obstacle Avoidance
Top Speed of 45 mph in Sport Mode
Maximum Control Range of 4.3 Miles
Visual Tracking of Moving Subject
TapFly - Fly With a Tap of the Finger
Up to 30 Minutes Flying Time
Remote Controller with 1080p Display