Billingham Hadley Pro Shoulder Bag (Khaki with Tan Leather Trim)
Model #BI 505233
Billingham Warranty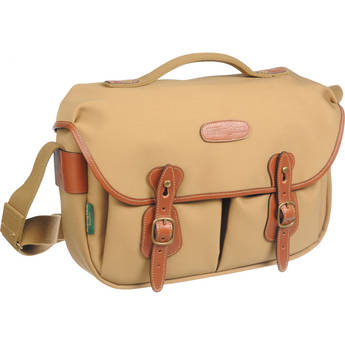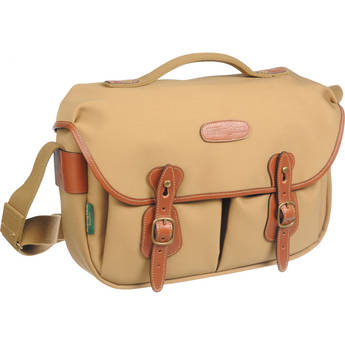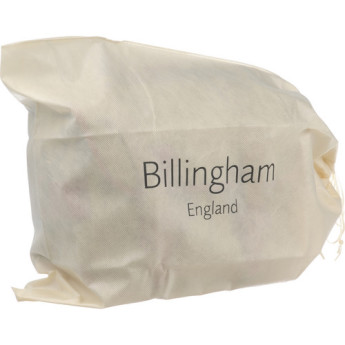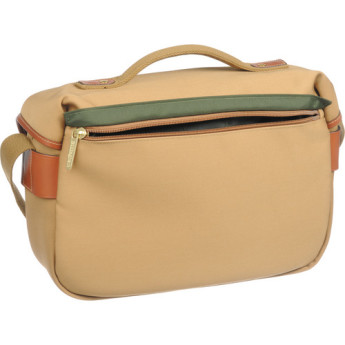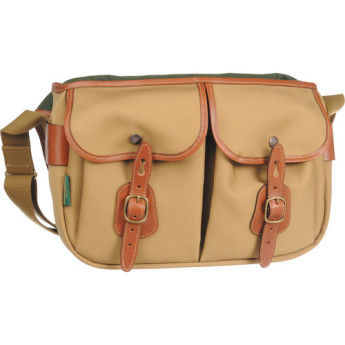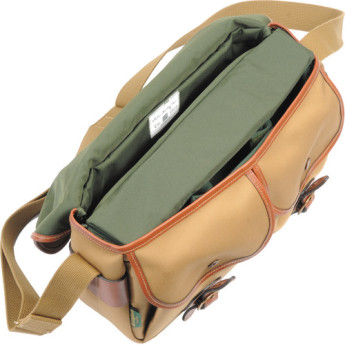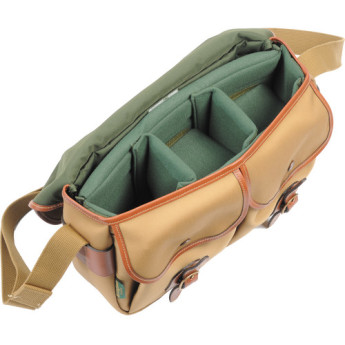 All Products are New and from Manufacturer Authorized Retailers
30 day return policy
Free Shipping
No Additional Fees
General Information
Material

Exterior:

Stormblocker
dual laminate waterproof canvas
Interior:
High density closed cell foam
Trim:
Tan Leather Trim
Type of Closure
Quick release buckles
Solid brass clog bolt and harness leather locking system.
Zipper
Exterior Dimensions
13.6 x 4.75 x 9.6" (34.5 x 12.1 x 24.3 cm) (WxDxH)
Interior Dimensions
12.5 x 2.75 x 8.75" (31.8 x 7.0 x 22.2 cm) (WxDxH)
Tripod Holder
No
Accommodates
Large Digital/photo SLR Body with 2 lenses or 1 lens and flash plus accessories
Carrying/Transport Options
Adjustable shoulder strap
Webbing and leather top mounted carry handle
Weight
2.4 lb (1.07 kg)
I'm using this for a Sony full frame system (24-70 and 70-300 with a large flash). Each item is well protected. For travel, It's easy to slip an iPad Pro or 13" laptop. It's a really well balanced back I'm sort of surprised that things stay in very securely even when I'm whipping the bag around to...
This camera bag is made for folks with full-frame or smaller camera systems, but I had different designs on its use. I have a FUji X-H1 and a GFX-50R. No they both wont fit at the same time, but that is OK.
Very lightweight and stylish, but I wish it could be a bit bigger (thicker) but not as big as hadley one. I found my D750 can squeeze in but very tight.
I've had the Hadley Small and the Stowaway Compact. I added the Hadley Pro when I needed more space for Olympus E-M1 II, Pan Leica 100-400 (attached) plus my Pen F and a few other lenses. Same great quality as all Billingham bags and fits the bill. I'm sold on Billingham
Well I got this bag for a steal from a weird wedding photographer. My edition is fairly old (no zipped compartment for documents) and is labelled 'Fox Talbot 25 Years'. It also has a nice used look to it, which many folk seem to be after, maybe to appear more like an old British war photographer or...
+

Size, looks, waterproof

-

non-padded shouder strap
This bag is made of the finest materials and has plenty of room for most photographers. In it I carry my Olympus EM-1, the 12-40 PRO lens and the 40-150 PRO lens, the FL-600R flash, the 60mm 2.8 macro lens plus the usual extra batteries, memory cards, remote control, etc.
I purchased this bag to carry the majority of my Pentax gear. I was surprised to find out just how much room this bag has available. I was able to comfortably fit the following items:
+

Very well made. Soft fibernyte material
light weight and durable, stylish. I wish the bag could be a little thicker to fit my D750. Although you can squeeze it but not big enough.
Just as in the fable, this bag is "just right!" As I advance in years, I've found it necessary to travel light. Over the years, I've acquired an extensive assortment of Think Tank gear which serves specific needs and occasions.
Lovely camera bag, feels great and stores items securely. Only gripe is the shoulder strap should have the pad included.
Stormblocker Waterproof Exterior
Photo Insert included
Four Exterior Pockets
Carry Handle
Shoulder Strap
Billingham Hadley Pro Shoulder Bag (Khaki Canvas & Tan Leather)
Original/Pro Hadley Insert
Hadley Front Straps (Set of 2, Tan)
Hadley Pro Divider Set
Limited 5-Year Warranty