Sigma EF-610 DG ST Shoe Mount Flash for Sony and Minolta ADI / P-TTL DSLRs, Guide Number 200 at 105mm Setting
Model #F19205
Sigma Warranty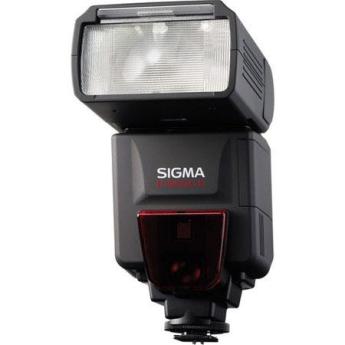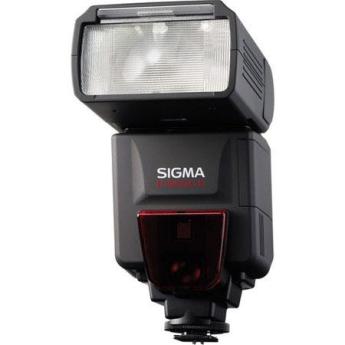 All Products are New and from Manufacturer Authorized Retailers
30 day return policy
Free Shipping
No Additional Fees
General Information
Guide Number
24mm - 112 ft / 34 M
28mm - 115 ft / 35 M
35mm - 118 ft / 36 M
50mm - 151 ft / 46 M
70mm - 171 ft / 52 M
85mm - 184 ft / 56 M
105mm - 200 ft / 61 M
Power Source
Four AA alkaline or AA NiCd or Ni-MH (Nikel Metal Hybride) batteries
Recycle Time
Approx 7 seconds (when using alkaline batteries) Approx. 5 seconds (when using NiCd, Ni-MH batteries)
Number Of Flashes
Approx.120 flashes (when using alkaline batteries) Approx. 160 flashes (when using Nicd, Ni-MH batteries)
Illumination Angle
Automatically set in accordance with the focal length of the lens, in a range from 24mm to 105mm. Also covers the angle of a 17mm lens when used with the built-in Wide Panel.
Bounce Angle (Up)
0, 60, 75, 90 degrees
Bounce Angle (Right)
0, 60, 75, 90 degrees
Bounce Angle (Left)
0,60,75,90,120,150,180 degrees
Tilt angle (Down)
0.7 degrees
Dimensions (W X H X D)
3.0 X 5.5 X 4.6 inch / 77 x 139 x 117mm
Weight
11.3 oz. / 320g (without batteries)
Sigma is better known for its range of lenses, but it also produces a decent line in flashguns too, with the EF-610 DG ST available for Sigma, Canon, Nikon, Pentax and Sony systems. It's a large flashgun, tipping the scales at 320g, and has the look and feel of a durable piece of kit.
I haven't put this unit through its paces yet, but so far it works well with my Sony Alpha 100, and both my Minolta 7D and 5D cameras--as if it was a Minolta flash unit!
Aquired this flash unit and have to say it works really well for Pentax cameras in P-TTL Produces nice tones. One bit of a drawback that there is no Sync connection. But overall a worthwhile purchase.
+

illumination capacity

-

No digital settings
I haven't had a chance to use it to a great extent, however, I bought it along with a Better Beamer to try to capture Hummingbirds and Butterflies on the move. It is doing the job, if only I could get more co-operation from the critters.
The flash is very strong for its price point. It works well with my Nikon D5200. The only weak point is the construction of the battery door. It is rather flimsy and should have been designed sturdier. Be careful when loading batteries and closing the door.
I've owned this flash for about a year. It works well and has been durable enough. It's good for P-TTL while mounted on the camera, and it works well as a bounce flash. I've also found it useful as a hair light and fill light while doing portrait work.
+

Power, value

-

Cheezy hot shoe, Few manual controls, no sync port or slave
This is the first shoe mount flash to pair with my first SLR. So far I am impressed by the features of the flash using iTTL controls. Bounce flash is capable for anywhere with the amount of tilt and swivel. So far I have been able to use the flash on about 150 pictures on one set of AA batteries.
I purchased this flash as a back up for a wedding I got talked into shooting. I normally use a Sony F 58. The sigma was significantly slower than my Sony and didn't produce as bright of a flash. All in all did well for a backup and am pleased for the price!
Bought for a second flash .I do event photography .It is a very simple flash to operate. Maybe too simple .
This flash has a powerful strobe and automatically adjust brightness and exposure.
flash works great both on and off camera. electronics integrate well with my Nikon D7000
Powerful light output with a Guide number of 200
Illumination covers a focal length from 24mm to 105mm
Covers 17mm when the built in Wide Panel is used
Fully automatic flash photography
Made For Sony TTL
Shoe Mount Flash
AA Batteries
Sigma EF-610 DG ST Shoe Mount Flash
Carrying Case
Flash Stand (FS-11)
Sigma 1 Year North and South America Limited Warranty (3 Year USA Extended Warranty for a Total of 4 Years from Date of Purchase)