Shure SE846 Sound-Isolating Earphones with Bluetooth and Wired Accessory Cables (Bronze)
Model #SE846-BNZ+BT1
Shure Warranty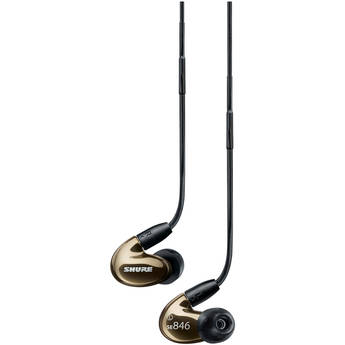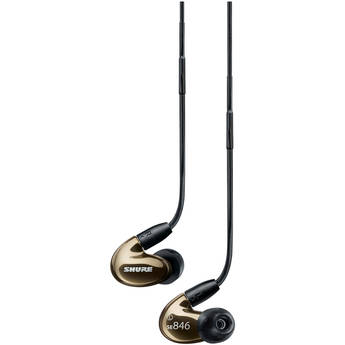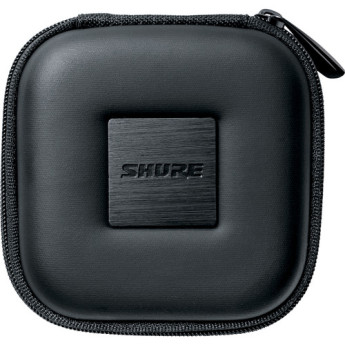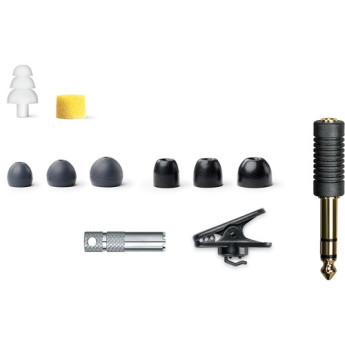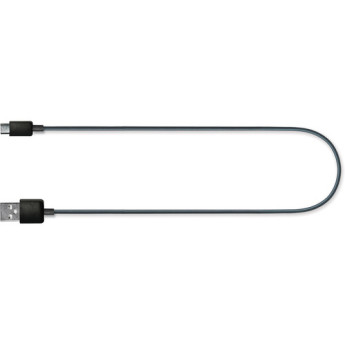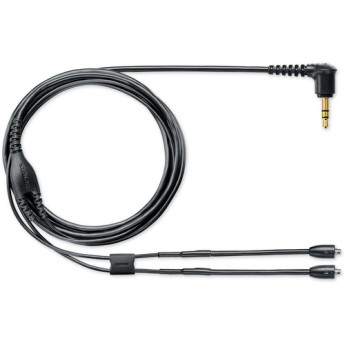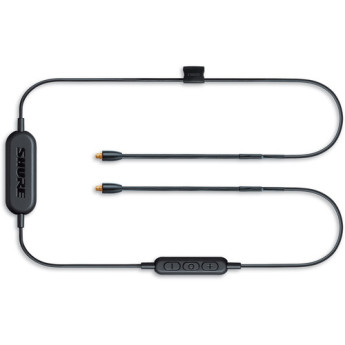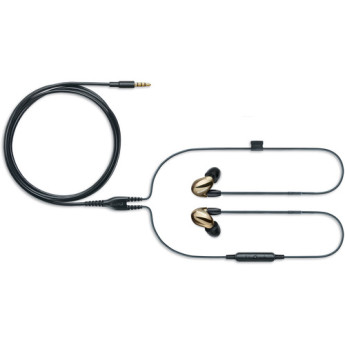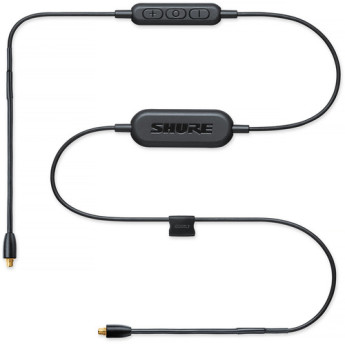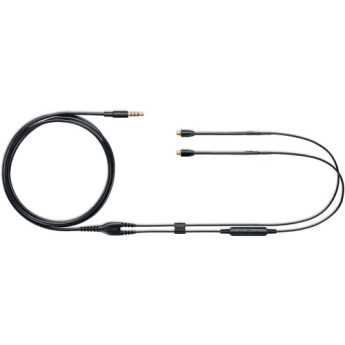 All Products are New and from Manufacturer Authorized Retailers
30 day return policy
Free Shipping
No Additional Fees
Physical
| | |
| --- | --- |
| Dimensions (W x H x D) | Not Specified by Manufacturer |
| Certifications | Not Specified by Manufacturer |
| IP Rating | Not Specified by Manufacturer |
| Weight | Not Specified by Manufacturer |
| Material of Construction | Not Specified by Manufacturer |
Packaging Info
| | |
| --- | --- |
| Package Weight | 1.45 lb |
| Box Dimensions (LxWxH) | 9.9 x 5.8 x 2.7" |
Microphone
| | |
| --- | --- |
| Type | Not Specified by Manufacturer |
| Impedance | Not Specified by Manufacturer |
| Sensitivity | Not Specified by Manufacturer |
| Frequency Response | Not Specified by Manufacturer |
| Pickup Pattern | Not Specified by Manufacturer |
General
| | |
| --- | --- |
| Sensitivity | 114 dB at 1 kHz / 1 mW |
| Frequency Response | 15 Hz to 20 kHz |
| Maximum Power Handling | Not Specified by Manufacturer |
| Maximum Sound Pressure Level (SPL) | Not Specified by Manufacturer |
| Impedance | 9 Ohms (Passive) |
Earpiece
| | |
| --- | --- |
| Magnet Type | Not Specified by Manufacturer |
| Driver Type | Balanced |
| Driver Size | Not Specified by Manufacturer |
| Design | In-Ear (Intra-Aural) |
| Noise Attenuation | 37 dBA |
| Noise Cancellation Type | Passive |
| Number of Drivers | 4, per earpiece |
Connectivity
| | |
| --- | --- |
| Connector to Earpiece | 2 x MMCX |
| Adapter (Included) | 1/4" (6.3 mm), Airplane |
| Connector Plating | Not Specified by Manufacturer |
| Audio Connector | 1/8" (3.5 mm) TRRS |
Cable
| | |
| --- | --- |
| Cable Length | 64" / 162.56 cm (Unbalanced) |
| Full Remote OS Support | Android or iOS |
| In-Line Remote/Microphone | Yes |
| Detachable | Yes |
| Design | Y-Type |
The SE846 combines state-of-the-art engineering with great musicality.
+

Four balanced armature drivers, Customizable frequency response, User-replaceable cables

-

Not as good at isolating outside noise as custom in-ears
The Shure SE846 is a high-end in-ear monitor that has a fantastic sound – and a price to match. At $999, it certainly isn't going to be for everyone. But if you're the type of person who wants to have the best earphones on the block, this one may be for you.
+

Tremendous sound quality, exceptional detail and balance, sturdy design, customisable sound signature using nozzle filters

-

Expensive choice, unlikely to suit very small ears
Warm and rich-sounding earphones for high-end headphone fans after a less analytical sound.
+

Excellent bass, Great mid-range texture and detail, Removable cable

-

Conservative treble
Utterly enjoyable! They were a quantum leap better than any IEM ( inner ear monitor) or headphone, I had ever heard. Pristine clarity and resolution combined with very satisfying and tight bass. Distortion is not even on the distant horizon!
+

Clarity, absence of any noticeable distortion, full range excellent sound, from the lowest of lows to the highest of highs.Allow the use of high quality DAC/ amplifiers that can really be a dramatic upgrade ( not so obvious in cheap headphones)

-

They work so much better with the custom sleeves! However, there is an extra cost. Also, the sleeves create bulk. However, the enjoyment they provide is well worth it.
These are no ordinary headphones. They are completely balanced across the board and are a true audiophile experience every time you listen to them. These are well worth the investment if you're serious about your music both on and off the stage. I mostly use them as monitors when playing at church.
The SE846 gives you the feeling of a premium product (which it obviously is) right from the start, with its large amount of nice included premium accessories. Sound-wise, it is definitely a premium product as well: it features a mature "fun" signature with "true" sub-bass that is very arid and...
+

- Sound, design, comfort, portability

-

- Well of course they are expensive but you get what you pay for.
Lets start with bass. At times it seems if i can actually feel the bass in my feet and see the waves with my minds eye. It brought a new life to every song i threw at it, from rock to rap, from Jazz to Movie Scores.
this are simple amazing... i am a bass player that has need this headphones to play at church wit the wireless in ear system, i hated so bad because all the time i couldnt listen my self, and is so hard to play right your parts when you couldnt even listen what you are doing...
Since 2010 I have enjoyed my previously top-of-the-line Shure SE535-V Triple High-Definition MicroDriver Earphone with Detachable Cable - Metallic Bronze , so I was a little reluctant to take the plunge of purchasing this newest model at this price point, wondering "Can it really get any better?
The SE 846's are not just a 'step above' the previous models, its a whole other beast. The balanced armature drivers are proprietary, and the patented acoustic sub woofer is phenomenal. You get the impact, slam and rumble of a dynamic driver, with the detail and resolution of a BA design.
Tip choice impacts sound presentation. Highly revealing; Source critical; poor sources will be treated unkindly. This is a high end, luxury product; you get what you pay for. The bass is detailed and punchy, but it has this way of not crowding the mids, or suffering from muddiness.
Greta product and the sound stage is really excellent you can ear every piece of the music, but are they worth the price tag? For me unless you are using a top quality player or a DAC to get the best out of these, if you have not got the set up you can get great sounding in ears for a quarter or the...
Yes, it was worth the upgrade from the SE535s. The sound is fuller overall, especially on the low end.
Wired Cable with In-Line Remote/Mic
Bluetooth Cable with In-Line Remote/Mic
Quad MicroDrivers with Subwoofer
Customizable Frequency Response
3-Way Distribution for Low, Mid & High
Low-Pass Filter Preserves Clarity
15 Hz to 20 kHz Frequency Response
Up to 37 dB of Noise Isolation
Sweat-Resistant Housing
Includes Accessories & Carrying Case
Shure SE846 Sound-Isolating Earphones with Bluetooth and Wired Accessory Cables (Bronze)
RMCE-UNI Universal Remote and Mic Cable for SE Earphones wrzbresubewyxtafdst
RMCE-BT1, Bluetooth Enabled Remote + Mic Accessory Cable for SE Model Earphones
64" 3.5mm Audio Cable
Micro-USB Cable
Fit Kit with Assorted Sleeves
Airline Adapter
6.3mm (1/4") Adapter
In-Line Attenuator
Clothing Clip
Nozzle Removal Key
Nozzle Inserts for Custom Frequency Response
Crush- and Water-Resistant Road Case
Zippered Carrying Case
Limited 2-Year Warranty