Shure SE215SPE Special Edition Sound-Isolating In-Ear Stereo Earphones with 3.5mm Remote and Mic Cable (Blue)
Model #SE215SPE-B-UNI
Shure Warranty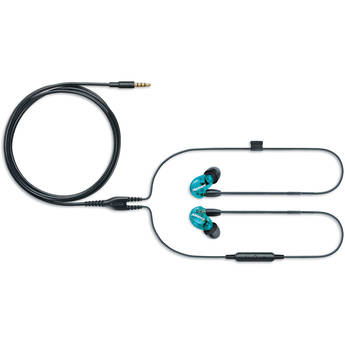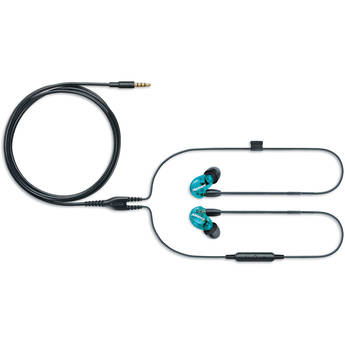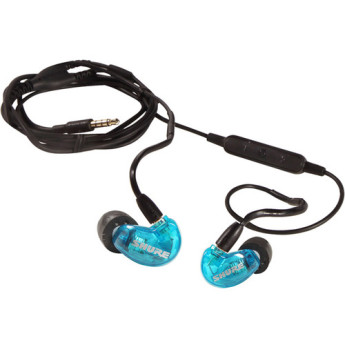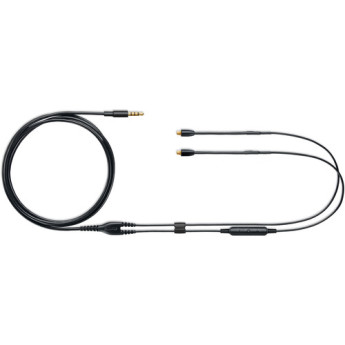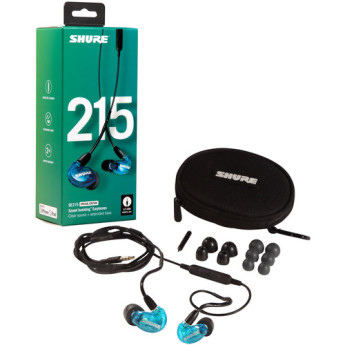 All Products are New and from Manufacturer Authorized Retailers
30 day return policy
Free Shipping
No Additional Fees
Product Unavailable
We are sorry. At this time, we are not accepting offers on this product.
Physical
| | |
| --- | --- |
| Weight | 1.06 oz / 30 g |
| Material of Construction | Not Specified by Manufacturer |
| Certifications | CE, as per Manufacturer |
| IP Rating | Not Specified by Manufacturer |
| Dimensions (W x H x D) | Not Specified by Manufacturer |
Packaging Info
| | |
| --- | --- |
| Box Dimensions (LxWxH) | 7.6 x 3.1 x 2.0" |
| Package Weight | 0.35 lb |
Microphone
| | |
| --- | --- |
| Type | Not Specified by Manufacturer |
| Pickup Pattern | Not Specified by Manufacturer |
| Frequency Response | Not Specified by Manufacturer |
| Sensitivity | Not Specified by Manufacturer |
| Impedance | Not Specified by Manufacturer |
General
| | |
| --- | --- |
| Maximum Power Handling | Not Specified by Manufacturer |
| Maximum Sound Pressure Level (SPL) | Not Specified by Manufacturer |
| Impedance | 17 Ohms (Passive) |
| Sensitivity | 107 dB at 1 mW |
| Frequency Response | 21 Hz to 17 kHz |
Earpiece
| | |
| --- | --- |
| Number of Drivers | 1, per earpiece |
| Magnet Type | Not Specified by Manufacturer |
| Driver Type | Dynamic |
| Driver Size | Not Specified by Manufacturer |
| Design | In-Ear (Intra-Aural) |
| Noise Attenuation | 37 dBA |
| Noise Cancellation Type | Passive |
Connectivity
| | |
| --- | --- |
| Connector to Earpiece | 2 x MMCX |
| Adapter (Included) | None |
| Connector Plating | Gold |
| Audio Connector | 1/8" (3.5 mm) TRRS Straight |
Cable
| | |
| --- | --- |
| Full Remote OS Support | Android or iOS |
| In-Line Remote/Microphone | Yes |
| Cable Length | Not Specified by Manufacturer |
| Design | Y-Type |
| Detachable | Yes |
Search the headphone forum and read the gadget blogs. You'll find many fans of the Shure SE215 earbuds. The praise is deserved – they do sound really good – but they aren't for everyone.
+

Great sound. Cables detach and are replaceable if they wear out. Lots of tip options in the box.

-

They aren't the most comfortable buds in the bin. Finding the correct seal and fit takes a lot of patience. No remote or microphone, so you'll be de-pocketing your mobile more often.
The Shure SE215 Wireless earphones offers some of the best in-ear Bluetooth audio performance available under $200.
+

Excellent audio performance., Super-secure in-ear fit, with some passive noise reduction., Removable/replaceable audio cable.

-

No extra cable included., Mediocre mic quality.
The Shure SE215 are alright for neutral sound listening. They have a surprisingly more balanced sound than the higher-end Shure SE315 and Shure SE425. They have good bass and a decently balanced mid-range, although the slight overemphasis in the lower frequencies makes them sound a bit boomy and...
This is a punchy, solid sounding headphone. It's perfect for pop, hip-hop and EDM. It also works well with classical music. However, I wouldn't call it the ideal all-rounder; if you purely listen to rock and pop-rock or folk, you might want to keep looking.
Highly isolating for a dynamic-driver set and boasting a smooth and detailed sound signature with an emphasis on bass and mids, the Shure SE215 is poised to be a high-value in the consumer market.
+

High isolation, solid sound quality with consumer-friendly signature

-

Detachable cable can be unwieldy and may be uncomfortable for some users
In spite of not being a perfect pair of ear phones, Shure SE215 really stand above the ordinary and I really recommend buying them.
+

Good isolation Highly customisable with various isolation sleeves Long lasting High sensitivity Unique design

-

A little excess bass boosting Single micro driver Output power not constant at highs
Shure has captured me with its sound, and I'm really glad that its making itself more accessible with an affordable price. The SE215 is able to show what the company is capable of.
This story originally appeared at InnerFidelity.comEvolution is not like a car wash; it's not some process with a beginning, a middle, and an end. It's messy; it makes mistakes; sometimes it moves in a particular direction; sometimes it just goes in circles refining things.
I would like to thank Hifiheadphones for lending me the SE215, and Shure Asia for lending me the SE215 SPE.
Some people spend as much as $200 for Powerbeats3 in-ear headphones and the truth is you can now get better sound and better quality for less. The Shure SE215 in-ear headphone is a staple in the pro-audio industry and today consumers are buying them for everyday music listening.
The thing I like about it is how it fits in my ear. It's comfortable to use even if you wear it for a long time. It comes with a detachable cable and extra foam buds. It sounds good as an in ear monitor or just listening to music.
I use the SE215 to monitor my live sound mixes and they are great for the job! They feel very comfortable in my ears and isolate the ambient sound very well. The balance of the all the frequencies is very good. I carry them with me all the time and use them to listen to music as well.
These earphones are GREAT! I have been looking for a in ear monitor I could use when I play drums and these fit the bill. I can hear everything clearly, they are comfortable and they don't slip out. I'm thinking about ordering a second pair to make sure I have a backup. They are GREAT!
The SE 215 by Shure is definitely a step up from the standard earphones out there. Great clear sound and bass putting out a solid 100 db. Thick high quality cord that's about a foot to long and plugs that are removable to clean and change out with the included new sleeves.
Good sound quality with deep base and sharp clarity. Only negative I have is its fitment in the ears. Sometimes it is challenging to put them on, especially without visually confirming which goes to which ear.
I'm a music lover and choosing a headphone is quietly hard for me,but when I found this headphone, now I can only say , its absolutely perfect for my music. The sounds is perfectly good , it can't harm your ear while listening to your favorite music. Wonderful piece for a simple stuff.
+

Absolutely amazing and fantastic , I highly recommend this headphone to all my friends.

-

Nothing can compare how this headphone works, the sounds can't get you annoyed.
Great for use as a singer, or just to hear your instrument and mix nicely. I use for practice a lot (electronic drums, guitar and singing) and plan on gigging with it soon. The bass response, and overall spectrum clarity is very good.
I dig the idea of in-the-ear monitoring system and the "Shure SE215" system seems a good way to get into the game. For the price they seem like really good monitors, with no noticeable distortion in either of the ranges, I'm a drummer so I crank them up.
I recently started using in-ear monitors (IEM) with my band. We needed to reduce stage noise. These ear buds work great!! I use the rubber inserts and all external noise is muted. My ears no longer ring after a gig! Well worth the price!!
I have a difficult time finding earphones that will stay secured in my ears, and these are no different. I personally can't give them 5 stars, but that is because of my experience, not a product defect.
Compact and Lightweight
Single Dynamic MicroDriver per Side
Up to 37 dB of Noise Isolation
21 Hz to 17 kHz Frequency Response
Fit Kit with Multiple Eartips
In-Line Remote and Microphone
Selectable Android/iOS Operation
Detachable 3.5mm Cable
Gold-Plated Connector
Zippered Carrying Case Included
Shure SE215SPE Special Edition Sound-Isolating In-Ear Stereo Earphones with 3.5mm Remote and Mic Cable (Blue)
Fit Kit
Zippered Carrying Case
Limited 2-Year Warranty