Sennheiser HD 800 Dynamic Open-Back Stereo Headphones
Model #HD800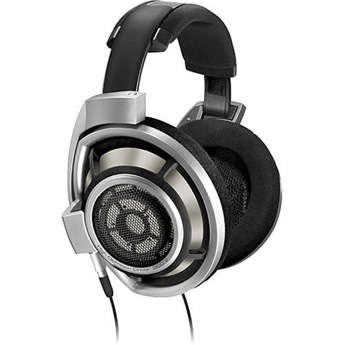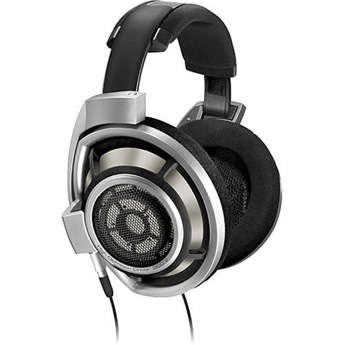 You name the price you want to pay for a product.
We send your offer to a network of Certified Retailers.
If the retailer likes your offer, you get that price for the product.
All Products are New and from Manufacturer Authorized Retailers
30 day return policy
Free Shipping
No Additional Fees
None
Connectors
Gold-Plated 1/4" Stereo Plug
Maximum input power
Not Specified by Manufacturer
Cable length
9.8' (3 m)
Impedance
300 Ohms
Sensitivity
102dB
Type
Open-Back, Dynamic, Around-Ear
Frequency range
6Hz - 51kHz (-10dB)
14Hz - 44.1kHz (-3dB)
Weight
9.2 oz (260g)
Uncompromising design standards have produced a truly outstanding product in Sennheiser
+

Exceptional Sound, High Quality Construction Extremely comfortable for long term use

-

Not easily portable, Ambient noise is easily audible No 1/8" adapter for use with portable audio devices
Sennheiser's exquisite HD 800s sound more like listening to full-size speakers than any other headphones we've heard to date.
+

Top-notch engineering and build quality; highly accurate sound; super comfy over-the-ear design; detachable headphone cable.

-

Extremely expensive; not the best match for an iPod; no included adapter for 3.5mm minijacks.
When I set up my lab, the only headphones I knew I had to buy were a pair of Sennheiser HD 800s--they are as close to perfect as a headphone gets. I think they are a must for any serious audio professional who has any work where open headphones could be used.
Sennheiser's latest and greatest headphones are put to the test. The HD800s created quite a fuzz when released, not only were they one of the most expensive headphones launched last year, they were also the most anticipated ones.
A very fine pair of headphones from Sennheiser, and worth an audition if you don't get on with Grados
The HD 800s use a patent-applied-for ring-shaped diaphragm. Headphone reviews are tricky. As these products are worn by the user, they are more "personal" than other audio gear. It's like reviewing a pair of shoes: The feel makes a big difference in customer satisfaction.
The Sennheiser HD 800 headphones are the best cans the Windows team has ever tested.
Which brings us to a sticky question: Would I spend my money on a pair of $1400 headphones when I own the combo of AKG K701 and Cardas Fatpipe? Probably not—these are tough economic times, and editors aren't ringing my phone off the hook. I would if I could, but I can't. Should you ? That depends.
For the past six years or so, the Sennheiser HD800 has entertained a reputation as a premium headphone. And even though this reputation may have been somewhat eclipsed by the release of the new-and-improved HD800S, the $1399 HD800 still delivers a damn good sound.
They also look very comfortable with their doughnut shaped and has Teflon-insulated, luxurious fabric-coated earpads.
I'm using HD800 paired in balanced mode with Pono Player. It's probably not the best combination but worth of considering. Have to say that I can't go back to my long time favorite HD600, the difference between HD800 and latter is immense, not only in price.
+

wide soundstage, super clear highs, tight base, micro detailed sound

-

slight dirtiness in 6-8K frequencies on certain samled and electronic music
This headphone is will bring live concert to you. But it needs a decent DAC and amplifier. I paired with DAC-19 from Audio-GA and Sennheiser HDVA 600 and played FLAC from computer that connected to the DAC via USB. Amazing sound.
+

Big and amazing sound, spacious stage, comfortable.

-

None.
I would give more than 5 stars if I could. Never have I heard such perfection coming out of a pair of headphones like this. Just like a pair of very detailed loud speakers attached to my head, and no distortion at any volume (your ears will hurt before these are distorted).
The HD800 is currently at the top of the Sennheiser line, and by some commentators perhaps one of the best dynamic headphones ever. - On arrival, the HD800 comes in a black wooden box that is foam-padded with luxurious velvet. It also contains a full-color, richly detailed booklet.
The HD 800 are highly regarded cans. I have listened to mine for hours and hours and never fatigue. They give me everything my speakers do. BUT, they are 300 imp, so be SURE to have a decent source. If you don't you will miss the bass and life of the headphones.
Spectacular sound and staging, as you'd expect for the price I guess, but they do sound amazing, especially when driven by a good headphone amp, I'm using the Ray Samuels MR-2. SACDs are great, but even regular Red Book CDs are brought to life.
+

Comfortable, Durable, Good Bass, Great Sound, Stylish
Well before we get into the review I would like to introduce my setup. I used the HD800 with a Woo Audio 6 and with a Creek OBH-11 amp. The sourse was a Bel Canto DAC 2 coupled to a Sony Es changer. Cables used were transparent audios interlink series. The HD800 were tested with the stock cables.
First off I couldn't afford them, but I do have a friend that has a production studio and I get to try out some of the new professional audio products that come out and these cans are unreal.
Came here for the product and stayed here for reviews. Lol
A diamond ring vs these headphones... Hummmm
Open-Back Design
Dynamic Transducers
Around-Ear Cushions
Cushioned Metal Headband
Impedance-Matching Cable
Standard 1/4" Plug
Hand-Assembled in Germany
9.0/10
Average Expert Score
9.1/10
Average User Score
Sennheiser HD 800 Dynamic Open-Back Stereo Headphones
2-Year Limited Warranty