Sekonic LiteMaster Pro L-478D-U Light Meter
Model #401-474
Sekonic Warranty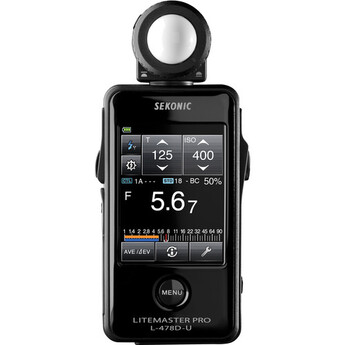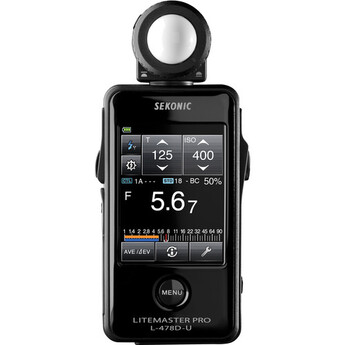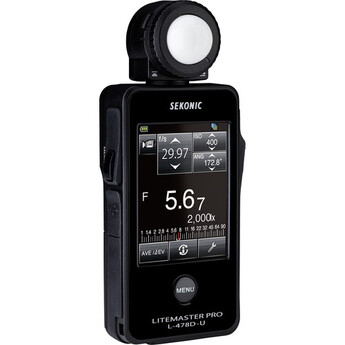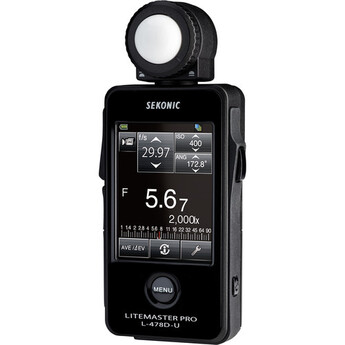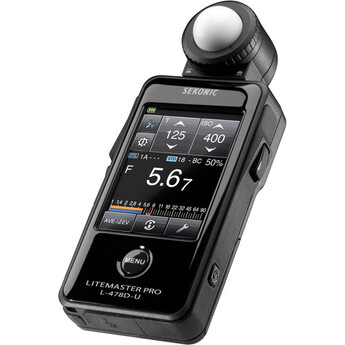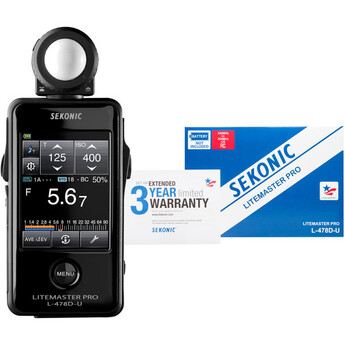 Guaranteed Brand New Products
All Products Sold by Manufacturer Authorized Retailers
30 Day Return Policy
Free Shipping
No Additional Fees
Packaging Info
| | |
| --- | --- |
| Package Weight | 0.8 lb |
| Box Dimensions (LxWxH) | 8.5 x 5.9 x 2.0" |
General Information
| | |
| --- | --- |
| Receptor Element | 2 x Silicon photo diodes |
| Receptor Head | Incident Light: Lumisphere convertible to flat diffuser, rotates 90° right & 180° left Reflected Light: Optional 5° viewfinder |
| Measuring Modes | Ambient Light: Aperture priority, shutter speed priority, TF priority, EV metering, HD Cine (shutter priority, FPS metering, lux, or fc), Cine (FPS metering, shutter angle setting, lux, or fc), illuminance (lux or fc), luminance (cd/m² or fl) Flash Light: Cord (PC sync terminal), cordless |
| Measuring Range | Ambient Light (ISO 100): Incident: -2 to 22.9 EV; Reflected: 3 to 19.9 EV Flash Light (ISO 100): Incident: f/1.0 to f/128.9; Reflected: f/2.8 to f/128.9 Illuminance: 0.1 to 180,000 fc / 0.63 to 2,000,000 lux Luminance: 0.29 to 290,000 fl / 1.0 to 980,000 cd/m² |
| Repeat Accuracy | ±0.1 EV or less |
| ISO Range | 3 to 409,600 in 1/3 steps, plus 850 |
| Shutter Speed | Ambient Light: 1/64,000 sec to 30 min, plus 1/200 & 1/400 sec, in 1, 1/2, and 1/3 steps Flash Light: 1/1,000 sec to 30 min, plus 1/75, 1/80, 1/90, 1/100, 1/200, & 1/400 sec, in 1, 1/2, and 1/3 steps |
| Aperture | f/0.5 to f/161.2 in 1, 1/2, and 1/3 steps |
| Frame Rate | 1-1,000 fps |
| Shutter Angle | 1-358° |
| Type | Digital light meter for flash and ambient light |
| Memory Function | 9 readings |
| Zones | None |
| Connections | 1 x PC sync terminal 1 x Mini-USB port |
| Screen | 2.7" / 6.9 cm color touchscreen LCD |
| Power Source | 2 x AAA batteries (alkaline, manganese, lithium, nickel hydride, or nickel) |
| Operating Temperature | 14 to 122°F / -10 to 50°C |
| Storage Temperature | -4 to 140°F / -20 to 60°C |
| Dimensions | 2.2 x 5.5 x 1.0" / 57 x 140 x 26 mm |
| Weight | 4.6 oz / 130 g without batteries |
| EV Range | -27.9 to 55.8 EV (only ambient light) |
| Radio Frequency | None |
The meter is fast and accurate. You can do just about everything with this meter. I am mostly just using this for my strobe and flash exposures and it is spot on. My location photos are so much better for using this meter to set my strobes/flash.
I watched a couple videos on Youtube before I purchased this meter. When I received the meter I was ready to go. It worked just as I expected it to. The meter came with a strap and a case which attaches to your belt making it easy to carry. The two AAA batteries were not included.
I use this meter to set light levels for stage lighting applications...I will on occasion use it for strobe photography...I have owned a number of meters over the last forty years and I very much enjoy the touch scene menus..
I like to keep as few digital screens in my camera bag as possible but this light meter has been an amazing companion. The startup time is a little laggy but not enough to be annoying. I recommend it.
The L-478DR light meter is arguably the best, easiest to use meter available, but it has one limitation: It cannot measure reflected light. This viewfinder rrplaces the ambient light dome and allows you to measure reflected light. It's an absolute necessity for landscape photography.
Fantastic tool to get correct exposures.VM
Pros: it does meters the light, offers bulb in and bulb out, light weight and small.Cons: terrible battery life, screen kind of hard to see in bright sun, touchscreen annoying to use, touchscreen constantly gets accidentally touched by clothing when its hanging out your heck changing your selected...
The info in the catalog does not mention a case and thus are lead to believe that you might want to buy the optional case. In fact, the meter does come with a cheap case, kind of an over-sized glass case. They need to publish the fact that it comes with this cheap case.
As advertised. Easy to learn and use. Perfect exposure.
Im still getting acclimated to using this equipment but Im not sure how i functioned without it especially with me shooting film.
Incident Metering for Ambient & Flash
Range: -2 to 22.9 EV at ISO 100
Cine Setting: Frame Rate & Shutter Angle
2.7" Color Touchscreen LCD
Flash Analyzing Function
Filtration Compensation Mode
Illuminance/Luminance Measurements
Contrast Function & Memory Mode
Custom Exposure Profiles & Calibration
Sekonic LiteMaster Pro L-478D-U Light Meter
Anti-Glare Film
Hand Strap
Soft Case
Operating Manual & Data Transfer Software CD-ROM
Limited 3-Year Warranty