Roland V-Combo VR-09B Live Performance Keyboard with 61 Velocity Sensitive Keys and 2/3 Mauual Mode
Model #VR-09B
Roland Warranty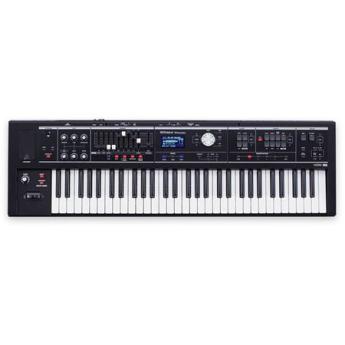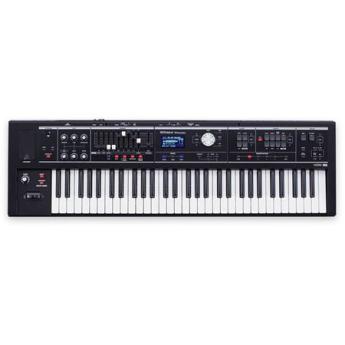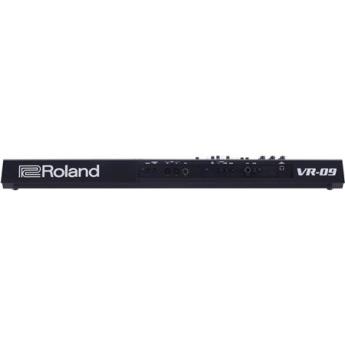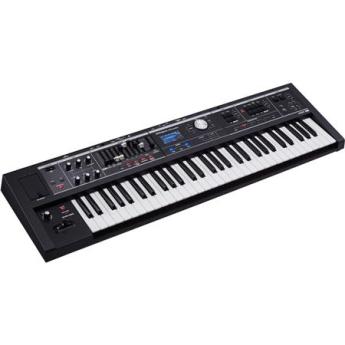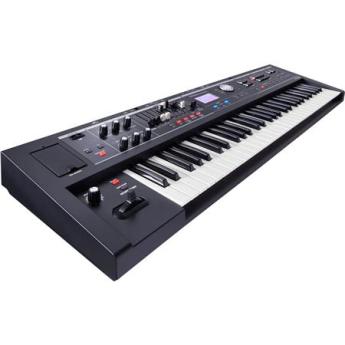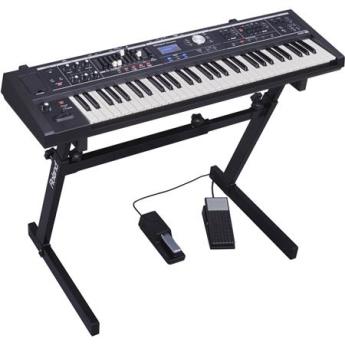 All Products are New and from Manufacturer Authorized Retailers
30 day return policy
Free Shipping
No Additional Fees
General Information
Keyboard Type
61 keys (with velocity)
Keyboard Modes
Whole
Dual (volume balance adjustable)
Split (split point, volume balance adjustable)
2-manual/3-manual mode (when using sold separately MIDI keyboard)
Sound Generator
Virtual Tone Wheel Organ
SuperNATURAL Synth
PCM Synth (GM2 compatible sounds are included)
Sound Generator: Maximum Polyphony
128 voices
Sound Generator: Parts
Organ (3 parts)
Piano (2 parts)
Synthesizer (2 parts)
Drum (1 part)
GM2 (16 parts)
Sound Generator: Sounds
245
Sound Generator: Registrations
100 (4 x 25 banks)
Sound Generator: Effects
7 Systems Always On/Global Control:
Overdrive
Tone
Compressor
Multi-effects: 20 types
Delay: 6 types
Reverb: 6 types
Rotary: 3 types
SMF/Audio File Player Section
Playable File Format:
SMF File: Format 0, 1
Audio File: WAV, AIFF, MP3

Recording Format:
SMF File: Format 0
Audio File: WAV (44.1 kHz, 16-bit linear, stereo)
Looper Section
Recording Time: 20 seconds (stereo)
Recording/Loadable File Format: Audio File: WAV (44.1 kHz, 16-bit linear, stereo)
Patterns
52x Rhythm Patterns
Controller
Virtual Tone Wheel organ: Harmonic bar x 10
Synthesizer controller: Slider x 5
D-BEAM controller
Pitch bend/Modulation lever
Effects knob x 6 (global control)
Display
Graphic LCD 128 x 64 dots
External Memory
USB Flash Memory
Connectors
Output (L/MONO, R) jacks: 1/4-inch phone type
PHONES jack: Stereo 1/4-inch phone type
EXT INPUT jack: Stereo miniature phone type
DAMPER jack: TRS 1/4-inch phone type
EXPRESSION PEDAL jack: TRS 1/4-inch phone type
MIDI (IN, OUT) connectors
PK IN connector: 8-pin DIN type
USB COMPUTER port: USB Type B (supports USB MIDI)
USB MEMORY port: USB Type A
DC IN jack
Power Supply
AC adaptor
8x Rechargeable Ni-MH battery (AA, HR6)
Battery Life
Approximately 5 hours (approximately 3 hours with USB flash drive connected)
Current Draw
600mA
Dimensions (WxDxH)
1008 x 300 x 106mm (39.68 x 11.81 x 4.17")
Weight
5.5kg (12.13 lbs)
When we first heard Roland's VR-09 at the 2013 Winter NAMM, we were quite impressed with its sound. Designed to be a live performance keyboard that includes all the meat and potatoes for nearly any gig situation, the VR-09 does quite a good job at delivering the goods.
this keyboard right here is just about all you will need. I'm am a motif fan but this VR-09 has been my baby now..(not taking all away from the mo) but it's easy to use, the setup is simple, the sounds are great. Ex. I can take a finger bass and change it up to been like a lead...awesome!!!
This is my third Roland instrument purchase. The VR-09 exceeds my expectations largely because of its organ. The depth of its sound extends from brand new organ to an aged model with all the nuances of clicks belt wear on the Leslie speaker!
I bought the Roland VR-09 to replace a Korg triton 88 and a Korg CX-3. Total weight about 150lbs... Wow, I have more useful sounds available with the Roland, @12 lbs. My back thanks you!!
I got this board to fulfill a few different roles in the cover band and original band I play with, and it does the job admirably. Nitpicks: There are some minor nitpicks of mine that detract from a 5 star rating, but objectively, it's a great board that I wouldn't hesitate recommending.
I needed a light weight portable keyboard with versatile organ sounds (in addition to all the other piano and synth sounds) and was on a budget of $1000. Viola, there's the VR-09 which fit all my needs (and then some) perfectly.
I orderd the VR 09 last year from Sweetwater. Everything arrived in excellent condition, thanks Alan Carter. I have learned to love this keyboard. The keys are a little bit shorter than the keys on my other keyboards, that took just a little getting used to, but for organ work it's excellent.
I link my Vr 09 up with a studiologic 73 note acuna weighted keyboard (Controller) playing the second of the split sounds ,mostly piano and this leaves the Vr09 used for bass or organ.
Half star removed for build quality. The chassis feels fine despite the light weight, but the buttons and especially the drawbar faders are fairly wiggly. The knobs wiggle but less so. It would have been nice if they could have been chassis mounted instead of PCB mounted.
Love the VR09. Purchased strictly for home use. We have made a nice and sturdy black wood stand with a music holder. Hope to spend many hours getting acquainted with it. Harold Sublett, Hohenwald, Tn.
I would echo what everyone else here has said. It's a great live board and super light. The B3 organ & Leslie section is stellar. My only critique is that I wish the acoustic piano sounds were a little better. They're not terrible, but a little harmonically stale.
Size: Size 61-Key
Type: Workstation Keyboard
8.8/10
Average Expert Score
9.1/10
Average User Score
Roland V-Combo VR-09B Live Performance Keyboard with 61 Velocity Sensitive Keys
Owner's Manual
Leaflet Using the Unit Safely
AC Adaptor
Power Cord
USB Memory Protector
Roland 5 Year Parts and 2 Year Labor Warranty