Pentax AF-540FGZ II Dedicated Shoe Mount Zoom Flash, Guide Number 177 at ISO 100
Model #30456
Pentax Warranty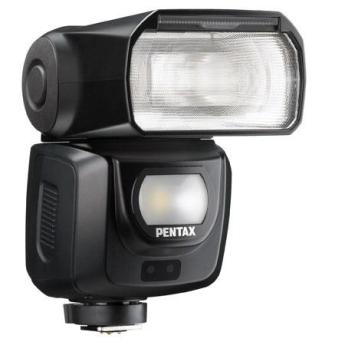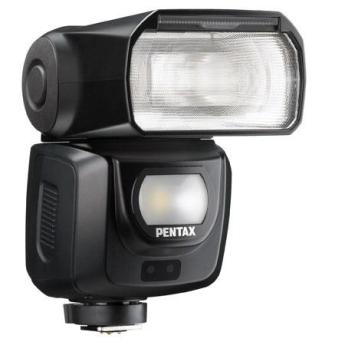 All Products are New and from Manufacturer Authorized Retailers
30 day return policy
Free Shipping
No Additional Fees
General Information
Type
Shoe Mount
Guide Number
119' (ISO 100 at 85mm)
69' (ISO 100 at 24mm)
Zoom Range
24-85mm
Bounce Capability
Vertical bounce possible, click stops provided, lock provided at 0°
Rightward: 0°, 30°, 60°, 90°, 120°, 150°, 180°
Leftward: 0°, 30°, 60°, 90°, 135°
Upward: 0°, 30°, 45°, 60°, 75°, 90°
Downward: 0°, -10°
Swivel Capability
None
Auto Settings
Wireless Flash (Control system) Optical pulse transmission (Wireless position) Master (M), Control (C), Slave (S) (Channels) 1 to 4 Compatible modes: P-TTL, manual (M) Effective range: Approx. 4 m (When set to SL1, According to our testing conditions.)
Angle of Coverage
Auto zoom enabled with autofocus compatible camera and lens combination.
Flash Duration
Flash duration (1/2 peak each) (M1/1) flash: Approx. 1/1200 sec. (P-TTL) Fastestduration time: Approx. 1/20000 sec
Power Source
Four AA batteries, (Alkaline (LR6), Nickel-Metal Hydride (Ni-MH), or Lithium (FR6))
Dimensions (W x H x D)
68 mm (W) x 111 mm (H) x 106 mm (T) (2.6" x 4.3" x 4.1")
Weight
Approx. 290 g (10.2 oz.) without batteries
Bought two units new, both failed, one beyond repair, the other is up and running. Bought a third one used here on the forum. So far no more problems. They lack a lot of connectivity and power options, but do the job.
+

WR, recycle time, LED.

-

No bounce card, F5P or power pack connector, laser AF assist.
Well built, quality flash. Exactly what I was expecting. Works great with the Pentax 645Z. I keep a few of these around for mobile shooting where studio strobes are too cumbersome. Great for bouncing light at your subject off of walls or reflectors to fill in shadows in natural and urban settings.
Much improved from older Pentax flash. Battery door prpoblems made me crazy with my last one. This flash is rugged, by comparison and gave excellent results. Shot a wedding reception for a family member and photos were outstanding and well lit.
This is really a great flash. I've used the old AF360fgz and the old AF540fgz, as well as the Sigma EF530 and many old auto flashes. This one is the easiest to use by far.
+

Relatively Small, Powerful, Easy to Use

-

No "A" Setting, Bounce Flash Card, Pricy, maybe a bit weaker than the old AF540
When it works ... it's great. They have a known problem where they just work when they want to. First trip to the shop it was covered ... after a few uses, it is now acting up again. I cannot rely on this flash. The shop Pentax told me to send to, it took FOREVER to get fixed.
I'm surprised this flash isn't reviewed, it has been on the market for quite some time and it is really a very competent flash. It has every feature that you are likely to use as an amateur, the pentax system lacks a few things for studio use but you can't blame the flash for that.
+

powerful, weathersealed, swivels in all directions, led light, size

-

pricey
This flash works very well with my K-3 and has a wonderful throw for using with a soft box or using the remote infrared of the camera for off camera body use. The Pentax Ttl works wonderful and allows sync and light metering with the camera.
I have this to replace 2 AF540FGZ.
+

Solid built

-

No red AF spot beam
Though I'm a dyed-in-the-wool Nikon man, my Pentax K-3 is my go-to camera for shooting outdoors on rainy days. I bought this to use for those situations when you need a fill flash outdoors, and it has performed well in initial testing.
No doubt the best flash ever from Pentax. The learning curve is small, the menu system is well organized and easy to access settings.
+

Solid Build, Compact, LED Catchlight, Ease of Use

-

Expensive
Weather resistant All Weather (AW) construction pairs perfectly
High Guide number for increased range & versatile flash performance
P-TTL mode with pre-flash allows
Constant light source for video or long exposure still photography
High speed on camera & high speed wireless flash is available in P-TTL modes
Flash exposure compensation through a simple control dial
LCD display shows the effective range of the flash
Made For Pentax
Shoe Mount Flash
AA Batteries
Pentax AF-540FGZ II Dedicated Shoe Mount Zoom Flash
Flash Case O-AC141
Flash Stand for AF360FGZ II/AD540FGZ II Flashes
Pentax 1 Year Limited Warranty