Pentax AF-360FGZ II Dedicated Shoe Mount Zoom Flash, Guide Number of 119, ISO 100
Model #30438
Pentax Warranty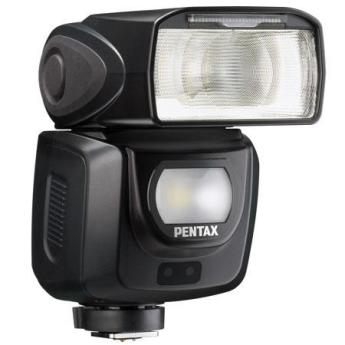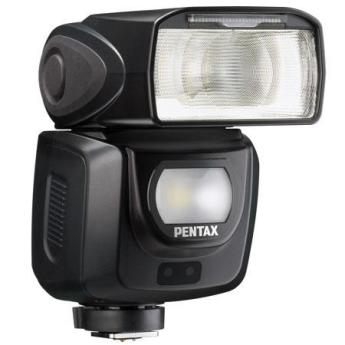 Guaranteed Brand New Products
All Products Sold by Manufacturer Authorized Retailers
30 Day Return Policy
Free Shipping
No Additional Fees
General Information
Type
Shoe Mount
Guide Number
Feet: With ISO 100, Manual: - 177 (85mm) - 164 (70mm) - 148 (50mm)
Zoom Range
24-85mm
Bounce Capability
Vertical bounce possible, click stops provided, lock provided at 0°
Rightward: 0°, 30°, 60°, 90°, 120°, 150°, 180°
Leftward: 0°, 30°, 60°, 90°, 135°
Upward: 0°, 30°, 45°, 60°, 75°, 90°
Downward: 0°, -10°
Swivel Capability
None
Auto Settings
Wireless Flash (Control system) Optical pulse transmission (Wireless position) Master (M), Control (C), Slave (S) (Channels) 1 to 4 Compatible modes: P-TTL, manual (M) Effective range: Approx. 4 m (When set to SL1, According to our testing conditions.)
Angle of Coverage
Auto zoom enabled with autofocus compatible camera and lens combination.
Flash Duration
Flash duration (1/2 peak each) (M1/1) flash: Approx. 1/1200 sec. (P-TTL) Fastestduration time: Approx. 1/20000 sec.
Power Source
Four AA batteries, (Alkaline (LR6), Nickel-Metal Hydride (Ni-MH), or Lithium (FR6))
Dimensions (W x H x D)
76 mm (W) x 113 mm (H) x 108 mm (T) (3.0" x 4.4" x 4.2")
Weight
Approx. 350 g (12.3 oz.) without batteries
I'm not as convinced as others that this is an improvement on the older AF 360 FGZ. At least for my usage. Yes, it is physically better, but it seems much less accommodating of pre-Digital lenses, and of course it doesn't work at all with film cameras.
+

Compact, tilt and swivel, more intuitive interface, better battery door.

-

Doesn't seem to work well with older lenses.
If this were a Nikon flash it would be so-so. But in terms of what is available for modern Pentax digital cameras like the K-1 and K-3, this is a good flash. It's compact, the head bounces and swivels (unlike the previous AF360, which did not swivel) and the exposures are usually (but not always)...
I would tell anyone with a need for a Pentax flash to purchase this one. It is simple to use and gives great results. The controls are straight forward, for changing the power and compensation. You will not be disappointed..
I've owned three AF-360 FGZ flashes and thought I could manage with having Cactus triggers to compensate for the lack of swivel.
+

swivel/bounce, WR, HSS

-

HSS option are now in menus instead of a physical switch
After having this for a year and a half with moderate use, I recommend this unit to any Pentax user. I was not a fan of flash shots based on my experience with the K3 flash but with this unit, I have had virtually perfect exposures every time. I have had no negative issues whatsoever.
When this flash was announced and mentioned it would have a swivel head that was tiltable, I knew I had to have it. That it was water resistant was icing on the cake. It has all the bells and whistles that anyone could hope for.
The AF540fgz II was my first flash from the new II generation. I had an AF540FGZ before that. The AF540FGZ II flash had problems which it took Precision months to acknowledge and eventually replace. Although the new AF540FGZ II functioned properly it was frustratingly slow to recycle.
+

Compact, fast recycling, PTTL HSS

-

None that are not common to all Pentax flash units. High price.
I bought this flash so I would have a TTL option when needed. I chose this one over the AF540FGZ II due to the faster recycle time. It does a good job in TTL. Exposures are correct I would say 90-95% of the time. A few things I am not thrilled about. 1.
I have been looking for a seemingly non-existent flash for my Pentax Kx. The older AF360FGZ flash was totally inadequate for such a price range. Everything else on the market seemed to have some sort of major design flaw. But this one has all needed features including bounce and rotation.
what would make it a 10 for me is if it would have a built in radio trigger... but thats a weak point in the overall pentax flash line-up....
+

All

-

Nothing so far, despite radio triggering
Weather resistant All Weather (AW) construction pairs perfectly
High Guide number for increased range & versatile flash performance
P-TTL mode with pre-flash allows
Constant light source for video or long exposure still photography
High speed on camera & high speed wireless flash is available in P-TTL modes
Flash exposure compensation through a simple control dial
LCD display shows the effective range of the flash
Made For Pentax
Shoe Mount Flash
AA Batteries
Pentax AF-360FGZ II Dedicated Shoe Mount Zoom Flash
Wide-angle Panel for 20mm Coverage
Pentax 1 Year Limited Warranty