Nissin i40 Bounce Speedlite for Fujifilm Mirrorless System, Wireless TTL, 220-1700 Flashes, 3.5hrs Lighting Time
Model #ND40-FJ
Nissin Warranty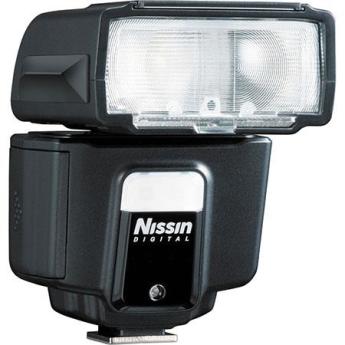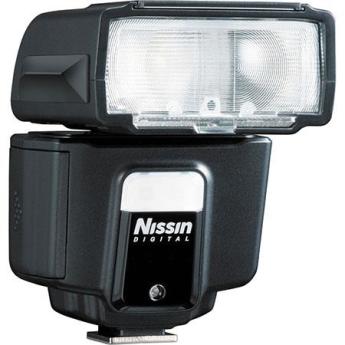 Guaranteed Brand New Products
All Products Sold by Manufacturer Authorized Retailers
30 Day Return Policy
Free Shipping
No Additional Fees
General Information
Compatibility
Fujifilm Mirrorless System
Guide no. (at ISO 100 in m)
GN40 [at 105mm (53mm) zoom head position]
GN27 [at 35mm (18mm) zoom head position]
Focal length coverage
24mm (12mm) - 105mm (53mm) [16mm (8mm) when using built-in wide panel]
Power Source
Four size-AA batteries
Recycling Time
0.1 - 4sec
Number of flashes (Approx.)
220 - 1,700 flashes
LED video light lighting time (Approx.)
3.5hrs (full power batteries)
Flash duration
1/800 - 1/20,000sec
Color Temperature
5,600 K
Exposure control
E-TTL II/ E-TTL (Canon), iTTL (Nikon), PTTL (Sony),TTL (4/3), TTL Fujifilm
Wireless Mode
Wireless TTL slave (1) (3), non-TTL Slave (SD, SF mode) (2)
EV compensation on flash
+/- 2EV in increments of 1/2 of EV
Bounce position
Up: 0-90 deg. ,
Left: 0-180 deg. , Right: 0-180 deg.
Flash exposure control
1st & 2nd curtain synchronization, High speed synchronization (*3), redeye reduction, slow synchronization (depend on camera), FE/ FV lock (set on camera)
AF-assist beam effective range
0.7 - 5m
Operation panel
2 Selector dials (Function dial and Power dial)
Manual mode power ratio
1/256 - 1/1
Video light
Built in video light with 9 steps of output level adjustment
Dimension (H x W x D)
85 x 61 x 85mm / 3.34 x 2.40 x 3.34" (approx.)
Weight
7.16oz / 202.98g (without batteries and soft box)
When you get used to working with a compact system such as Micro Four Thirds, you also start to consider compact accessories. You have a small camera and tiny lenses, so you obviously want a small flash as well.
It's a diminutive yet sturdy and capable flash offering GN 40 at ISO 100 and 105mm, making it very powerful.
This is coming from a Nikon setup using my beloved SB-400 and switching over to a Sony A6000, so most of my points are a comparison to that. Pros: In general, great little flash. 4 AA gives it a lot of power and seems to last a decent amount of time on rechargeables.
Very adjustable, with dials that make it easy to change. Worked well both in the hotshoe and off the camera. Nice carrying case and diffuser that came with it. Would recommend it to all looking for a compact flash.
I typically use these flashes for portrait, indoor poorly lit rooms as well as group shots. I had another copy of this flash with a Panasonic system. The great parts about the Nissin i40 is first of all it's size. It is much smaller than any competition and has higher output.
The perfect flash for Fujifilm users. Very compact to go nicely with the mirrorless series. Plenty of output. The LED continuous light is not extremely bright, but helps with focus, making a catchlight in the eyes, or works well for a fill when you're indoors and the ambient light is harsh.
After much research I bought the two unit i40 kit. Works great with my Olympus Pen-F. The i40 is compact but packs a powerful punch. They are well-built and should take the normal jostling around your camera bag--emerging unscathed and ready to go to work.
I bought this to go with my Sony A6000. It works flawlessly and has enough power for what I do. I traded from a Canon system to Sony and I didn't want to spend a fortune on flash equipment. The i40 fit the bill. The flash feels like quality and performs well.
I would use this as an on-camera or studio flash. The wireless feature works great (I have synced it with Commander on my Nikon D-750). The parts are cheap and plasticy (I had to return one of the flashes, but no biggie), but I guess most gear is not exactly military-grade anymore.
My Oly OM-D EM1 needed a more versatile unit than the attached flash. This little guy synchs to 1/8000 sec., and is light enough that it sits on camera well. The swivel head has a bounce screen and a "wide" grid that can also hold a color filter to match indoor/fluourescent/whatever.
The i40 is based on two good ideas: keep it small, so it balances well on Micro Four Thirds cameras; and use simple control knobs instead of a complicated LCD panel.The execution of those ideas is a bit quirky, though, so I'd suggest making sure you can live with the i40's peculiarities before...
I was looking for a small flash for my Sony a6300 and came upon the Nissin. After reading the reviews I decided to give it a try. I have a Canon 6D and use a Canon 580ex flash and was pleasantly suprised to find that this little flash was as powerful as my large canon flash.
Made For Fujifilm
Shoe Mount Flash
AA Batteries
8.6/10
Average Expert Score
8.8/10
Average User Score
Nissin i40 Bounce Speedlite
Soft Case
Flash Stand
Carabiner
Soft Box
Nissin 2 Year Warranty