Manfrotto 327RC2 Joystick Head
Model #327RC2
Manfrotto Warranty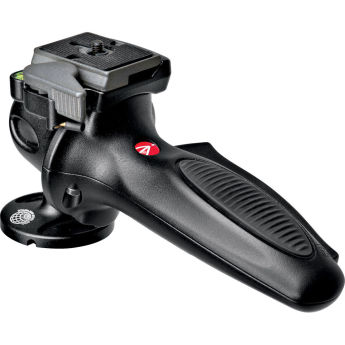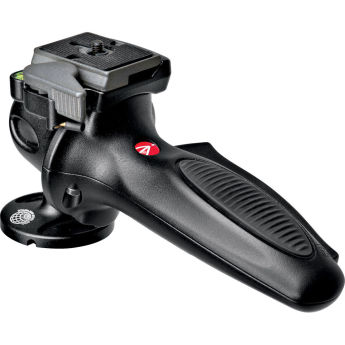 Guaranteed Brand New Products
All Products Sold by Manufacturer Authorized Retailers
30 Day Return Policy
Free Shipping
No Additional Fees
General Information
Load Capacity
12.13 lbs (5.5kg)
Ball Sphere Diameter
Not Specified by Manufacturer
Quick Release
Yes
Spirit Level
Yes, One
Tension Control
Yes
Rotating Head
360°
Tripod Mount Thread Size
3/8" female thread (bottom)
1/4" screw (attachment)
Plate
200PL-14
Height
10.1" (256.54mm)
Tilt
Lateral: -3°/ +90°, Front: -90°/ +90°
Weight
1.4 lbs (0.62kg)
I bought this head instead of a more traditional ball head and cannot now imagine ever going back. I use it for photography with my Nikon D810 (and a variety of lenses). It has, so far, functioned as well as I could have hoped. I love the speed with which I can now level the camera on any subject.
Very stable and infinitely adjustable. I found the camera mount on several other pistol grips to be a bit wobbly but this one is rock solid. I would note that the friction was set way too high when it first arrived.
Ive had the Manfrotto 222 pistol grip ballhead for years. The height was the only factor which I did not like.This solves that issue.Ive used this over a dozen times since buying it a month ago and love it.
It is easy to use and fairly light weight. I hate lugging around heavy equipment, so anything that eases that burden is nice. I am not completely convinced that the quick release is really quick. Perhaps it is just me, but I seem to struggle with it.
I was a bit worried as I did not purchase as a kit with a tripod. I wanted the 327RC Pro Joystick Ball Head which was a step up and a bit heaver to go with my Manfrotto carbon 190Pro3 Carbon tripod. Well, zero problem with my Fuji and heavy 50-140mm f2.8 zoom.
Been frustrated by lack of reliable stability of other tripod heads - can't wait to take this one into the field.
The good is that it's very convenient to move your camera around the ball head - whatever angle, or direction you want. But, that is also a curse. You work to get a level shot, then the second you try and pan your level is off, and you spend the next few seconds trying to level everything again -...
Well made, easy to use and makes using a tripod a joy!
Was looking to add another Manfrotto ball-head for a new camera stand, but the model we already have is discontinued. This one doesn't seat the shoe as tightly/as easily and there's a slight shift when you release the grip. The tension seems like it should be tighter than the unit allows.
My only complaint is that the quick release lever is actually TWO levers. They have a safety lever which prevents the quick release from unlocking by itself, or as I like to say, an extra lever which takes the quick out of quick release.
12.13 lbs (5.5kg) Load Capacity
Magnesium
Lateral Tilt: -3°/ +90°
Front Tilt: -90°/ +90°
Lightweight 1.4 lbs (0.62kg)
Manfrotto 327RC2 Joystick Head
Plate 200PL-14
2-Year Warranty + Additional 3-Years after Registering On-line