Manfrotto 324RC2 Joystick Head
Model: 324RC2
Manfrotto Warranty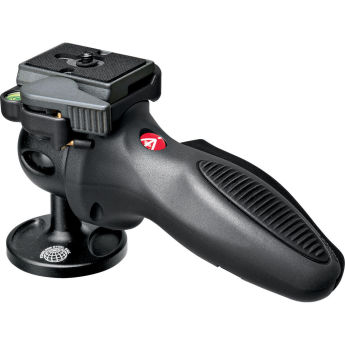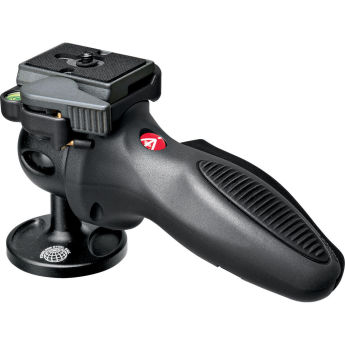 Guaranteed Brand New Products
All Products Sold by Manufacturer Authorized Retailers
30 Day Return Policy
Free Shipping
No Additional Fees
General Information
Load Capacity
7.7 lbs (3.5kg)
Ball Sphere Diameter
Not Specified by Manufacturer
Quick Release
Yes
Spirit Level
Yes
Tension Control
Not Specified by Manufacturer
Rotating Head
360°
Tripod Mount Thread Size
3/8" female thread (bottom)
1/4" screw (attachment)
Plate
200PL-14
Height
3.97" (10.1cm)
Tilt
Lateral: -19°/ +90°, Front: -90°/ +90°
Weight
0.95 lbs (0.43kg)
I quite like this ball head, bought to replace another Manfrotto head. It adjust quickly and easily. My only concern is that the squeeze grip is quite stiff. I wonder how long it will be before my hand strength is no longer sufficient to operate it. (I'm in my 60s and have some arthritis.)
The Manfrotto 324 head my wife has used for at least 16 years worked perfectly for portrait and wedding work. Occasionally I'd grab it to use, and she'd say "this is mine, get your own!
This is a great ballhead and is so much easier to use to position your camera without having to twist a bunch of knobs (as with a traditional ballhead) when you find the right spot. Just squeeze the grip, move your camera into the position you want, then release.
Purchased this joystick head for an African safari photo trip. I was very helpful on a monopod to give me the flexibility to move the camera to different angles yet gain the steadiness of the monopod.
I just had to buy this head after borrowing a tripod that had one during a photo workshop. It was very easy to manipulate and control but provides a solid base for large SLRs. The pistol grip control makes control very easy. The camera seat is solid.
Would recommend to anyone as such a great gadgetEase of use is incredible and so light too
+

Easily Adjusted, Lightweight, Locks In Tight, Smooth Movement
I give this Ball Head one star for the following reasons:1. messy - the ball head section releases grease and it gets in your hands very easy2. grip - the Ball Head is not strong enough to keep the camera on place. Very weak grip, no good, very malo, do not buy, please, do not sell it to people.
While I find the product to be wonderful... The only draw back for me is this... I wish I knew how hard it was to squeeze the handle to move it and how wide the handle was.. I have tiny hands and suffer from tendinitis and I find the handle trigger just a bit to hard to squeeze to move.
Quick framing, huge time saver when time maters.
Works great! Use it with my Mark iii and have no problems!
7.7 lbs (3.5kg) Load Capacity
Adapto Technopolymer
Lateral Tilt: -19°/ +90°
Front Tilt: -90°/ +90°
Lightweight 0.95 lbs (0.43kg)
Manfrotto 324RC2 Joystick Head
Plate 200PL-14
2-Year Warranty + Additional 3-Years after Registering On-line
Plate 200PL-14
2-Year Warranty + Additional 3-Years after Registering On-line