Domke F-2 Original Shoulder Bag (Sand)
Model: 700-02S
Domke Warranty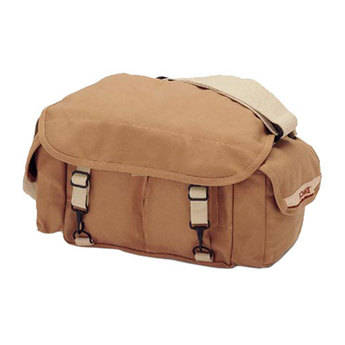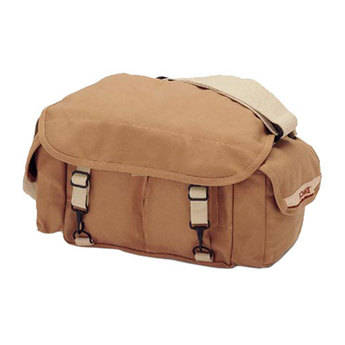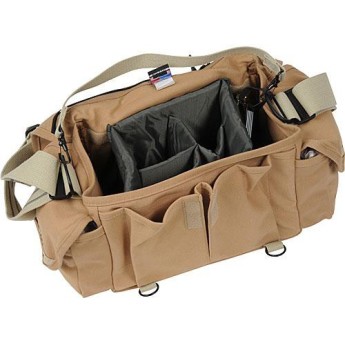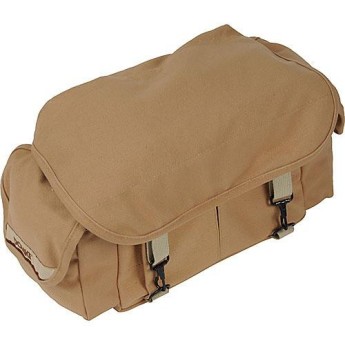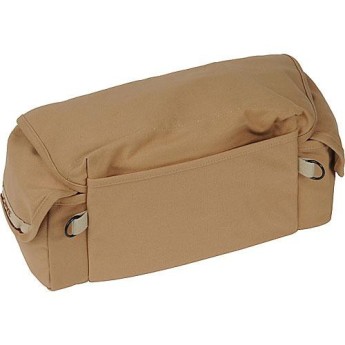 Guaranteed Brand New Products
All Products Sold by Manufacturer Authorized Retailers
30 Day Return Policy
Free Shipping
No Additional Fees
General Information
Material

Exterior:
Waterproof cotton canvas
Exterior:
Canvas panels on rear of bag
Interior:
Smooth 200 denier canvas pack cloth lining
Interior:
Padded bottom board
Type of Closure
Steel snap hooks
Touch fasteners
Exterior Dimensions
16.5 x 9.0 x 9.6" (41.9 x 22.9 x 24.3 cm) (WxDxH)
Interior Dimensions
Main compartment: 12 x 6.5 x 9.0" (30.5 x 16.5 x 22.9 cm) (WxDxH)
Tripod Holder
No
Accommodates
Two film or digital SLR cameras with or without motor drives, 6-10 lenses up to 300mm, flash unit, 10-20 rolls of film, and accessories.
Carrying/Transport Options
Shoulder strap
Hand strap
Weight
2.0 lbs, 9.0 oz (1.16kg)
. At last, I am finally glad to say that I have found THE camerabag to suit my lifestyle, needs, and cost. Granted, I got mine for a very low price—but this camerabag should be in the hands and on the shoulders of any working photographer. Here are some of my findings.
Everyone knows Domke as 'the bag' for photographers. The F2 RuggedWear is perfect for sometimes rainy, misty, dewy, early mornings and late nights that are prime for urban street -or- travel shots. Over constructed and made in the USA. Movable compartments, lots of pockets. Whats not to like here?
The Domke F2 is, in my opinion, the best camera bag ever made. I bought my F2 twenty-two years ago. It outlived my Tamrac 610 and old Tenba bag. It's more than durable, it wears like iron. It has a plywood bottom sewn in and adjustable padded inserts.
+

Truly rugged. Made to last.

-

None
Have three Domke bags. Their use is based on what I need to carry on any shoot. Easy to rearrange. Inconspicuous in the field.
I've got two Domke F-2 bags. A black and a olive green. I use them as colour coded bags, to fit specific equipment.
+

well built, top notch material and components used in manufacture. Well thought out design.

-

can't think of any
About 30 years ago, a friend talked me into buying my 1st F-2 Domke bag, which I still use for my professional assignments. I like the soft sides and how it hugs your body, unlike my other camera bags which are stiff.
I am a part-time photojournalist. the Domke is great for on the go. My F-2 has plenty of room for all I need. I shoot a Canon 5D II and 2 to 3 lenses flash and necessary goodies. It big enough for what I need and keeps me mobile.
Recently on a job a client asked about my bag. A 1982 model that I treasure, well broken in. I realizes that the bag was older than the client. I have a closet full of bags that thought might suit but none has worked as well or lasted. They now hold equipment that I only use occasionally.
Very roomy and easy to compartmentalize
Very roomy and easy to compartmentalize
Fits 1-2 Film or Digital SLR Camera Kit
Waterproof Cotton Canvas
Removable Padded Bottom
Six Compartments
Six Pockets
Gripper Shoulder Strap
Removable Hand Carry Strap
Made in the USA
Domke F-2 Original Shoulder Bag (Sand)
FA-240 4-Compartment Insert
Bottom Stiffener
Removable Hand Strap
2-Year Warranty