Dji Mavic Air Fly More Combo (Flame Red)
Model #CP.PT.00000174.01
DJI Warranty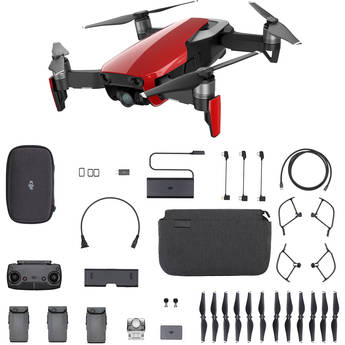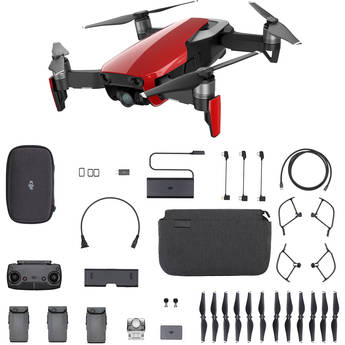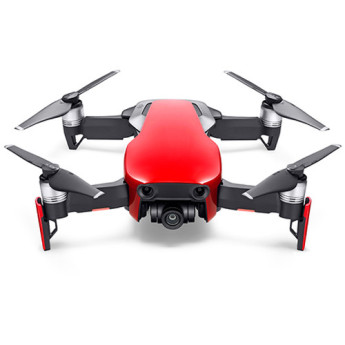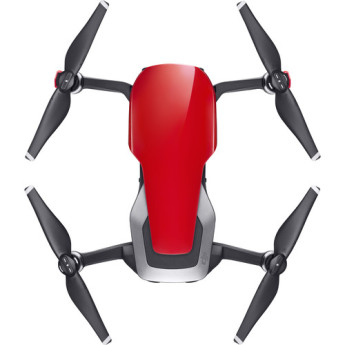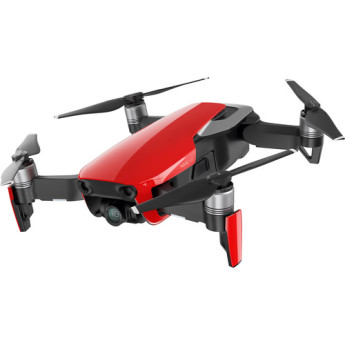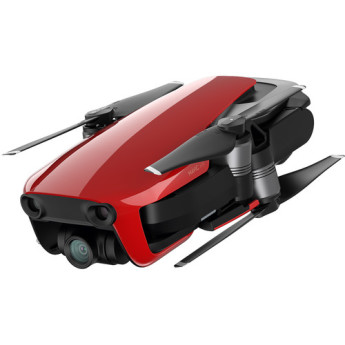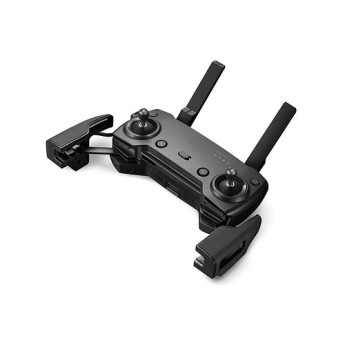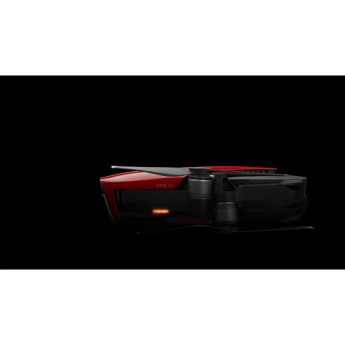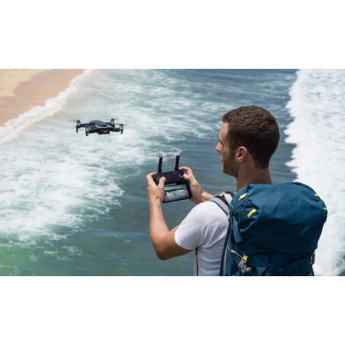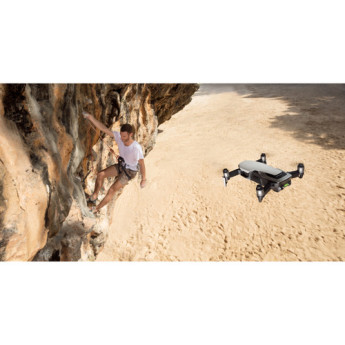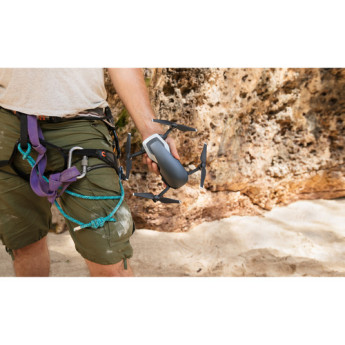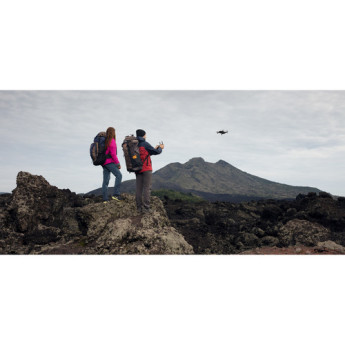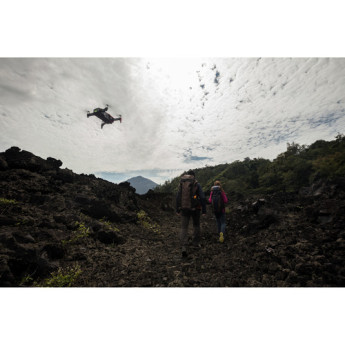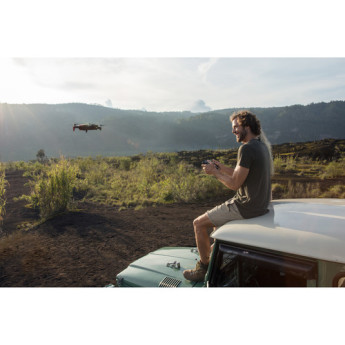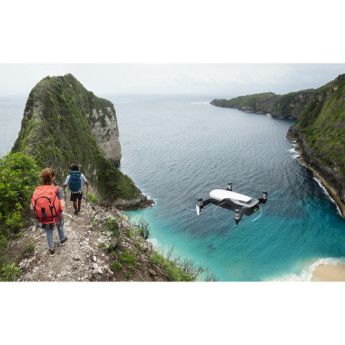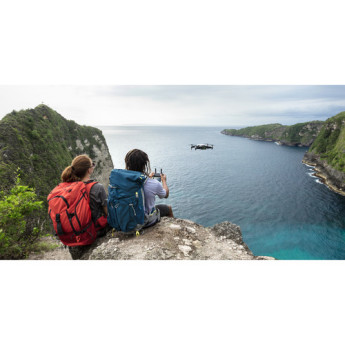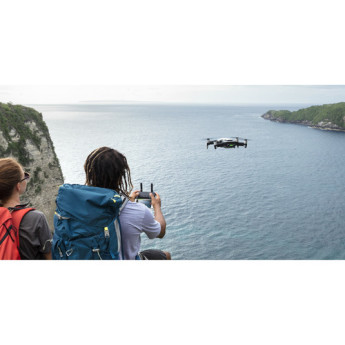 All Products are New and from Manufacturer Authorized Retailers
30 day return policy
Free Shipping
No Additional Fees
Vision System
| | |
| --- | --- |
| Operating Range | 1.6 to 98.4' / 0.5 to 30.0 m |
| Obstacle Sensory Range | 1.6 to 78.7' / 0.5 to 24.0 m |
| Forward Field of View | 50° (Horizontal)±19° (Vertical) |
| Downward Field of View | Not Specified by Manufacturer |
| Backward Field of View | 50° (Horizontal)±19° (Vertical) |
| Measuring Frequency | Not Specified by Manufacturer |
| Operating Environment | Surface with Clear Patterns at >15 lux |
| Vision System | Downward, Forward, Backward |
| Velocity Range | 26.2 ft/s / 8 m/s at 1.6' / 0.5 m |
| Maximum Altitude | 26' / 8 m |
Remote Controller / Transmitter
| | |
| --- | --- |
| Operating Temperature | 32 to 104°F / 0 to 40°C |
| Charging Temperature | Not Specified by Manufacturer |
| Operating Frequency | 2.4 GHz (2.4 - 2.483)5.8 GHz (5.725 - 5.850) |
| Maximum Operating Distance | 13,123.36' / 4000.00 m at 2.4 G13,123.36' / 4000.00 m at 5.8 G |
| Connectivity | 1 x USB Type-C1 x USB Type-A |
| Transmitter Power | 26 dBm (2.4 G)30 dBm (5.8 G) |
| Output Power | Not Specified by Manufacturer |
| USB Output Power | Not Specified by Manufacturer |
| Battery Type | 1 x Built-In |
| Battery Chemistry | Lithium-Ion Polymer (LiPo) |
| Battery Capacity | 2970 mAh |
| Battery Configuration | Not Specified by Manufacturer |
| Mobile Device Compatibility | Devices up to 6.30" / 160 mm Wide and0.334" / 8.48 mm Thick |
| App Operating System Requirements | iOS 9.0 and laterAndroid 4.4 and later |
| Storage Temperature | Not Specified by Manufacturer |
Performance
| | |
| --- | --- |
| Hovering Accuracy | ±1.64' / 0.5 m Vertical with GPS±0.33' / 0.1 m Vertical with Vision Positioning |
| Maximum Horizontal Speed | 42.5 mph / 68.4 km/h (S Mode)17.9 mph / 28.8 km/h (P Mode)17.9 mph / 28.8 km/h (Wi-Fi Mode) |
| Maximum Ascent Speed | 9.84 ft/s / 3 m/s |
| Maximum Descent Speed | 6.56 ft/s / 2 m/s |
| Maximum Wind Resistance | 23.61 mph / 38 km/h |
| Flight Ceiling | 16,404' / 5000 m |
| Maximum Flight Time | 21 Minutes |
| Maximum Hover Time | 20 Minutes |
| Maximum Tilt Angle | 35° |
| Maximum Takeoff Weight | Not Specified by Manufacturer |
| Horizontal Hovering Accuracy | ±4.92' / 1.5 m (GPS)±0.33' / 0.1 m (Vision Positioning) |
Gimbal
| | |
| --- | --- |
| Number of Axes | 3 (Pitch, Roll, Yaw) |
| Angular Speed | Pitch: 120°/s |
| Control Range | Pitch: -90 to 17° |
General
| | |
| --- | --- |
| Weight | 0.95 lb / 430 g |
| Number of Rotors | 4 |
| Operating Temperature | 32 to 104°F / 0 to 40°C |
| Diagonal Size | 8.4" / 213 mm (Without Propellers) |
| Overall Dimensions | 6.6 x 7.2 x 2.5" / 168.0 x 184.0 x 64.0 mm (Folded) |
Flight Control System
| | |
| --- | --- |
| GNSS Support | GPS, GLONASS |
Flight Battery
| | |
| --- | --- |
| Weight | 4.94 oz / 140 g |
| Charging Temperature | 41 to 104°F / 5 to 40°C |
| Battery Chemistry | Lithium-Ion Polymer (LiPo) |
| Capacity | 2375 mAh / 27.43 Wh |
| Battery Configuration | 3 S / 11.55 V |
| Maximum Charging Power | 60 W |
Charger
| | |
| --- | --- |
| AC Input Power | 100 to 240 VAC, 50 / 60 Hz |
| Output Voltage | 13 V, 4 A |
| Power Rating | 50 W |
| Model | Not Specified by Manufacturer |
Camera
| | |
| --- | --- |
| Effective Pixels | 12 MP |
| Sensor | 1/2.3" CMOS |
| Lens Field of View | Diagonal: 85° |
| Aperture | f/2.8 |
| Minimum Focusing Distance | 19.7" / 50.0 cm |
| Video ISO Range | 100 - 1600 (Auto)100 - 1600 (Manual) |
| Photo ISO Range | 100 - 1600 (Auto)100 - 3200 (Manual) |
| Electronic Shutter Speed | 8 - 1/8000 Second |
| Mechanical Shutter Speed | Not Specified by Manufacturer |
| Photo Resolution | 4:3: 4056 x 304016:9: 4056 x 2280 |
| Photo Format | JPEG, DNG |
| Video Format | 3840 x 2160p at 24, 25, 30 fps (100 Mb/s MP4 via H.264)2720 x 1530p at 24, 25, 30, 48, 50, 60 fps (100 Mb/s MP4 via H.264)1920 x 1080p at 24, 25, 30, 48, 50, 60, 120 fps (100 Mb/s MP4 via H.264)1280 x 720p at 24, 25, 30, 48, 50, 60, 120 fps (100 Mb/s MP4 via H.264) |
| Broadcast Resolution | Not Specified by Manufacturer |
| Recording Media | microSD (Up to 128 GB) |
| Photo Modes | Auto-Exposure Bracketing (AEB), Burst Shooting, Interval, Single Shot |
| Operating Temperature | Not Specified by Manufacturer |
| Focal Length | 24mm / 35mm (35mm Equivalent) |
The Mavic Air might be DJI's best drone to date. It's certainly not perfect, but it checks all the right boxes. It's super compact and portable, has a dedicated controller, shoots video in 4K, has an advanced obstacle avoidance system, and boasts a range of over 2.5 miles.
+

Dedicated joystick controller, Gimbal stabilized 4K camera, Robust obstacle avoidance, Plentiful intelligent flight modes

-

Touchy camera controls, unless you're in Cinematic mode
The Mavic Air is DJI's smallest, most portable drone, and is just as full-featured as its larger siblings.
+

Very small. High bit-rate 4K UHD video. HDR and Panorama still capture. Raw and JPG support. Asteroid video shot. Good obstacle avoidance. Automated flight modes.

-

Doesn't support USB charging. No 4K DCI video. Panorama stitching needs some work. Real-world flight limited to about 18 minutes.
Smaller, more compact and less expensive than its predecessor, the DJI Mavic Air still has the same great camera and some new features that make this drone even better.
+

Very easy to fly, Great photos and video, Innovative gesture controls, autonomous flight modes, Object avoidance

-

Hard to switch between camera modes in app
DJI's Mavic Air is a testament to the company's innovation. With pretty much no other big player in the game, it could have eased off the gas on features, but the Mavic Air comes packed with sensors, a high quality camera, onboard storage and flies like a dream.
+

Incredibly portable, Excellent battery life for size, Solid camera performance

-

Shorter range than Mavic Pro, Minor connection quirks
Ever since DJI released their brand new Mavic Air model, it seems as though Spark and Mavic Pro went to the never-never-land . Their sales have been steadily dropping over the course of the last couple of months, all whilst DJI Mavic Air has been making quite the havoc out there.
As you can see from this review, my experience with the Mavic Air has been very positive. Just a week with the Mavic Air was enough to decide that I no longer need the Phantom 3 Pro (which I will be selling in the near future) and convince me to move down to something that is far more portable,...
A lot of people have been asking me … why would I want to buy the Mavic Air when I can just buy the Mavic Pro. While others have voice their concerns, and wondered why DJI would want to cannibalize its own consumer drone business, with many different drones (of similar function and features).
+

Compact and light-weight, Super easy to control, 4K recording, 3-axis gimbal, Smartcapture (hand gesture), 21 minutes flight time, Same coverage (range and distance) as Mavic Pro

-

Pricey
This is the smallest 4k drone we have ever flown. Buy it if you need a tiny but capable drone. Don't buy it if you're looking for a low light monster.
One part Mavic Pro, one part Spark, all delicious
+

Great compact design, Clever obstacle avoidance system, Fun autonomous features

-

Average image quality, Short battery life is limiting, Wi-Fi connection can be flaky
Our verdict is in, the DJI Mavic Air is a great drone. We've flown this folding quadcopter as much as possible, and we're impressed - check it out in our full DJI Mavic Air review.
This drone represents a remarkable level of design and technology. It does what it promises. Great photos and movies, even in windy conditions. The built-in modes help even novices get quality results before they achieve flight skills.
Good first drone, camera is pretty decent too, started out in headless mode and got the trim set while just hovering above ground and I was off flying, only bad thing I can say about it is that the battery life is short, but that can be remedied by purchasing a extra battery
This is one of the best gifts I ever purchased for my husband's birthday. He lit up with child like enthusiasm. The technology, power and ease of operation made this choice a home run
+

Lightweight and portable. One very smart device

-

More storage
The instructions for the drone are very simple but not detailed enough. Fortunately there are plenty of you tube videos that show you how to set the unit up and run it. The drone flies great and is very stable In light to moderate winds.
I decided it was time to get a drone, and chose this one from the reviews on other sites. I had read the horror stories about people going out on their first flight and the drone shooting up into the upper atmosphere never to be heard from again, but that did not happen.
Easy to fly and very addicting. Only problem is finding good places to fly, guess its time to start traveling
This is my first time flying a drone and ill say its pretty tuff, I have heavy video gaming backround and had a few high end rc cars when I was younger, supposedly that is an above average life for a small drone, also I bulought extra batteries
This is the first quadcopter I've purchased, I started having issues as one of the motors seemed to be weaker than the other ones, this essentially caused the device to veer hard to the one side when powering up the motors and resulted in immediate crashes
I am an amateur that always wanted an RC plane or helicopter as a child and was shocked by the low price considering all of this drone's features, I can honestly say this was an excellent buy ; this drone is READY TO FLY straight out of the box, spare parts
I have had many crashes but the propeller guards keep it from getting damaged, there is a slight negative in that the headless mode which makes it easier to fly for a beginner causes the remote to beep while the mode is engaged, so I recommend getting extra batteries
Capture 4K Video and 12MP Photos
3-Axis Gimbal-Stabilized Camera
GPS- & Vision Position-Based Navigation
8GB of Internal Storage
FlightAutonomy with Obstacle Detection
Top Speed of 43 mph in Sport Mode
ActiveTrack Subject Tracking Modes
Up to 21 Minutes of Flight Time
Foldable, Portable Body
8.5/10
Average Expert Score
9.3/10
Average User Score
DJI Mavic Air Fly More Combo (Flame Red)
DVI Mavic Air (Flame Red)
Remote Controller
3 x Intelligent Flight Batteries
Charger
Power Cable
5 x Pairs of Props
Set of Prop Guards
RC Cable (Lightning)
RC Cable (Micro-USB)
RC Cable (USB Type-C)
Gimbal Protector
Communication Cable
USB Adapter
RC Cable Slider (Large)
2 x RC Cable Slider (Small)
Carrying Case
Car Charger
Battery Charging Hub
Battery to Power Adapter
Shoulder Bag
Limited 6-Month Warranty on Gimbal Camera
Limited 6-Month Warranty on Vision Positioning System
Limited 6-Month Warranty on Propulsion System (Excluding Propellers)
Limited 12-Month Warranty on Remote Controller
Limited 6-Month / 200-Cycle Warranty on Battery (Whichever Comes First)
Limited 6-Month Warranty on Battery Charger