Canon XF100 HD Professional Camcorder
Model #4888B001
Canon Warranty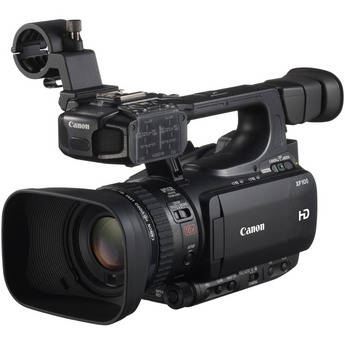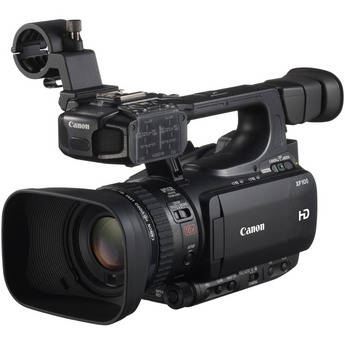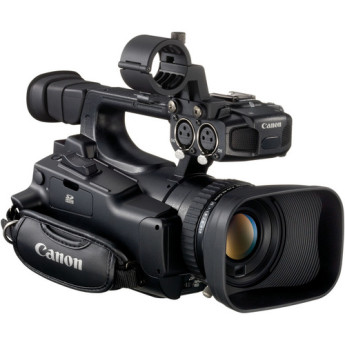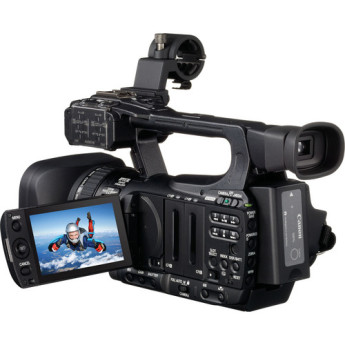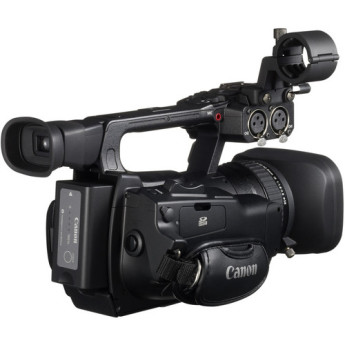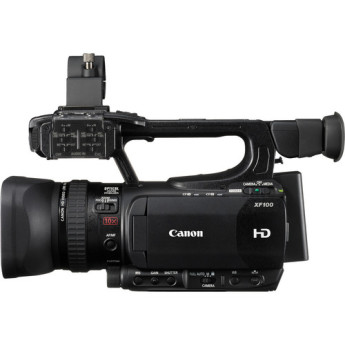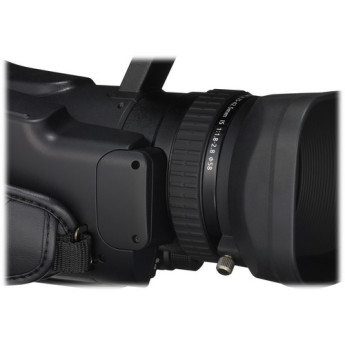 All Products are New and from Manufacturer Authorized Retailers
30 day return policy
Free Shipping
No Additional Fees
General Information
Image Device
1/3" CMOS Sensor
2.37MP (2.07MP effective)
Lens
10x HD Zoom
4.25-42.5mm (30.4-304mm, 35mm equivalent)
f/1.8-2.8
58mm Filter Diameter
Horizontal Resolution
900 TV lines or more
Focusing System
TVAF plus External Phase Difference Metering Sensor
Autofocus (Instant AF, Medium AF, Normal AF, Face AF, Face Only AF), Manual, Full Manual
Minimum Illumination
4.5 lux (full AUTO mode, 1/60 shutter speed, +24dB gain)
1.6 lux (Manual mode, 1/4 shutter speed, +33dB gain)
Built-in Filters
Neutral Density (Auto or Off)
Minimum Focus Distance
20mm (wide macro), 60cm (entire zoom range)
Video Recording System
Compression: MPEG-2 Long GOP
Color Space: 4:2:2 (at 50Mbps recording)
File Format: MXF
Recording Modes: 50Mbps (CBR) 4:2:2, 1920x1080, (60i/30p/24p), 1280x720 (60p/30p/24p) 35Mbps (VBR) 4:2:0, 1920x1080 (60i/30p/24p), 1280x720 (60p/30p/24p) 25Mbps (CBR) 4:2:0, 1440x1080 (60i/30p/24p)
Audio Recording Format
2-Channel, PCM digital recording, 16-Bit; 48kHz
Frame Rates
60i, 60p (720p mode only), 30p, 24p 1 Please Note:50i, 50p and 25p optional upgrade available through Canon Factory Service Centerclose
Image Stabilization
SuperRange Optical (Lens Shift) 4 modes: Standard, Powered, Dynamic, Off
LCD Monitor
3.5" Color, approx. 920,000 dots
Viewfinder
0.24" Color, approx. 260,000 dots
Microphone
Stereo electret condenser microphone
Memory Card Slot
CF Card: 2 Slots (movie files only)
SD Card: Still images, Custom Picture Data, Clip Metadata, Custom Settings
Shutter Speed
Max 1/2000
White Balance
Auto, Manual, Custom (2000K - 15000K in 100K increments), Daylight, Tungsten
Gain Selection
Not specified by manufacturer
Maximum Recording Time
64GB Compact Flash (CF) card
(Greater capacity is possible when two cards are used.)
25Mbps: 310 minutes
35Mbps: 225 minutes
50Mbps: 160 minutes
Input and Output Connectors
Component (x1 Output)
Composite: 3.5mm A/V (x1 Output)
HDMI: Standard Type A (x1 Output)
Mic/Line: XLR 3-pin (x2 Input)
USB: Mini-B USB 2.0
Headphone: 3.5mm Mini
Remote Control Terminal: LANC
Power Requirements
7.4VDC (Battery Pack)
Power Consumption
Not specified by manufacturer
Operating Temperature
32-104°F (0-40°C), 85% relative humidity
Dimensions (WxHxD)
4.8 x 5.8 x 9.8" (12.1 x 14.8 x 25 cm)
Weight
2.2 lbs (1kg) - not including battery, memory card, lens hood, mic holder
Need a professional grade camcorder, but refuse to lug around heavy equipment? You might be in luck if you happen to own a Canon XA10. But besides its compact size and uncomplicated mobility, does it have much else to offer? Let's find out.
Add up the cost and the effort of the XF100, and you may soon be wondering if maybe just maybe a run-and-gun shooter ought to be more versatile, more effortless, even (yes) more mindless, more just point-it-and-shoot.
I was honestly expecting some degree of disappointment given the conclusion I came to when I last used this model a few years ago while doing TV work. I was pleasantly surprised to find that this thing did all of what I thought it couldn't do and more.
I am no way an expert on camera but I feel very comfortable with this camcorder. This is a nice portable all-rounder camcorder for many kinds of projects...can be used for wedding video, corporate and cultural events, documentary making. Ideal for serious first time small budget film makers.
+

Compact size, great image quality, multiple recording bit rates, infrared recording, duel compact flash card recording

-

Limited zoom, Compact-Flash cards are expensive, small buttons, menu is not intuitive.
This is just a great overall camera. Great auto mode for run and gun, perfect for the documentary project that I'm directing right now. Total manual control when I want it, 50 MBS, beautiful picture, all the controls are where I need them, thanks Canon
This product met all my expectation and more. Description was spot on! Thank you.
We just purchased this for our library through a grant. I like the camera. The one thing that I feel should have been emphasized when purchasing was that it does not come with a CompactFlash which is essential if you're going to make videos, and why buy it if you weren't?
Very hard files format . Not for home use . Poor performance in poor lit environment.
Very good pro video camera
Great camera, good deal. Very happy.
An awesome pro-sumer camcorder. All the features of a pro cam and compact.
For my first professional video camera I absolutely love this! All the features you need bundled together for a great price.
1/3" CMOS Sensor
50Mbps MPEG-2 Recording
4:2:2 Color Sampling
60p/60i, 30p, 24p
MXF File Format
Dual CF Card Slots
10x HD Zoom Lens
Multiple Bit Rates & Resolutions
Dual XLR Inputs
HDMI, Component, Composite Outputs
Canon XF100 HD Professional Camcorder
Lens Hood
BP-925 Battery
CA-930 Compact Power Adapter
DC Cable
WL-D6000 Wireless Controller
Microphone Holder
Shoulder Strap
Component Cable
Utilities Disk
1 Year Limited Warranty