Canon EOS C300MK II with Zacuto Z-Finder Kit (EF Mount)
Model #0635C020
Canon Warranty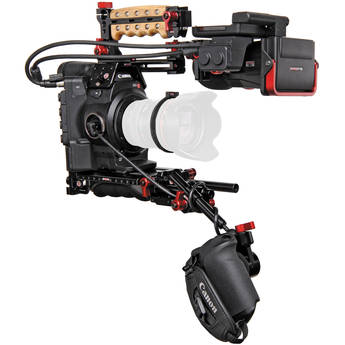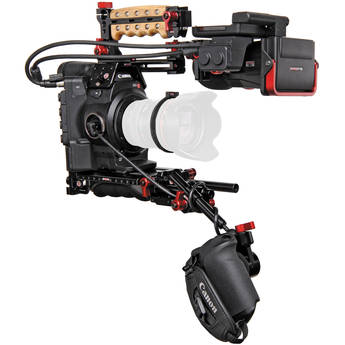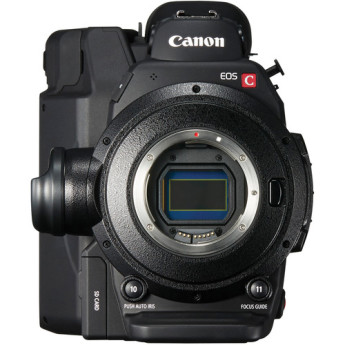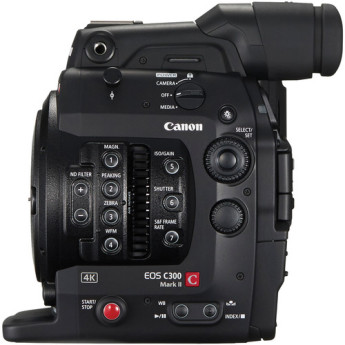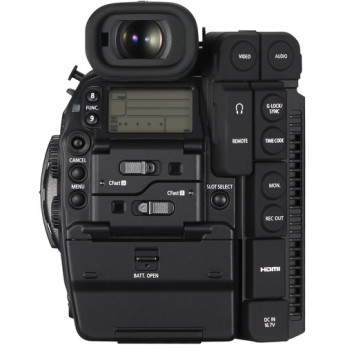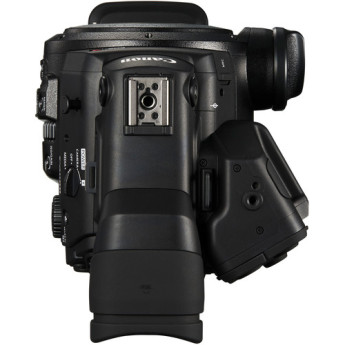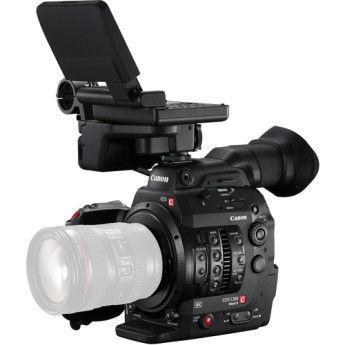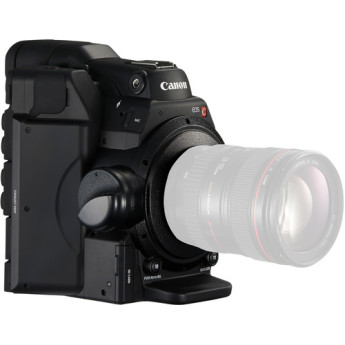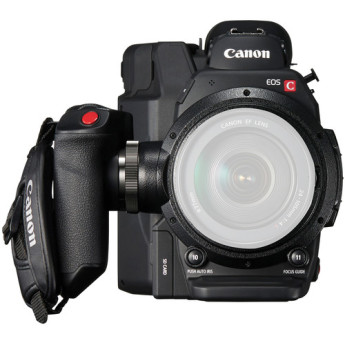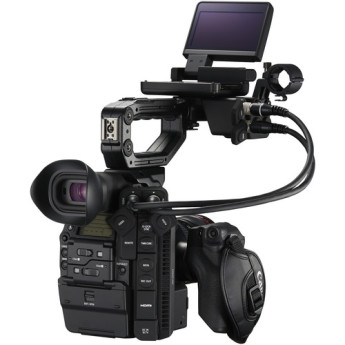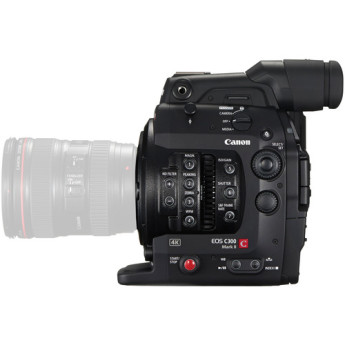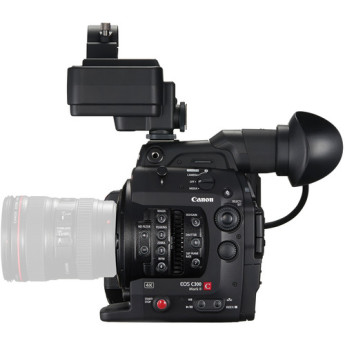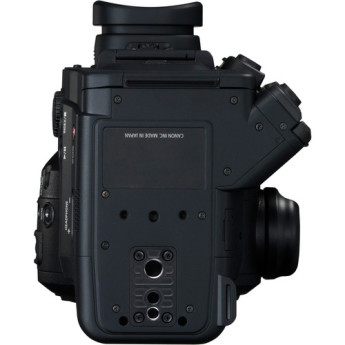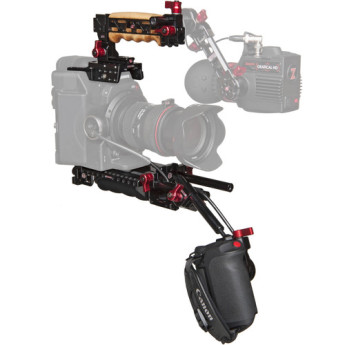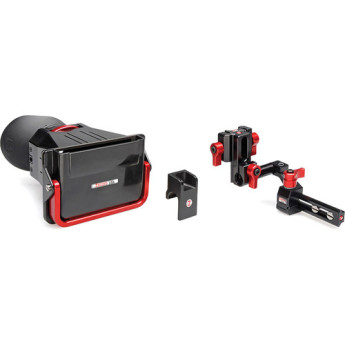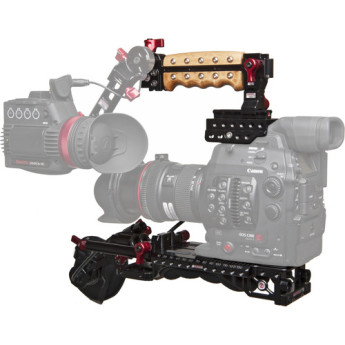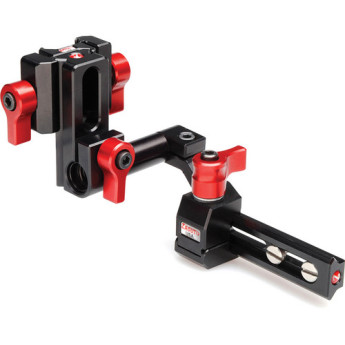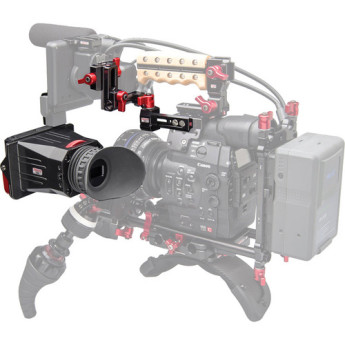 All Products are New and from Manufacturer Authorized Retailers
30 day return policy
Free Shipping
No Additional Fees
Viewfinder
| | |
| --- | --- |
| Angle Adjustment | Up and down 60° |
| Type | 0.46" (1.32 cm) diagonal, color 1,170,000 dots |
Video
| | |
| --- | --- |
| Signal System | NTSC/PAL |
| Frame Rate | 59.94 Hz Mode 59.94i/p, 29.97p, 23.98p 50 Hz Mode 50i/p, 25p 24 Hz Mode 24p |
| Recording Media | CFast Card: 2 x slots SD Card: 1 x slot |
| Video Format | XF AVC Video compression Formats: MPEG-4 AVC/H.264 CFast Card Intraframe Recording Resolution : 4096x2160/3840x2160, 2048x1080, 1920x1080 Signal Configuration : Y CC422/RG84 44 (10/12-bit)(Only with 2048x1080 or 1920x1080; 29.97p, 23.98p, 25p and 24p) LongGOP Resolution: 2048 x 1080/1920 x 1080 Signal: YCC422 10-bit SD Card LongGOP Recording Only (Proxy)Resolution : 2048 x 1080 / 1920 x 1080 Signal: YCC420 8-bit Photo: JPEGResolution : 2048 x 1080, 1920 x 1080 |
| System Frequency Selection | 59.94 Hz,br> 50 Hz 24 Hz |
| Color Space | 4:2:2 (YCC) 10-bit 4:4:4 (RGB) 12- or 10-bit* *Only available with 2048 x 1080 or 1920 x 1080 at 29.97p, 23.98p, 25.00p, and 24.00p |
| Bit Rates | Intra: 410 / 225 / 210 / 110 Mbps LongGOP: 50 Mbps LongGOP (Proxy): 35 or 24 Mbps (for proxy recording on SD cards) |
| Compression | XF AVC - H.264 in MXF wrapper |
Packaging Info
| | |
| --- | --- |
| Box Dimensions (LxWxH) | 18.3 x 14.0 x 13.9" |
| Box Dimensions (LxWxH) | 10.0 x 7.5 x 2.0" |
| Box Dimensions (LxWxH) | 12.3 x 10.3 x 8.7" |
Monitor
| | |
| --- | --- |
| Aspect Ratio | 16:9 |
| Type | Rotating color LCD 4" (10.16 cm) diagonal 1,230,000 dots |
Lens System
| | |
| --- | --- |
| Built-In ND Filters | Standard: 2, 4, 6 Stops Expanded: 2, 4, 6, 8, 10 Stops |
| Lens Mount | EF |
Inputs/Outputs
| | |
| --- | --- |
| Genlock | BNC (input only) Adjustment Range: -1023 to +1023 |
| SDI | 3G-SDI: 2x BNC (output) |
| HDMI Output | 1 x Type A |
| Time Code I/O | 1 x BNC Drop Frame (DF) and Non-Drop Frame (NDF) Time Code Modes: Regen, Record Run, Free Run, and External Source Note: Drop Frame works with NTSC modes only and is not available in 24p |
| Audio Input Terminals | 2 x Balanced 3-pin XLR (Mic Level, Mic Level with phantom power and Line Level) 1 x 3.5mm microphone jack |
| Headphone Connector | 3.5mm stereo mini-jack |
| Remote | 2.5mm LANC-compatible terminal |
| Wi-Fi | WFT terminal for compatible Wi-Fi accessory |
Image Sensor
| | |
| --- | --- |
| Total Pixels | Approx. 9.84 Mp (4206 x 2340) |
| Type | CMOS |
| Sensor Size | Super 35 24.6 x 13.8mm effective size / 6.4 x 6.4µm pixel pitch |
| Effective Pixels | Approx. 8.85 Mp (4096 x 2160) Approx. 8.29 MP (3840 x 2160 |
| Processor | 2 x DIGIC DV 5 |
| Filter | RGB primary color filter (Bayer array) |
| Scanning System | Progressive |
General Information
| | |
| --- | --- |
| Dimensions | Z-Finder: 7.00 x 5.25 x 3.50" (17.78 x 13.34 x 8.89 cm) Mounting Kit: 3.0 x 3.0 x 4.0" (7.6 x 7.6 x 10.2 cm) |
| Magnification | 1.8x |
| Weight | Z-Finder: 13.8 oz (391.2 g) Mounting Kit: 6.0 oz (170.1 g) |
General
| | |
| --- | --- |
| Weight | Not specified by manufacturer |
| Power Supply | 14.4 VDC (battery pack), 16.7 VDC (DC input) |
| Dimensions (W x H x D) | Approx. 5.9 x 7.2 x 7.2" / 149 x 183 x 183 mm (without grip) 7.5 x 7.2 x 7.4" / 19.1 x 18.3 x 18.8 cm (with grip) |
Focus Control
| | |
| --- | --- |
| Focus Modes | Manual Auto |
| Autofocus System | Dual Pixel CMOS |
Features
| | |
| --- | --- |
| Color Bars | Color bars compliant with SMPTE, EBU, or ARIB standards can be selected |
| Playback | Index Displays: Index Display, Normal, "OK Mark" Index, "Check Mark" Index, "Shot Mark" Index, Expand Index, Photo Index Clip Playback: Forward Search (5x, 15x, 60x), Reverse Search (5x, 15x, 60x), Forward Frame Advance, Reverse Frame Advance, Record Review, Clip Jump (Forward and Backward), Skip Playback Playback Functions: Inter-Media Copy (Single Clip, All Clips, Last Clip); Clip Delete (Single Clip, All Clips, Last Clip) Still Image Playback: Index, Single Playback, Erasure, Protect |
| White Balance | Manual 2 Custom (2000 to 15,000K) Daylight (5400K) Tungsten (3200K) |
| Exposure & Focus Aids | Peaking (2 types), Zebra Pattern, Magnify, Edge Monitor Focus Assist, Black and White Mode Note: Zebra can be output via the SDI or HDMI jack (HD only) |
Exposure and Metering
| | |
| --- | --- |
| Gain | Normal: -2 dB to 44 dB Expanded: -6 to 54 dB |
| Exposure Modes | Manual |
| Shutter Angle | 59.94i/59.94p: 360, 240, 216, 180, 120, 90, 60, 45, 30, 22.5, 15, 11.25 29.97p: 360, 240, 216, 180, 120, 108, 90, 60, 45, 30, 22.5, 15, 11.25 23.98p/24p: 360, 345.6, 288, 240, 180, 172.8, 144, 120, 90, 86.4, 72, 60, 45, 30, 22.5, 15, 11.25 50i/50p: 360, 300, 240, 180, 150, 120, 90, 60, 45, 30, 22.50, 15, 11.25 25p: 360, 300, 240, 180, 150, 120, 90, 75, 60, 45, 30, 22.50, 15, 11.25 |
| Shutter Speed | 59.94i/59.94p: 1/60 to 1/2000 in 1/4 or 1/3 stops; SLS: 1/4, 1/8, 1/15, 1/30; CS: 59.94 - 250.70 Hz 29.97p: 1/30 to 1/2000 in 1/4 or 1/3 stops; SLS: 1/4, 1/8, 1/15; CS: 29.97 - 250.70 Hz 23.98p/24p: 1/24 to 1/2000 in 1/4 or 1/3 stops; SLS: 1/3, 1/6, 1/12; CS: 23.97 - 250.70 Hz 50i/50p: 1/50 to 1/2000 in 1/4 or 1/3 stops; SLS: 1/3, 1/6, 1/12 1/25; CS: 50.00 - 250.70 Hz 25p: 1/25 to 1/2000 in 1/4 or 1/3 stops; SLS: 1/3, 1/6, 1/12; CS: 25.00 - 250.70 Hz |
| Shutter Modes | Off, Speed, Angle, Slow Shutter, Clear Scan |
| ISO Range | Standard: 160 to 25,600 Expanded: 100 to 102,400 |
Audio
| | |
| --- | --- |
| Limiter | Available |
| XLR Mic Trimming | -12, -6, 0, or +12 dB |
| Channel Selection | 2-channel recording |
| Audio Inputs | 2 x XLR (auto and manual level settings), switchable between mic/line 1 x 3.5mm microphone jack |
| Built-In Microphone | None |
| Audio Recording | Linear PCM; 2-channel; 16/24-bit; 48 kHz 4-ch |
| Tone | 1 KHz tone available; -12, -18, or -20 dB |
| Headphone Output Level | 16 settings; volume is muted at lowest setting |
| Phantom Power | +48V |
| Recording Levels | -∞ to +18 dB |
The Canon EOS C300 camcorder is capable enough for use in broadcast environments, but if you don't need HD-SDI or Genlock output, consider the C100 Mark II as a much more affordable alternative.
+

Modular design. Supports Canon lens system. Excellent high ISO video quality. Sharp EVF and external monitor. HD-SDI, Time Code, and Genlock output. Dual CF card slots. XLR audio input. Multi-step in-camera neutral density filter.

-

Expensive. Video tops out at 1080p30. Image sensor is not full-frame. AF system struggles in dim light. Lacks onboard shotgun mic. Video quality on par with more affordable cameras.
The pricing of the new Canon EOS C300 hasn't been announced yet, but it's expected to be much less than the RED cameras, and that makes it a perfect choice for beginner cinematographers and companies who want to start a studio or create a TV show using their own equipment and locations.
Wow is all I can say! The C300 has a far superior color and look to it. Easy to operate and I am still learning better ways to use it. Having the sensor capture @ Ultra HD (4k) is great for wonderful 1080P Finals.
I have the C100, great camera for events, weddings, etc., but needed this C300 for shooting football from the sidelines. How does one describe the best camera he's ever had, shot. Quick, accurate, incredible, accurate shots I get shooting 60p. Great wedding camera to go along with my C100 at 24p.
EOS C300 Mark II in EF Mount
Universal VCT Baseplate with Front Rods
Z-Grip Relocator
C300 Mark II Helmet
Recoil Handle Kit
Z-Finder
7.0/10
Average Expert Score
8.8/10
Average User Score