Canon C100 Mark II Cinema Camera with Dual Pixel CMOS AF (Body Only)
Model #0202C002
Canon Warranty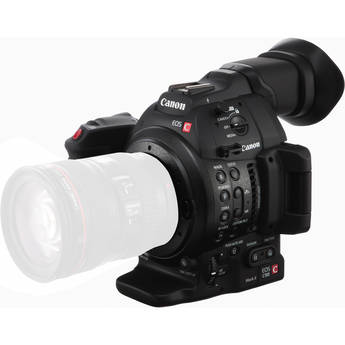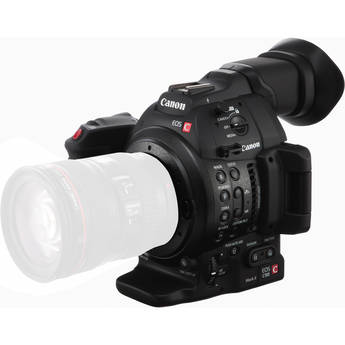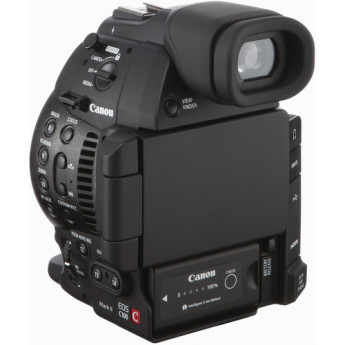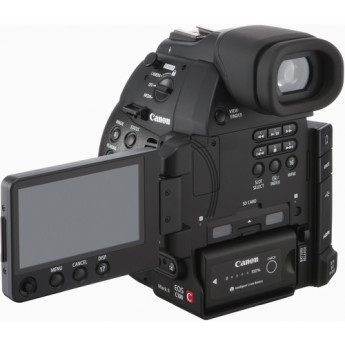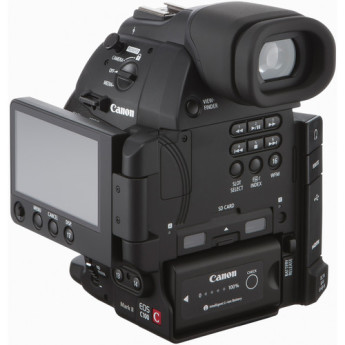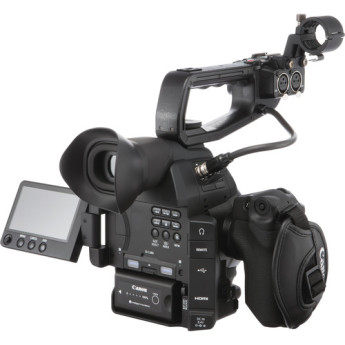 All Products are New and from Manufacturer Authorized Retailers
30 day return policy
Free Shipping
No Additional Fees
Viewfinder
Diopter Adjustment
+2.0 to -5.5
Adjustments
Brightness, Contrast, Color, and Backlight
Type
0.24" (0.61 cm) color
960x540 resolution
1,560,000 pixels
Video
Signal System
NTSC and PAL
Frame Rates
AVCHD
1920 x 1080p: 59.94. 50, 23.98
1920 x 1080i: 59.94, 50
1920 x 1080PF: 29.97, 25


MP4
1920 x 1080p: 59.94, 50, 29.97, 25, 23.98
1280 x 720p: 29.97, 25, 23.98
640 x 360p: 29.97, 25, 23.98
Recording Format
Compression: MPEG-4, AVC/H.264, MP4
Maximum bit rate: AVCHD 28Mb/s, MP4 35Mb/s

Media
Maximum Recording Time
AVCHD
8GB SD Memory Card
28 Mb/s 1920 x 1080: 35 minutes
24 Mb/s 1920 x 1080: 40 minutes
17 Mb/s 1920 x 1080: 1 hour
7 Mb/s 1440 x 1080: 2 hours 20 minutes

16GB SD Memory Card
28 Mb/s 1920 x 1080: 1 hour 15 minutes
24 Mb/s 1920 x 1080: 1 hour 25 minutes
17 Mb/s 1920 x 1080: 2 hours 5 minutes
7 Mb/s 1440 x 1080: 4 hours 45 minutes

32GB SD Memory Card
28 Mb/s 1920 x 1080: 2 hours 30 minutes 24 Mb/s 1920 x 1080: 2 hours 55 minutes
17 Mb/s 1920 x 1080: 4 hours 10 minutes
7 Mb/s 1440 x 1080: 9 hours 35 minutes
64GB SD Memory Card
28 Mb/s 1920 x 1080: 5 hours 24 Mb/s 1920 x 1080: 5 hours 55 minutes
17 Mb/s 1920 x 1080: 8 hours 20 minutes
7 Mb/s 1440 x 1080: 19 hours 10 minutes

128GB SD Memory Card
28 Mb/s 1920 x 1080: 10 hours 10 minutes
24 Mb/s 1920 x 1080: 11 hours 55 minutes
17 Mb/s 1920 x 1080: 16 hours 45 minutes
7 Mb/s 1440 x 1080: 38 hours 25 minutes

MP4
8GB SD Memory Card
35 Mb/s 1920 x 1080: 30 minutes
24 Mb/s 1920 x 1080: 40 minutes
17 Mb/s 1920 x 1080: 1 hour
4 Mb/s 1280 x 720: 4 hours 20 minutes
3 Mb/s 640 x 360: 5 hours 40 minutes

16GB SD Memory Card
35 Mb/s 1920 x 1080: 60 minutes
24 Mb/s 1920 x 1080: 1 hour 25 minutes
17 Mb/s 1920 x 1080: 2 hours 5 minutes
4 Mb/s 1280 x 720: 8 hours 40 minutes
3 Mb/s 640 x 360: 11 hours 25 minutes

32GB SD Memory Card
35 Mb/s 1920 x 1080: 2 hours
24 Mb/s 1920 x 1080: 2 hours 55 minutes
17 Mb/s 1920 x 1080: 4 hours 10 minutes
4 Mb/s 1280 x 720: 17 hours 20 minutes
3 Mb/s 640 x 360: 22 hours 55 minutes

64GB SD Memory Card
35 Mb/s 1920 x 1080: 4 hours
24 Mb/s 1920 x 1080: 5 hours 55 minutes
17 Mb/s 1920 x 1080: 8 hours 20 minutes
4 Mb/s 1280 x 720: 34 hours 45 minutes
3 Mb/s 640 x 360: 45 hours 55 minutes

128GB SD Memory Card
35 Mb/s 1920 x 1080: 8 hours
24 Mb/s 1920 x 1080: 11 hours 55 minutes
17 Mb/s 1920 x 1080: 16 hours 45 minutes
4 Mb/s 1280 x 720: 69 hours 30 minutes
3 Mb/s 640 x 360: 91 hours 55 minutes
Simultaneous REC./Relay REC.
Yes
Recording Media
2 x SD/SDHC/SDXC card slots
File system: FAT 32
Lens System
Lens Mount
Canon EF mount with EF contacts
ND Filters
Clear, 2 stops (1/4), 4 stops (1/16), 6 stops (1/64)
Iris Dial
Manual setting in 1/2-step increments, 1/3-step increments, or fine
Push auto iris control
Peripheral Illumination Correction
On supported Canon EF, EF-S, and Cinema lenses
Inputs/Outputs
HDMI Output
1 x Type A
USB
1 x Mini-B USB 2.0
Remote Terminal
LANC compatible
Headphone Jack
1 x 3.5mm stereo mini-jack
Audio Input
2 x Balanced 3-pin XLR on top handle unit
1 x 3.5 mm input jack on main body
Timecode
Embedded in HDMI output
Image Sensor
| | |
| --- | --- |
| Processor | DIGIC DV 4 |
| Sensor | Super 35mm CMOS (24.6 x 13.8 mm) (28.2 mm diagonal) |
| Total Pixels | Approx. 9.84 megapixels (4206 x 2340) |
| Effective Pixels | Approx. 8.29 megapixels (3840 x 2160 pixels) |
| Color Filter | RGB Primary Color Filter (Bayer Array) |
General
Weight
Body only: approx. 2.2 lb (1.0 kg)
Grip: approx. 8.1 oz (230 g)
BP-955 Battery: 7.8 oz (220 g)
White Balance
Auto, Kelvin, Daylight, Tungsten, Set A, Set B
White balance shift is available within Presets (-9 to +9)
Waveform Monitor
2 Modes (Standard and RGB Component)
Minimum Subject Illumination
59.94 Hz: 0.3 lux
50 Hz: 0.25 lux
Language Support
English, Japanese, Simplified Chinese, German, Spanish, French, Italian, Polish, Russian, Korean
Power Supply
7.4 V DC (battery pack: BP-955)
8.4 V DC (DC IN)
Operating Temperature
Performance requirements
32 - 104°F (0 - 40°C), 85% relative humidity
Operating requirements:
32 - 113°F (0 - 45°C), 60% relative humidity
Dimensions (W x H x D)
Body with Thumb Rest: 5.3 x 6.7 x 5.1 in (13.5 x 17 x 12.9 cm)
Body with Grip: 7.2 x 6.7 x 5.1 in (18.2 x 17 x 12.9 cm)
W/ Thumb Rest and handle: 5.6 x 11.1 x 9.3 in (14.2 x 28.1 x 23.6 cm)
W/ Grip and handle: 7.2 x 11.1 x 9.3 in (18.2 x 28.1 x 23.6 cm)
Focus Control
Autofocus
AF is dependent on interchangeable lenses
Dual Pixel CMOS AF with Canon EF, EF-S, and Cinema lenses
Settings
Manual
One-Shot AF
Continuous AF
Exposure Control
ISO Range
320 to 102,400 in 1/3-step increments
Exposure Modes
Manual
Push Auto Iris Control (metering system selection/AE shift possible)
Metering Modes
Standard Center Weighted, Spotlight, Backlight
Gain
Normal: -6 to 30 dB TBD
Fine: 0 to 24 dB, in 0.5 dB increments
Shutter Angle Settings
59.94i: 360, 240, 216, 180, 120, 90, 60, 45, 30, 22.5, 15, 11.25

PF30: 360, 240, 216, 180, 120, 90, 60, 45, 30, 22.5, 15, 11.25

23.98p/PF24: 360, 345.6, 288, 240, 180, 172.8, 144, 120, 90, 86.4, 72, 60, 45, 30, 22.5, 15, 11.25

50i: 360, 300, 240, 180, 150, 120, 90, 60, 45, 30, 22.50, 15, 11.25

PF25: 360, 300, 240, 180, 150, 120, 90, 60, 45, 30, 22.50, 15, 11.25
Shutter Modes
OFF, ISO Speed, Shutter Angle, Slow Shutter, or Clear Scan

Speed setting can be set in 1/2 or 1/3 stop increments
Shutter Speed Range
59.94i/: 1/60 to 1/2000 in 1/4 or 1/3 stops; SLS: ¼, 1/8, 1/15, 1/30; CS: 59.94 Hz - 250.51 Hz

PF30: 1/30 to 1/2000 in 1/4 or 1/3 stops; SLS: ¼, 1/8, 1/15; CS: 29.97 Hz - 250.51 Hz

23.98p/PF24: 1/24 to 1/2000 in 1/4or 1/3 stops; SLS: 1/3, 1/6, 1/12; CS: 23.98 Hz - 250.51 Hz

50i: 1/50 to 1/2000 in 1/4 or 1/3 stops; SLS: 1/3, 1/6, 1/12 1/25; CS: 50.00 Hz - 250.51 Hz

PF25: 1/25 to 1/2000 in 1/4 or 1/3 stops; SLS: 1/3, 1/6, 1/12; CS: 25.00 Hz - 250.51 Hz
Display
Type
3.5" / 8.9 cm, OLED
640 x 480
922,000 pixels
Adjustments
Brightness, Contrast, Color, Sharpness, and Backlight (Normal or Bright)
Audio
Tone
1 KHz tone available; -12, -18, or -20 dB
Built-In Microphone
Monaural microphone in camera body
Stereo microphone in Handle Unit
Audio Record Mode
AVCHD
28 Mb/s: Linear PCM; 2-Channel; 16-Bit; 48 kHz
24 Mb/s: Linear PCM; 2-Channel; 16-Bit; 48 kHz
All other modes: Dolby Digital AC3
XLR Mic Trimming
-12, -6, 0, +6, or +12 dB
Limiter
Available
Audio Level Control
Infinity to +18 dB, Automatic
Separate controls for internal and externally connected microphones
Phantom Power
+48 V
Headphone Output Level
16 Settings; volume is muted at lowest setting
Built-in Speaker
Yes; 16 level settings
Audio Inputs
2 x XLR on top handle (Auto and Manual level settings)
1 x 3.5 mm terminal
I have been using the Canon C100 Mark II for a while (6 months) and have managed to get some great footage. However, I am disappointed with the Face Tracking not finding my Canon 35 mm (1:1,4) and 70 - 200 mm (1:2,8) lenses "not compatible".
I've had the C100 Mark II for two years and it's the best camera I've ever used. Never had a single software glitch or hardware malfunction. I own a C200, and while it's superior when shooting high-end 12-bit and 4K projects, the C100 Mark II is a far more user-friendly and reliable camera.
I've been using the C100 for several years now, it's been a great camera for me and has worked well in a lot of varying situations. It definitely isn't perfect though, and i've been among the many voices throwing ideas at canon.
The majority of our work currently is wedding and corporate videography, and this camera is perfect for what we need. We also own a C100 mark i and the mark ii, in my opinion, blows it out of the water. Crystal clear image with the 24-105, although I do wish it was an f2.8 rather than f4.
This camera resolves 1080 beautifully, and is a very solid performer, however I wish to go straight to a feature that should be improved: The only progressive output available in 1080 via the HDMI port is 60p. When set to 29.97 or 23.98.
Good image produced by Canon, definitely has the skin correct unlike sony which has an off skintone
I use this camera for freelance news work as well as corporate work. Fantastic run and gun camera that is up and running in seconds. No 4K, but I don't deliver anything in 4k and no clients ask for it. I also have a C300 Mk II at my "real job" and actually have yet to shoot in 4K.
Not happy with the green cast on all footage, no matter the white balance, expose or camera profile (including C-Log).
great camera, only downside is that hard to work with cinema raw light.
Awesome camera body. Well built. Intuitive controls. I like it for what it is, not what it isnt. It takes beatifully crisp videos and is ready to record as soon as you turn it on. Worth the price without a doubt.
Super 35mm 8.3MP CMOS Sensor + EF Mount
1920x1080p 59.94/50/29.97/25/23.98
Built-In Dual Pixel CMOS AF Hardware
AVCHD + MP4 Recording
Dual SDHC/SDXC Media Card Slots
HDMI Output with Timecode & Canon Log
ISO 320 to 102,400
Canon Log and Wide DR Gamma
Two XLR Audio Connectors
Built-In 2.4 GHz & 5 GHz WiFi Capability
Canon EOS C100 Mark II Cinema EOS Camera with Dual Pixel CMOS AF (Body Only)
Grip
Camera Cover
Handle Unit
Thumb Rest
TB-1 Tripod Adapter Base
Shoulder Strap SS-1200
BP-955 Intelligent Lithium-Ion Battery Pack (5200 mAh)
CA-930 Compact Power Adapter
DC Cable (for CA-930)
2 x AC Cables
CD-ROM with Data Import Utility Ver. 1.0
Measuring Hook
Limited 1-Year Warranty