Bosch SHEM3AY52N 100 Series 24 Inch White Built In Full Console Dishwasher
Model: SHEM3AY52N
Bosch Warranty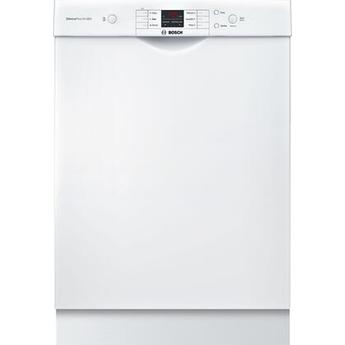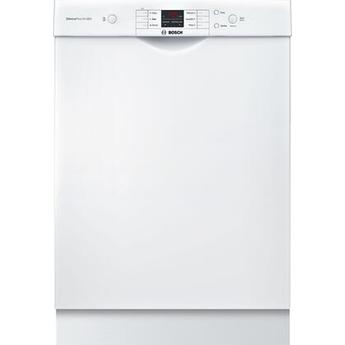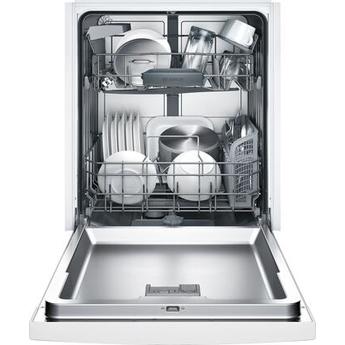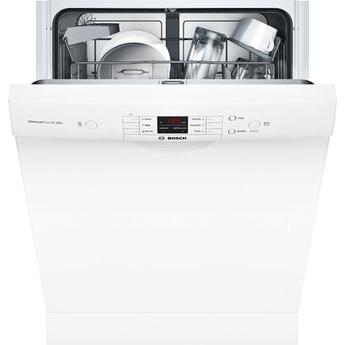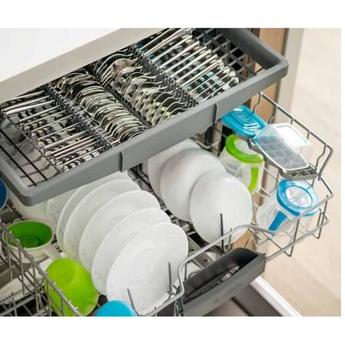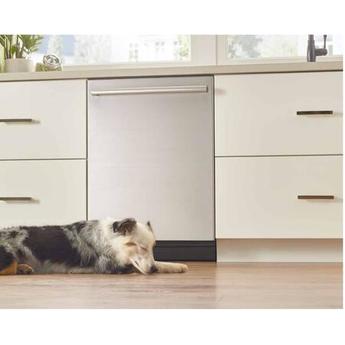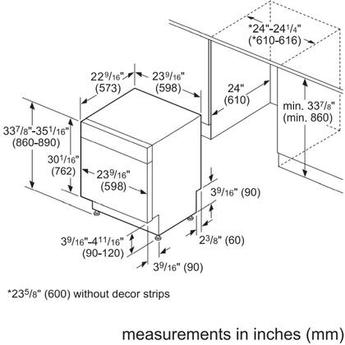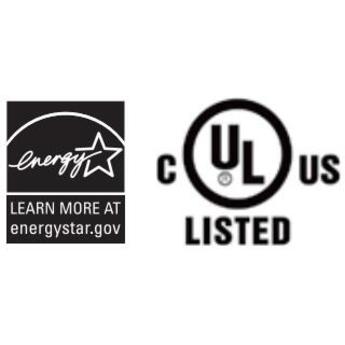 Guaranteed Brand New Products
All Products Sold by Manufacturer Authorized Retailers
30 Day Return Policy
Free Shipping
No Additional Fees
Technical Details
| | |
| --- | --- |
| Utility Rack | Yes |
| Warranty Terms | Limited 1 Year Parts and Labor |
| Normal Wash | Yes |
| Heavy Wash | Yes |
| Drying System | PureDry |
| Control Type | Buttons |
| Weight | 76 lbs |
| Auto Wash | Yes |
| Adjustable Feet | Yes |
| Leak Protection System | 24/7 Overflow Protection |
| Length Outlet Hose (in) | 90.5" |
| EcoSense | Yes |
| Red Remaining Time Display | Yes |
| Concealed Water Heating Element | Yes |
| Total Annual Energy Consumption(kWh) | 269 |
| Total Annual Water Consumption(g) | 688 |
| Rinse Cycle | Yes |
| Long Silverware Basket | Yes |
| Self-Latching Door | Yes |
| PrecisionWash | Yes |
| Minimum Water Pressure(lb/sin) | 15 |
| Speed60 | Yes |
| Sanitize Options | Yes |
| Water Usage per Cycle | 3.2 |
| Rack Adjustability | Manual |
| Third Rack | No |
Model
| | |
| --- | --- |
| Brand | Bosch |
| UPC | 825225955344 |
| Series | 100 Series |
| Warranty Info | 1 Year Parts/Labor Warranty* Limited warranty, entire appliance, parts and labor (1 year) Limited warranty for microprocessor or printed circuit board; parts only (2nd to 5th year) Limited warranty for racks (does not include rack components); parts only (2nd to 5th year) Limited warranty for rust-through on inner tub liner; parts only (lifetime) |
General Information
| | |
| --- | --- |
| Exterior Width | 24" |
| Cutout Depth | 24" |
| Cutout Height | 33.875" |
| Cutout Width | 24" |
| Depth | 22.563" |
| Height | 33.875" |
| Width | 23.563" |
Features
| | |
| --- | --- |
| Eco-sense | Yes |
| 6 Wash Cycles | Yes |
| PrecisionWash | Yes |
| PureDry | Yes |
| Self-Latching Door | Yes |
| Speed60 | Yes |
| Recessed Handle | Yes |
| Precision Spray Arms | Yes |
| UL Listed | Yes |
| Low dBA | Yes |
| Delay Start | Yes |
| Sanitize Option | Yes |
| 24/7 Overflow Protection System | Yes |
| Energy Star | Yes |
| Handle Style | Recessed handle |
| Water Softener | No |
| Delay Wash | Yes |
| Child Lock | Yes |
| Delicate Cycle | Yes |
| Variable Spray Pressure | Yes |
| Capacity | 14 Place Settings |
Electrical Specifications
| | |
| --- | --- |
| Volts | 120 Volts |
| Amps | 12 amps |
| Frequency | 60 Hz. |
Details
| | |
| --- | --- |
| Tall Tub | Yes |
| Adjustable Racks | Yes |
| Noise Level | 50 dBA |
| Number of Racks | 2 |
| Cycles | 6 |
| Tub Material | Stainless Steel with Polyprolylene Bottom |
| Wattage | 1440 Watts |
Appearance
| | |
| --- | --- |
| Type | Built In |
| Touch Sensitive Controls | No |
| Control Style | Full Console |
| Color | White |
Save for a major sale or snatching up a discontinued model, this is the most affordable Bosch dishwasher you can get. The brand has a stellar reputation for a reason. The SHEM3AY52N outshines most dishwashers in this price range.
+

Great cleaning performance, Great features

-

Too expensive for what it offers, Confusing controls
The racks seem designed for you to wash place settings with tea cups and salad plates. Putting everyday stuff like pans and plastic bowls dont fit in rack well. Inside dimensions ate about 1&1/2 inches smaller than last washer. Not as quiet as last one, but can talk while itbis running.
We have had this dishwasher for only a couple of days and have only turned it on 3 times since its install. I was surprised how small the interior was compared to my Kitchenaid. It holds a lot less glassware.
We've had our Bosch for about a month now. The dishes come out clean and pretty much dry so that part is great. The racks are a little odd though- there's no good way to load bowls either on the top or bottom. The top rack is ok although the width of the tines is strangely close for a lot of cups.
It is a great dishwasher because it is quiet and cleans good.
Enjoying the quietness of the dishwasher. Our previous dishwasher was so loud we couldn't sit in the same room with it on. Everything is clean and it is easy to use. The door is is a little heavy, once you get use to it is fine. Great product. Will look at Bosch first when we need another appliance.
Washes well, can barely hear it, and dries better than most other dishwashers. Only reason not a 5 star is that it looks cheaper in person than it did online.
The only complaint I have is that the way the top rack and bottom racks are, it seems to have a lot less room than my last dishwasher but that being said literally everything else about this dishwasher is top. Super quiet. Gets everything very clean and it's very easy to use. No complaints!
I love it except it does not totally dry my dishes. I might not have the setting quit right
We're getting beautifully clean dishes and tableware on all three levels - and once you get used to your top rack, you'll wonder how you did without it. And the floor light indicator is a big help. This unit is so quiet, you'll need it! [This review was collected as part of a promotion.]
love it! super quiet, love the adjustable top rack and fold down tines.
Series: 100 Series
Width: 23.563"
Height: 33.875"
Depth: 22.563"
Capacity: 14 Place Settings
Cycles: 6
Tub Material: Stainless Steel with Polyprolylene Bottom
Control Style: Full Console
Noise Level: 50 dBA
Energy Star
24/7 Overflow Protection System
Sanitize Option
Delay Start
Low dBA
UL Listed
Child Lock
Precision Spray Arms
Recessed Handle
Eco-sense
6 Wash Cycles
PrecisionWash
PureDry
Self-Latching Door
Speed60
1 Year Parts/Labor Warranty* Limited warranty, entire appliance, parts and labor (1 year) Limited warranty for microprocessor or printed circuit board; parts only (2nd to 5th year) Limited warranty for racks (does not include rack components); parts only (2nd to 5th year) Limited warranty for rust-through on inner tub liner; parts only (lifetime)
100 Series 24 Inch Built In Dishwasher
6 Wash Cycles, 14 Place Settings, Energy Star Certified, Energy Star, 24/7 Overflow Protection System, Sanitize Option, Delay Start, Low dBA, UL Listed, Child Lock, Precision Spray Arms, Recessed H
le, Eco-sense, 6 Wash Cycles, PrecisionWash, PureDry, Self-Latching Door, Speed60 in White