Beyerdynamic DT 770 PRO 80 Ohm Closed Classic Studio Dynamic Headphone with Single Sided Coiled Cable
Model #474746
Beyerdynamic Warranty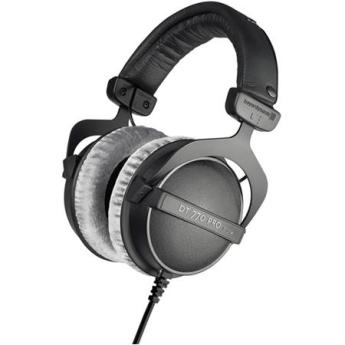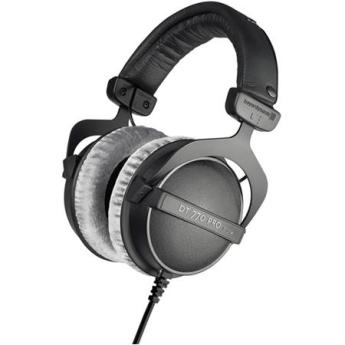 All Products are New and from Manufacturer Authorized Retailers
30 day return policy
Free Shipping
No Additional Fees
General Information
| | |
| --- | --- |
| Operating Principle | Closed (strong noise isolation) |
| Sound | Prominent bass, less spatial, transparent, detailed |
| Cable (length and type) | 80 Ohm: 3 m straight cable |
| Transmission Type | Wired |
| Remote | Without Remote |
| Headphone Frequency Response | 5 - 35.000 Hz |
| Nominal Sound Pressure Level | 96 db |
| Sound Coupling to the Ear | Circumaural (around the ear) |
| Power handling capacity | 100 mW |
| 80 Ohm Version | approx. 18 dBA |
| Nominal headband pressure | approx. 3.5 N |
| Connection | Gold plated stereo jack plug (3.5 mm) and 1/4" adapter (6.35 mm) |
| Weight | 9.52 oz (270g) (without cable) |
Despite being "old", the Beyerdynamic DT 770 Pro is still worth a consideration today, that is, if you want an over-ear more for home use. It designed with portability in mind. But for what it gives up there, it has very good comfort, isolation, and sound quality for its affordable price tag, even...
The DT 770 are very good, closed-back, neutral listening headphones. They deliver a well balanced audio reproduction with a near perfect mid-range and a great bass that doesn't drown instruments and vocals.
The closed DT 770 comes with a built-in limiter and, according to the manufacturer, is primarily intended for DJs and live use.
At just south of $200, the DT770 Pro competes with all kinds of headphones from all kinds of manufacturers. If you're after a flat, completely analytical sound, I'd recommend the AKG K553 Pro over the 770.
The DT 770 Pro from German manufacturer Beyerdynamic is an instant studio classic, with plenty to write home about!
The DT 770 Pro is the DT 990's little brother. Due to its qualities, you see it quite often in recording studios.
Imagine going into the studio and taking only one set of headphones with you – which one would that be?
Can you make something "perfect" even better? You can certainly try!
The Beyerdynamic DT 770 Studio and Pro are studio-ready headphones with an approachable price tag. Sound is incredibly rich and balanced, and build quality is good for the price. The branding is confusing, however, and we would have liked to see a removable cable.
+

Good sound for the money, Very comfortable, Long and durable cable, Removable earpads and headband cover

-

Confusing branding, No removable cable, Plastic ear cups
Excellent set of headsets for recording vocals and mixing in any studio! The comfort of this pair is unmatched with many other brands I have tried in the past. You get the best of both worlds sonically between the low end, and the higher frequencies to easily address any sibilance issues throughout...
Great fit, very comfortable. Sound is amazing for the amount of isolation they provide. Only drawback is the pigtail cord. Not long and tends to kink on itself. A pain while tracking, no bother while mixing.
+

crisp, clean clear...love them, excellent price....

-

none yet.....
The first thing you notice about these headphones are that they are very bulky - this is not a problem as I will principally be using them for studio applications. When I put these on I found that they are extremely comfy, probably the most comfy headphones I have worn.
These sound absolutely great. I primarily use for mixing and recording vocals. They are supeerrr comfortable I might add and I love the suede velvet feel of the part that covers your ears. A great buy
I needed a replacement set of headphones and these took care of my checklist with ease. A closed back design without sounding boxy in the midrange is important for the work I do as a broadcast mixer. They also have to have great isolation and overall clarity throughout the frequency range.
I was incredibly impressed with the sound of these headphones, they are probably the nicest headphones I have ever heard. Everything from low to high is incredibly clear and represented, and the transient response is very revealing for headphones.
+

Fantastic sounding and very comfortable

-

Until they break..... and break......
Takes my mixes to the next level! Sound quality is unmatched at this price range. The clarity between frequencies is what makes the DT770 headphone a must buy, while providing amazing comfort as well.
I was running these headphones out of the headphone jack of an RME Fireface UCX interface, and even that was not truly enough to have loud enough volume from the headphones... I would say the volume was just loud enough to use the headphones purely for critical listening or mixing, after tracking is...
These are very nice cans, very comfy and very well made. I''d expect them to last a very long time due to their industrial build quality. Amazing bass, and I mean truly amazing. These babies hit some of the lowest frequencies I''ve ever heard (or felt).
+

Incredible bass response, very comfortable, extremely well made.

-

High impedance makes them unsuitable for portables, burn-in required before midrange settles in.
Circumaural headphones for professional sound in the studio and on mobile devices
Innovative bass reflex system
High wearing comfort thanks to soft, circumaural and replaceable ear pads
Comfortable fit due to rugged, adjustable, soft padded headband construction
Made in Germany
Cup Style: Closed-back
Earpiece Style: Over-Ear
8.2/10
Average Expert Score
9.3/10
Average User Score
DT 770 PRO 80 Ohm Closed Classic Studio Dynamic Headphone with Single Sided Coiled Cable
Jack Adapter 6.3mm
Drawstring Bag
Instruction Manual
Beyerdynamic 2 Year Limited Warranty