AKG Acoustics K 702 Open-Back Dynamic Headphone for Monitoring, Mastering and Mixing
Model #2458X00190
AKG ACOUSTICS Warranty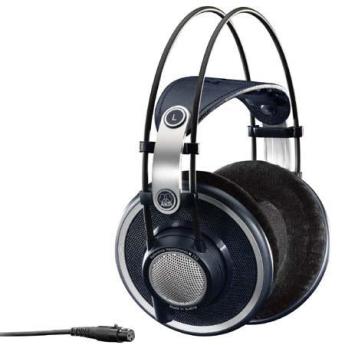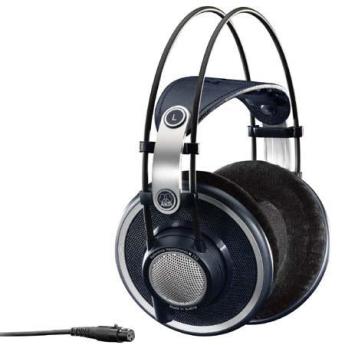 All Products are New and from Manufacturer Authorized Retailers
30 day return policy
Free Shipping
No Additional Fees
General Information
| | |
| --- | --- |
| Type | Open-back, dynamic headphones |
| Frequency range | 10 to 39,800 Hz |
| Rated impedance | 62 ohms |
| Max. input power | 200 mW |
| Cable | 3 m single-sided (99.9% oxygen-free) |
| Connector | Gold plated stereo jack plug 6.3 mm (1/4") |
| Adapter | Gold plated convertible jack plug 3.5/6.3 mm (1/4" to 1/8") |
| System / Design | Dynamic / Circumaural, Open |
| Stereo adapter | 3.5/6.3 mm, (1/8" to 1/4") |
| Finish | Stage blue |
| Weight without cable | 235 g. (8.3 oz) |
| Warranty | AKG Acoustics 2 year parts & labor warranty |
The AKG K 702 Open Back Dynamic Reference Headphones offer an ultracomfortable way to enjoy sound that is remarkably more open than most sets; they're like personal speakers for your head.
+

The AKG K 702 headphones offer a super comfy, over-the-ear design; they sound great at home and with iPods, and come with a detachable headphone cable.

-

The AKG K 702 headphones don't come with a travel bag or storage case.
The AKG K702 are great, comfortable headphones for critical listening but are mediocre for everyday casual use....
+

Great audio reproduction., Comfortable design.

-

Open-back design, they leak a lot., No ambient noise isolation, by design., Big and bulky headphones.
With the K702, AKG adds a studio headphone heavyweight to its portfolio, with precise sound reproduction for mixing and mastering applications.
Let's end this week with another famous name: AKG and their reference-class K 702. Our opinion about its little brother, the K 271, was pretty balanced: it has a very detailed high-end but a too weak low-frequency range. What about the K 702?
+

Well-balanced sound, Weak but accurate low-end, Very wide dynamic range, High-end reproduction is detailed but not sharp, Mini-XLR connector, Light and comfortable, Ear-cup cushions and cable available as spare parts, Nice, timeless studio look, Good spectral balance, Excellent sound definition,...

-

If you like fat lows, don't buy them, Slightly weak low-end, Improvable wearing comfort, Mids sound slightly nasal sometimes, However still limited it terms of low-frequency response
These reference quality, open-backed headphones create a sound to rival hi-fi speakers ten times the price
I think these are excellent sounding headphones. A bit over-pronounced on the bass by my estimate, but I prefer dead-flat tonal balance so I think these will be great for most and even a bit bass lite for some.
Fantastic Reference Headphones, fantastic sound clarity and definition. The soundstage is the best! Incredible detailed sound and instruments separation.
+

Fantastic sound clarity and definition. Incredible detailed sound and instruments separation. The soundstage is the best!

-

Not for everyone. Bass can be a little weak in some tracks. Hard to drive, amp needed.
I owned a pair of the akg tiesto headphones for the same price and after about a year and a half the plastic adjustable headpiece broke on both sides and Sweetwater offered these as a replacement when akg couldn't repair them. It was all part of the warranty.....
I use it everyday for mixing and also watching movies. It's been a great sound always, crisp and clear with lots of details I cannot hear on other headphones. Only problem is that having it for a lot of time starts to feel on top of my head cause the leather has some small balls.
Had mine for 4 years now! Love em. Wish i had a way to make them closed back for recording, but ive made do with k44s
This headphone is light and confortable, easy on the ears, and the soun is so clean you'll be surprised. My main headphone now, tracking, mixing, mastering, it just reveals things others hide. Excelent job by AKG.
i owned (or once owned) several headphones, senn hd 580, hd 600, akg k501, k702, gardo r125i. at the very first beginning, since i got used to hd 580 hd 600, i really do not like it, it's terrible.
After doing my research I wanted to get my hands on these and I've not regretted it. Using them for both music production and listening, I find these to be a great pair of headphones.
I never thought heaphones can sound this nice. They reveal more than expected listening to older mixes. Comfortable to wear. I am very pleased I bought these.
I've been using these headphones for about a year now and the right earcup suddenly cut out on the UK site they don't have any support for them so now they are useless to me as no one can give me any support in this.
Flat wire voice coil
Patented Varimotion two-layer diaphragm
3D Form ear pads for perfect fit
Individually tested and numbered
High performance neodymium magnets
Cushioned genuine leather headband
Detachable professional cable
Cup Style: Open-back
Earpiece Style: Over-Ear
6.6/10
Average Expert Score
9.2/10
Average User Score
AKG Velvet Ear Pads
Cable (5 m)
AKG 2 Year Parts & Labor Warranty