Nuvo Clarineo Starter Kit Blue
Model #N110CLBL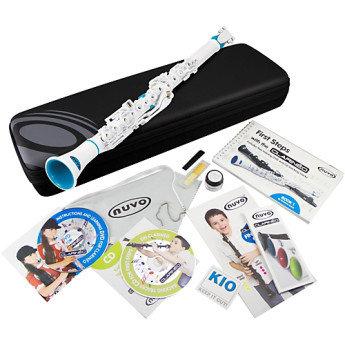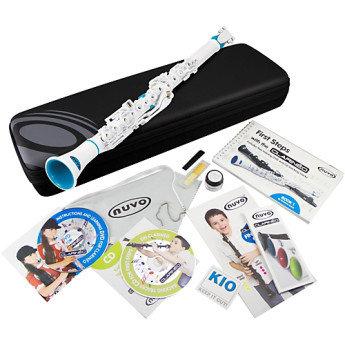 You name the price you want to pay for a product.
We send your offer to a network of Certified Retailers.
If the retailer likes your offer, you get that price for the product.
All Products are New and from Manufacturer Authorized Retailers
30 day return policy
Free Shipping
No Additional Fees
This kit includes your Clarineo along with the "First Steps" book covering all aspect of getting started all the way up to playing simple tunes. The pack also includes a DVD with instructional videos and a CD with backing tracks to play along with the tunes in the book. Perfect for a beginner and can be supplemented with lessons from any woodwind teacher.The Clarineo is a clarinet in the key of C. It is made from lightweight polymer resins which makes it easy to handle, extremely durable and 100% waterproof. It is assembled from just 3 parts which makes it quick and easy to set up and put away at the beginning and end of lessons. The bell has a simple bayonet fitting while the mouthpiece has o-ring seals.The Clarineo uses traditional cane reeds (Eb Clarinet) as well as synthetic beginners reeds, both of which are provided with each instrument. The tone is smooth and sophisticated and lends additional colour and depth to any ensemble and enables beginners to sound professional right from the start. The instrument requires little to no maintenance as it has durable silicone rubber pads and the springs are integral with the keys. The range is fully chromatic over three and a half octaves so is suitable for any music from jazz to Mozart.Snap Shut LigatureThe snap shut ligature is quick and easy to operate for small hands. No need to fiddle with screws and it holds the reed securely while allowing for quick repositioning if necessary.Synthetic Beginners ReedsThe Clarineo uses an Eb Clarinet cane reed or the Nuvo beginners synthetic reed. Each instrument is supplied with one cane reed and two synthetic beginners reeds. The synthetic reed lasts much longer than a cane reed, does not need to be wet to play, resists damage - and does not grow mold!. It is easy-blowing and great for getting started before moving on to the cane reed. The synthetic reed also has a location rib which engages with the mouthpiece table to ensure correct positioning.Lightweight, Durable Body ConstructionThe Clarineo body is constructed in 3 parts from high tech polymer resins. This means that the instrument is super-lightweight, extremely durable and quick and easy to assemble. Due to its durable construction we encourage students to keep the instrument assembled and out of the case for more frequent practice. See our desk stand and wall hangers which are ideal for keeping our instruments safely and conveniently close to hand.Fast, Relaible Key ActionThe Clarineo key springs are an integral part of each key and are molded from a high grade acetyl copolymer resin. This makes them extremely responsive and reliable through years of high intensity usage. Each batch of key material is tested in our laboratory for half a million depressions and shows no sign of wear or reduction in spring tension.Self-Leveling Silicone PadsThe pads are made from high-grade silicone rubber which means they are 100% waterproof and extremely durable. They are also designed to be self-levelling which means they require little to no maintenance as they cannot go out of adjustment even under the most intensive playing conditions.Small Tone HolesThe tone holes on the Clarineo are smaller than those on the Bb Clarinet. This makes it easier for small fingers to cover the holes. The average six year old can get down to low G on his or her first lesson.Stainless Steel RollersThe Clarineo has stainless steel rollers for comfortable and fast action between pinky keys. Some teachers may be worried about the Clarineo not having alternative pinky keys. There are two reasons why this really does not matter. The child could later change to (or add) the saxophone, oboe or bassoon, where the pinky slides between keys. Secondly, learning to use the new keys takes a week at most; so the 6 or 7 year-old who does go on to the B-flat clarinet is 3 or 4 years less one week in advance of those who waited until they were 9 or 10.Key of C - Ideal for Teaching ProgramsSince the Clarineo is pitched in C it means there is vastly more music for a student to choose from than there is for a Bb clarinet. A student can choose from any vocal, recorder, flute or violin music (or from any other treble clef music pitched in C). It also makes it much easier for teachers to blend the Clarineo into existing junior or elementary programs where piano, recorders and simple percussion are being used.Fully Adjustable Thumb RestThe Clarineo is less than half the weight of a Bb Clarinet which means the pressure on the supporting right hand thumb is much less. This encourages students to practice more frequently and they can play for longer without pain. The thumb rest is fully adjustable so that it can be placed in the ideal position to suit the student.Bayonet Fit BellThe bayonet fitting makes the bell quick and easy to assemble. No cork!
Plastic clarinet with good sound and easy playability
DVD instructional
CD with backing tracks
Choose from cool colors