Billingham Hadley Shoulder Bag Small (Black, with Black Leather Trim)
Model #BI 503301-01
Billingham Warranty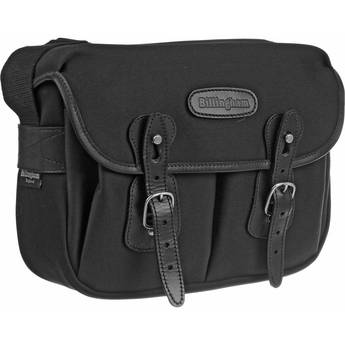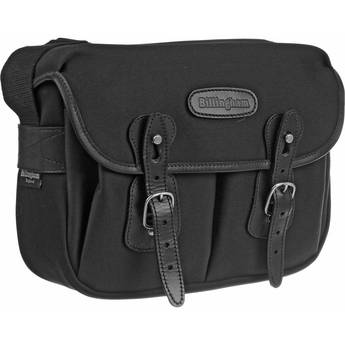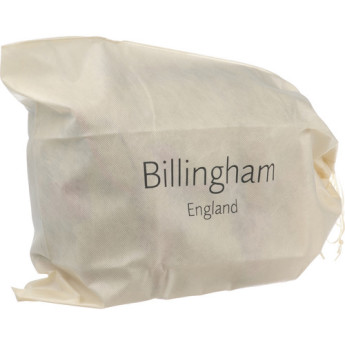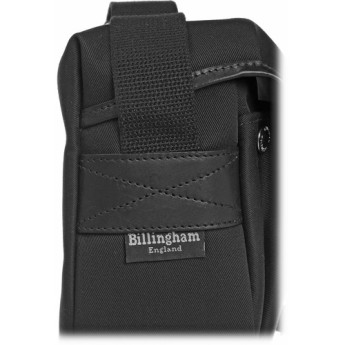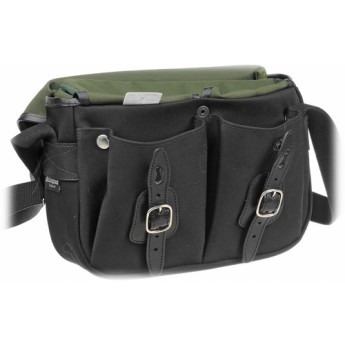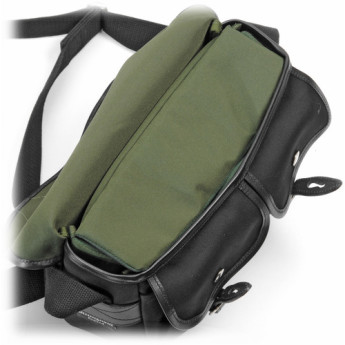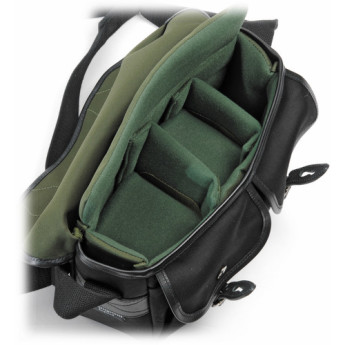 All Products are New and from Manufacturer Authorized Retailers
30 day return policy
Free Shipping
No Additional Fees
General Information
Material

Exterior:

Stormblocker
dual-laminate waterproof canvas
Interior:
High-density closed-cell foam
Trim:
Black leather trim
Type of Closure
Quick-release buckles
Solid brass clog bolt and harness leather locking system.
Zipper
Exterior Dimensions
11 x 4 5/8 x 8 1/8"(27.9 x 11.8 x 20.6cm)
Interior Dimensions
10 x 2.75 x 7 1/8" (25.4 x 7 x 18.5cm)
Tripod Holder
No
Accommodates
Digital/photo SLR body with 2 lenses, or 1 lens and flash, plus accessories
Carrying/Transport Options
Adjustable shoulder strap
Weight
1.5 lbs (700g)
Very well made, looks good, and does the job it was designed for. Holds a mirror-less camera and two lenses. Construction and fabric are top notch.
I had to return the purchase only because the bag was not big enough for my needs. I have a small Billingham and a Large one also ... looking for something in-between. Did find way I Needed ... the L2 was perfect.
I use this bag to bring a basic kit with me to work, fits nikon d3100, 18-55, tokina 11-16, 35mm 1.8, SB400 flash, and a nikon FE with 50mm 1.4 AIS attached with not much room for anything else in the main compartment. pockets still have room after all this stuff.
Great bag for carrying a body with lens attached and a couple of lenses. The extra storage space between the liner and exterior of the bag is handy for carrying instruction manuals. This bag is light and comfortable, well built and attractive.
Top quality equipment bag, but priced liked designer purses! No regrets, however.
Has ir's faults but overall its a great bag.
If you're sitting on the fence about buying one of these bags I have some advice. Just do it ! It's a fabulous little bag, top quality and built to last. There are so many different ways to use it. I use mine as an all purpose 'man bag'.
A great small camera bag! It fits my leica m10 + 3 additional lenses + memory cards etc. It offers protection and also It's great because it doesn't "scream" camera bag, and you pass unnoticed in crowded places! For small cameras I will recommend 100%
Well made, tough and hard wearing - perfect for the Hasselblad X1D and an extra lens
Got as a present for my husband. He loves it and he is very difficult to buy presents for. He likes expensive items and this was expensive but not too bad. Great quality. Cheaper than the shops. Stunning camera bag. His lens fits and his camera and cable. Perfect for outings with the children
Stormblocker Waterproof Canvas
High-density Closed-cell Foam
Side Weather Flaps
Superflex Partition Dividers
Adjustable Shoulder Strap
Billingham Hadley Shoulder Bag Small (Black with Black Leather Trim)
Photo Insert
Set of Superflex Dividers
Limited 5-Year Warranty